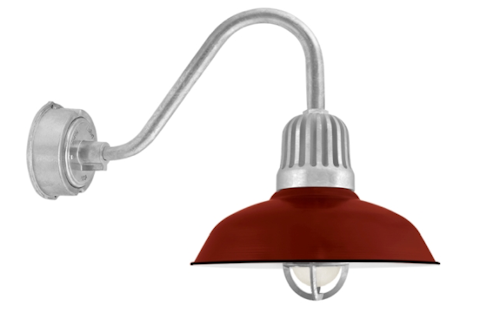 The Original™ LED Wall Sconce -- Brighten your entryway, garage door, sidewalk, or deck with classic RLM style! The Original™ LED Wall Sconce features a handspun shade finished with durable powder coat available in more than 30 colors. Our integrated LED technology offers a longer lifespan than traditional lighting and saves both time and money on energy costs. This exterior barn light offers a style suiting classic or modern spaces and lends an industrial edge to farmhouses and barns as well as modern boutiques and restaurants. Handcrafted and assembled in the USA, each LED barn light is made to order. The Gridiron LED Gooseneck Light -- With its efficient technology and rugged design, the Gridiron is an excellent source of general illumination for large, open commercial facilities. Handcrafted in America by our artisans, the Gridiron LED Gooseneck Light is available in five shade sizes and 11 finish colors. To provide the optimal level of brightness, multiple color temperatures and lumen options up to 5,400 help spaces appear properly lit and inviting. By transforming energy into light with unmatched efficiency, the Gridiron significantly reduces a building's overall electricity demands. To ingrain a sense of durability directly into its structure, our iconic porcelain-coated shades, rugged guards, and sturdy gooseneck arms ensure the Gridiron's unrivaled quality.

The Bullet Dual LED Sign Light -- Affixed to a sturdy, heat-treated aluminum mount, the Bullet's two lights supply ample illumination for various commercial applications. With the wiring and LED components enclosed within the mounting stem, the Bullet is approved for installation in outdoor locations and high-traffic venues. Customizing options for the Bullet's mounting make it easy to direct light precisely where it's needed. Handcrafted in America, this adaptable sign light can also be customized with a variety of color temperatures to help establish the mood of a setting. With up to 3,200 lumens, multiple optic options, and adjustable swivel knuckles, the Bullet fulfills various functions in commercial settings.

The Goodrich® Fire Chief LED Porcelain Sign Light -- Modeled after vintage gas station lights, the Fire Chief LED Porcelain Sign Light offers modern updates to this classic fixture. The Fire Chief incorporates the latest LED technology directly into the angled shade. The result is lighting that helps reduce electricity costs while still enhancing the style of your space. This LED sign lighting offers about 50,000 hours of service. This not only saves time, but the energy efficiency of this sign light also helps reduce pollution. The long-lasting nature of LED lighting is enhanced by the durable porcelain enamel finish. Easy to customize to complement any business brand or style, this LED sign light marries form and function!

The Regalia Emblem LED Sign Light -- The classic look of angle shade gooseneck lighting upgraded with the very latest in LED technology. The Regalia Emblem LED Sign Light offers innumerable benefits as exterior lighting. Not only great for illuminating signs, these porcelain shades can also pour light onto outdoor murals and accent your business's decorative features. Sign lighting is also favored by businesses for interior lighting offering stylish and functional service to hostess stands, artwork, and signage. Handcrafted in America from commercial grade steel, these rugged sign lights are coated with multiple layers of porcelain enamel glass which offers a high-gloss finish. The Regalia Emblem LED Sign Light is also popular with homeowners who use these fixtures to illuminate artwork along walls or above fireplace mantels. With dozens of gooseneck arms to choose from, the potential of sign lighting is limitless!

Academia Schoolhouse LED Gooseneck Light -- With a style dating back to the 1920s, the Academia Schoolhouse LED Gooseneck Light takes a classic feel and updates it by incorporating the latest LED technology. The result of this merger is energy efficient lighting that exudes old-school style. Instilling a sense of elegance into the design, this wall lighting features a nostalgic clear or opaque schoolhouse shade and rugged gooseneck arm. Copper and brass, along with our assortment of powder coat finishes, allow the Academia to match any home or business's individual style. The LED components included in our schoolhouse lights are energy saving, reducing costs and helping the environment. With limited maintenance and up to 50,000 hours of light, the Academia is an incredibly long-lasting lighting option for homes and businesses!

Goodrich® Seaside Nautical LED Gooseneck Light -- The playful feel of the Seaside's fluted shade is balanced by the industrial aesthetic found in its rustic cast guard. The Seaside's nautical style captures attention and separates your space from the competition. This festive look is grounded in the commercial grade materials used in the construction of our gooseneck lighting. Utilizing a metal gooseneck arm and porcelain-coated warehouse shade, the Seaside weathers installation in nearly any setting! Incorporated directly into each shade, LED components create long lasting, environmentally friendly wall lighting. Because they require much less energy to brighten your space, the Seaside outlasts standard options like incandescent bulbs. Provides around 50,000 hours of lighting!

Visit Barn Light Electric Co. at Booth #4361 during LightFair International, Philadelphia, PA, May 21-23, 2019.

About Barn Light Electric Co.
Barn Light Electric is an American manufacturer of vintage-inspired lighting and the country's only producer of porcelain enamel lighting. Handcrafted ceiling pendants, gooseneck lights, sconces, chandeliers and more are easy to customize with size, finish color and other options including LED. Our artisans also craft a complete line of porcelain enamel dinnerware and rustic industrial furniture.
Contact:
Betty Lynne
Marketing & Media Relations at Barn Light Electric Co.
320 Knox McRae Dr., Titusville, FL 32780