Seoul Semiconductor to Illuminate LIGHTFAIR International 2019 with a Full Spectrum of LED Technologies for Human Centric Lighting Design
May 13th, 2019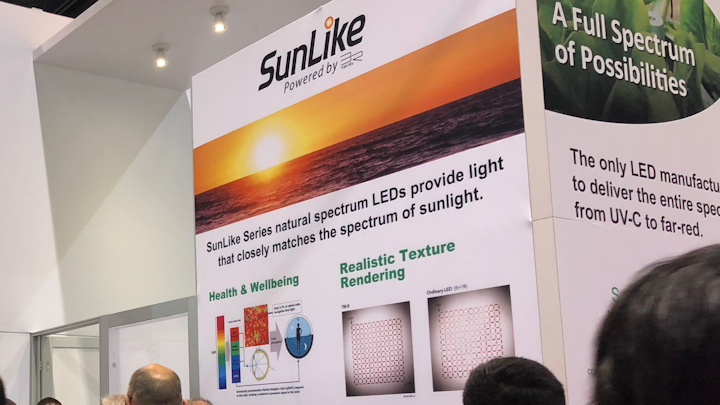 SunLike Series natural spectrum LEDs to light "My Headshot" lounge – professional portrait photography compliments of Seoul Semiconductor

PHILADELPHIA (MAY 13, 2019) - Seoul Semiconductor, a leading global innovator of LED products and technology, is a sponsor and exhibitor at LIGHTFAIR International 2019, scheduled for May 19 – 23 at the Philadelphia Convention Center in Philadelphia, PA. Seoul Semiconductor will exhibit in Booth #3101, and is sponsoring the LFI2019 "My Headshot" lounge, where all attendees can receive a professionally photographed portrait, illuminated by SunLike Series natural spectrum LEDs in Booth #5734.

"An important part of the annual LIGHTFAIR conference is the opportunity to advance the state of the art in lighting technology and establish standards and metrics that accurately measure lighting performance," said Mark McClear, Seoul Semiconductor executive vice president for North America. "As part of Seoul's ongoing support in this area, Dr. Octavio Perez, of NYC's Mount Sinai Hospital is delivering a three-hour workshop giving LIGHTFAIR attendees the opportunity to 'Become an Expert in Melanopic Stimulus Measurement & Improvement.' Dr. Perez will available by appointment at Seoul Semiconductor booth during LightFair to assist our customers in better understanding new metrics in human centric lighting and SunLike performance."

The interactive workshop, scheduled for Sunday, May 19 from 9am to 12noon, promises to provide a detailed understanding of the recently-introduced international standard CIE DIS 026/E:2018 "CIE System for Metrology of Optical Radiation for ipRGC-Influenced Responses to Light." Participants will do real-world, hands-on characterization and measurement of melanopic stimulus through the use of M-EDI (D65) and the equivalent melanopic lux (EML), an alternate metric that is weighted toward the eyes' non-image-forming receptors – intrinsically photosensitive Retinal Ganglion Cells (ipRGCs) – instead of conventional lux which are weighted to the eyes' visual photoreceptors. Participants in the workshop will receive three continuing education units (CEUs).

"LIGHTFAIR is a premier annual event for the global lighting and technology industry in North America, providing an ideal venue for us to showcase our latest LED innovations and meet with our customers," McClear added.

Exhibiting together with Seoul at LIGHTFAIR is Sensor Electronics Technology, Inc, (SETi), a division of Seoul Semiconductor and Seoul Viosys, and a global innovator of UV LED products and technology. They will showcase the LED industry's first product line encompassing the entire UV spectrum from 225nm to 405nm, developed for a range of applications, including horticultural lighting to enhance plant growth cycles and control diseases.

"The week prior to LIGHTFAIR, we are sponsoring a webinar on the use of UV-B LEDs to increase secondary plant metabolites, increase resiliency to powdery mildew and mold, and extend the post-harvest shelf life of produce," explained Dr. Peter Barber, director of business development for SETi and Seoul Viosys in the Americas. The one-hour webinar, entitled "Next Evolution in Horticulture Lighting," is scheduled for Thursday, May 14 at 2pm EST, and registration is free.
"Seoul Semiconductor is once again sponsoring LIGHTFAIR's "Headshot Lounge," where attendees can get a free, professional headshot taken, courtesy of Seoul Semiconductor," noted Andrew Smith, marketing manager for Seoul Semiconductor. "We believe this to be the first time that the SunLike Series LEDs have been used in a professional photography lighting application." The Headshot Lounge is located in Booth #5734, and is open for the duration of the exhibit hours.

The SunLike Series natural spectrum LEDs, which produce light that closely matches the spectrum of sunlight, will be featured at LIGHTFAIR with a special room in the Seoul booth room dedicated to presenting the SunLike Series LED experience. The Seoul booth will also feature complimentary coffee.

For more information about Seoul Semiconductor, please visit http://www.seoulsemicon.com, or if you're planning to attend LIGHTFAIR 2019, please visit Seoul Semiconductor at Booth #3101.

Editor note: To schedule an appointment with Seoul Semiconductor at LIGHTFAIR 2019, please contact Chris Burke, BtB Marketing Communications, chris.burke@btbmarketing.com or call 919-872-8172.

About LIGHTFAIR International
LIGHTFAIR International is the world's largest annual architectural and commercial lighting trade show and conference and is sponsored by the Illuminating Engineering Society (IES) and the International Association of Lighting Designers (IALD). Now in its 30th year, the event is produced and managed by AmericasMart® Atlanta. For more information, please visit LIGHTFAIR.COM.

About Seoul Semiconductor:
Seoul Semiconductor develops and commercializes light emitting diodes (LEDs) for automotive, general illumination, specialty lighting, and backlighting markets. As the fourth-largest LED manufacturer globally, Seoul Semiconductor holds more than 12,000 patents, offers a wide range of technologies, and mass produces innovative LED products such as SunLike – delivering the world's best light quality in a next-generation LED enabling human-centric lighting optimized for circadian rhythms; WICOP – a simpler structured package-free LED which provides market leading color uniformity and cost savings at the fixture level, providing high lumen density and design flexibility; NanoDriver Series – the world's smallest 24W DC LED drivers; Acrich, the world's first high-voltage AC-driven LED technology developed in 2005, including all AC LED-related technologies from chip to module and circuit fabrication, as well as multi-junction technology (MJT); and nPola, a new LED product based on GaN-substrate technology that achieves more than ten times the output of conventional LEDs. UCD constitutes a high color gamut display which delivers more than 90% NTSC.

Trademarks
WICOP and Acrich are trademarks of Seoul Semiconductor Co., Ltd.

About SETi
Sensor Electronic Technology, inc (SETi), a division of Seoul Semiconductor and Seoul Viosys, is the world's leading supplier of deep UV LEDs (emission wavelengths shorter than 340nm), as well as a broad portfolio of UV-A, UV-B, and UV-C LED products and application solutions. SETi UV LEDs are certified to AS9100D with ISO 9001:2015, and the company is committed to meeting and exceeding the needs of customers and stakeholders through the highest level of quality management.
About Seoul Viosys
Seoul Viosys is a leading UV LED company that provides the widest range of UV wavelength devices in the world. As a pioneer in both near-UV and deep-UV technology, Seoul Viosys supplies competitive UV solutions to its global customers. Its technology is supported by more than 12,000 related patents, and sustained through a continuing investment in research & development.
For more information, please visit
http://www.seoulviosys.com/en/.

Contacts:
Seoul Semiconductor Inc.
North America
Andrew Smith
Tel: +1 (901) 831-6614
Email: andrew.smith@seoulsemicon.com

Seoul Semiconductor Inc.
Asia and Europe
Jeong-hee Kim
Tel: +82-70-4391-8311
Email: jeonghee.kim@seoulsemicon.com
Contact:
Seoul Semiconductor Inc.
North America
Andrew Smith
Tel: +1 (901) 831-6614