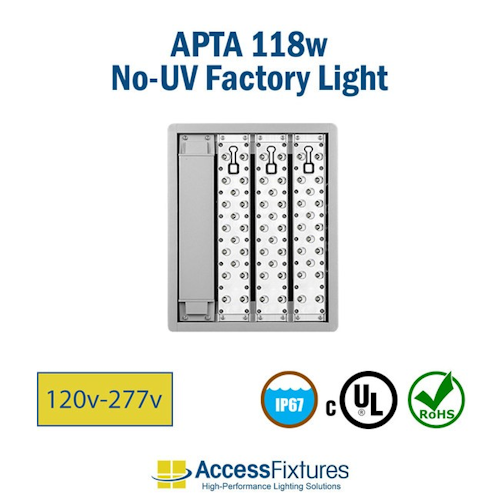 WORCESTER, Mass., Jan. 23, 2019 /PRNewswire/ -- Access Fixtures has added new high bay LED luminaires to its No UV - No Light Below 450nm product lineup. Until now, it was a challenge for facilities that required no UV high bay lighting to meet corporate and OSHA footcandle requirements. Fluorescent gold tubes were never really able to produce or project enough light to effectively illuminate production areas. Now APTA LED No-UV High Bay luminaires are available in multiple wattages to meet any lighting requirements regardless of ceiling height.
Like Access Fixtures' previously released No UV - No Light Below 450nm troffers, no UV APTA high bays do not utilize filters or gold tubes, eliminating the risk of filter failure. While the LEDs utilized do not emit UV or light below 450nm, the LEDs emit a more broad spectrum of light which improves visibility in the work area. Additionally, the LEDs are covered with an optic lens that eliminates glare. Best of all, APTA No UV high bays are flicker-free.
Prototypes of the No UV - No Light Under 450nm luminaires have been tested by Fortune 500 companies. The following customer reviews speak for themselves:
"The driving reason for moving to [Access Fixtures] LED lights is because the current [light] intensity is WAY below our and even OSHA's requirements."
"Employees prefer it. The gold-green has really improved visibility in the area."
"The modular LED fixture will be ideal for our application. Having a truly off-the-shelf option on these lights is really a huge plus for us, not to mention the tighter wavelength patterns being emitted, and no risk of lens failure."
The no UV APTA is available in many different wattages to meet the footcandle requirements of any application. It is long life -- rated L70 @ 50,000 hours. APTA can meet CA Title 24 requirements as it is ready for most controls including 0-10v dimming, occupancy sensors, and DALI. APTA is not impacted by frequent on/off cycles, so controls will not reduce the rated life of the LEDs. APTA high bay luminaires can be mounted four different ways including by suspension hook, surface mount, pendant rod, ceiling plate, and four-corner eye hooks. An IP67 rating protects the fixture completely from water and dust. Four different classic RAL colors are available free of additional charge to help the fixture blend in with any production space. As an added bonus, 90-minute battery backup is available as is a standard 5-year Access Fixtures warranty.
About Access Fixtures
Access Fixtures is your factory-direct source for commercial, industrial, hospitality and sports high-performance lighting solutions. With custom manufacturing capabilities, Access Fixtures builds durable, long-life LED luminaires for general lighting applications and specialty markets including transportation, freight terminals, sports fields and arenas, clean rooms, power plants, warehouses, and manufacturing facilities. Luminaire types include wall packs, area lights, bollard lights, sports lights, post top and high bays. For more information, visit Access Fixtures at www.AccessFixtures.com.
Contact
Cara Porcella
Worcester, MA
Access Fixtures
800-468-9925
Email
Website