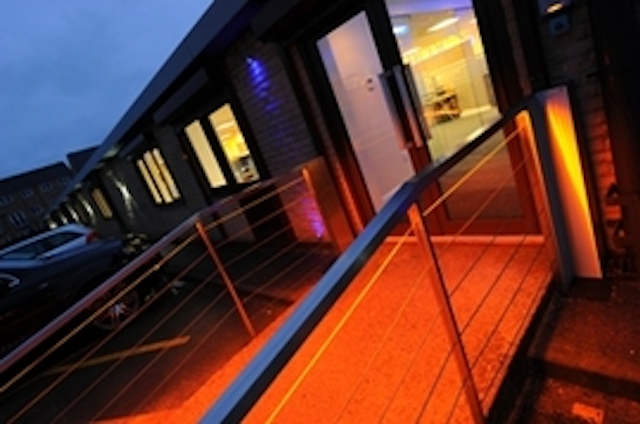 Date Announced: 10 Feb 2009
Boasting over 30,000 sq.ft. of manufacturing space, state of the art facilities and interior design to rival that of the larger corporations, the new ACDC headquarters certainly seem to be providing an illuminating experience for the people of Barrowford and the surrounding areas. In fact, the new premises have quite literally become a major talking point in the area, thanks to some pretty impressive exterior lighting design.
Serving as a showcase for the company's industry-leading LED and Cold Cathode lighting solutions, the newly christened Innovation Works seems to be drawing positive comments from far and wide. Moreover, the increased visibility for ACDC also seems to be having another dramatic effect - introducing the wider world to exactly what can be created with the latest innovations in LED and Cold Cathode lighting.
Designed and conceived largely by the team of directors at ACDC and with the majority of the construction and lighting work being carried out by local contractors and suppliers - with a great deal of help from enthusiastic ACDC employees, the new premises project was very much a 'local' enterprise, which has certainly generated an outstanding end result!
And, although ACDC has only moved literally a 'stones-throw' away from its former premises in Pasture Lane, the two sites could not be more different. With increased manufacturing, warehousing and office space along with superb facilities, the new building reflects the company's current position in the market as well as mirroring its ambitious vision for the future.
Lit entirely with ACDC products, including the new award winning Evolution LED architectural recessed downlighter, Innovation Works leads the way for the Barrowford based manufacturer that is looking to further establish its reputation for pushing the boundaries of advancement in both Cold Cathode and LED lighting technology.
Managing Director, Gareth Frankland commented: "We are all immensely proud of our new home and feel that it provides a platform for development going forwards. And, whilst we never doubted the effect that our exterior lighting would have on the building, we were not prepared for the level of excitement that it has created both in the local area and with the customers who have already visited the new premises."
And, with such praiseworthy comments from being heaped on the new premises, it is no wonder that ACDC is looking to showcase Innovation Works to the industry with a series of factory visits, launch parties and general celebration events, aimed at the company's network of distributors, key accounts and customers throughout the year.
Contact
Mark Wolstenholme Marketing Manager
E-mail:mwolstenholme@acdclighting.co.uk
Web Site:www.acdclighting.co.uk