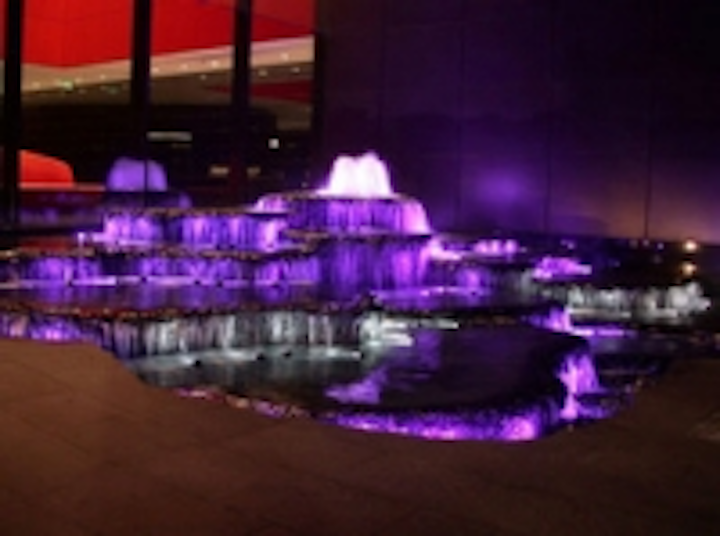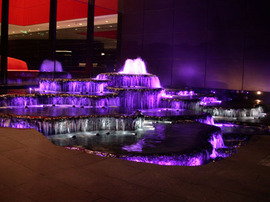 Date Announced: 12 Feb 2009
Anolis ArcSource 6 RCWB LED underwater fixtures are illuminating a stunning water sculpture located at the heart of Regent Place - Australia's first 'vertical village', designed by renowned UK architects, Foster & Partners.
This innovative mixed-use development on Bathurst Street in the heart of the city transforms a key area into a lively urban hub where people can live, work and enjoy city life. Regent Place consists of two towers floating above a 5-storey sandstone podium containing retail, commercial and leisure spaces. Above the 5,400 square metre, 3 level shopping centre, the development incorporates 456 exclusive and a further 201 serviced apartments.
Integral to the design and a requirement of the building planning conditions, Foster & Partners had to provide a public artwork in the buildings entrance. They commissioned Phil Goodwin of Waterforms International, a Sydney based water feature architect, to design a water art work to take centre stage in this space.
The water sculpture design is organic, providing a strong contrast to the disciplined geometric style of Foster's architecture. It includes a series of eleven craggy, overflowing pools that reticulate 5000 litres of water-flow a minute between them and a balance tank located two floors below.
The sculpture is lit with 94 Anolis ArcSource 6 RCWB LED underwater fixtures controlled by an E:Cue e:node 512 wall mounted user terminal. This is programmed to run colour changes during the night and ensure the sculpture maximizes its effect at the centre of the streetscape.
Goodwin has used Anolis products to light some of his other creations, so is well aware of the quality and reliability and again chose Anolis for this one which required a fully submergible unit.
With a 316 stainless steel housing and a IP rating of 68 plus the ability to provide programmable color change effects underwater, the ArcSource 6 RCWBs were perfect for the job. The fixtures were also specially customized for this installation to incorporate the client's specific colour choices, and feature 2 red, 2 cool white, and 2 blue LEDs.
Waterforms International initially used this project as a pilot, and has already followed on with the use of these same fixtures in several other projects.
The Anolis products were supplied by Australian distributor, ULA Group, for whom the project was co-ordinated and overseen by Con Nomikos from the Sydney office.
Regent Place's water sculpture has been a huge success since opening, and has become a talking point and landmark already, with streams of people passing to taking photos of the night time lighting effects. Both the developer and Foster & Partners attribute the water sculpture to the overall success of the project, and are very happy with the results.
The entire Regent Place exercise has transformed Sydney's midtown into a vibrant living quarter.
Contact
For more press info. on Anolis, please contact Louise Stickland on +44 (0)1865 202679/+44 (0)7831 329888
E-mail:louise@loosplat.com
Web Site:www.anolis.eu