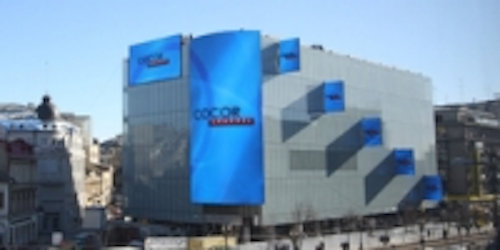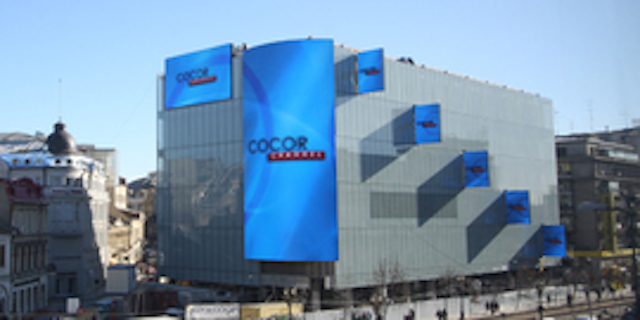 Date Announced: 12 Feb 2009
Cocor Luxury Store in Bucharest, Romania, recently turned on an impressive new digital display system, designed and manufactured by Daktronics Inc. (Nasdaq- DAKT).
Multiple light emitting diode (LED) video screens have been positioned on the façade of the Cocor Shopping Centre building. The media façade was put into operation by Cocor CEO, Dan Barbulescu, Cocor board members, city officials and John Mette, Director of International Business of Daktronics, during an opening ceremony on December 1, 2008, Romania's National Day.
During the ceremony Mr. Barbulescu thanked Daktronics, the world leader in large LED display technology, "for delivering a fantastic product and service". Barbulescu added "Daktronics understand our desire to put Cocor Luxury Store on the axis of spectacular digital outdoor: New York with Times Square, London with Picadilly Circus and Bucharest with Cocor Channel."
"Daktronics is excited to work with the Cocor Luxury Store on this innovative project," said Carlos Verez, Eastern European Sales for Daktronics GmbH, Wiesbaden, Germany. "This is a relatively large project for us, a significant showcase installation in Europe. We look forward to a great relationship with Cocor that will last well into the future."
The system comprises 13 large screen Daktronics LED displays that equal a total surface of 560 square meters, making it the biggest installation of one display vendor at a single building in Europe. Two displays are installed on the front of the building, one measuring 6.6 meters high by 11.7 meters wide. The other, the largest on the building, is 23.4 meters high by 11.7 meters wide. Both of the displays incorporate full-color pixels on 23 millimeter center-to-center spacing.
On the side of the building, five two-sided LED displays with pixels on 16 millimeter spacing, measuring 5.0 meters high by 3.2 meters wide, are installed. Another display is installed on the side of the building measuring 3.6 meters high by 20.4 meters wide, with pixels on 46 millimeter spacing.
All of the displays utilize Daktronics proven LED technology to present live and recorded video images, colorful animation and vivid graphics with incredible brightness and wide-angle visibility. Daktronics technology offers a long lifetime with minimal maintenance and low power consumption, providing value and excitement for years to come. The display system will provide complete flexibility for the Cocor Shopping Centre to present nearly unlimited images and information, which will create customer excitement and promote the building and advertisers. The new displays will be operated with Daktronics proven controllers and video processors.
Further Cocor chose Daktronics Keyframe® Creative Services as their preferred supplier of content for the system. Keyframe®-produced artwork was shown during the opening and earned a lot of applause. Keyframe® services will continue to add value to Cocor and third party advertiser presentations on all levels, from initial ideas to the final production of high impact creating, eye catching content.
About Cocor
S.C. COCOR S.A., a public company listed on the Bucharest Stock Exchange under the symbol COCR, www.cocor.ro is rebranding its Cocor department store located in the historical center of Bucharest into Cocor Luxury Store in order to attract luxury brands as tenants and to participate in the municipality efforts to rejuvenate the location. The 30 million euros investment will rise the retail GLA to 10.000 sq. meters on 7 floors, add 240 parking lots, a luxury restaurant, a day spa and a boutique night club.
Cocor Channel www.cocorchannel.ro is broadcasting 50 percent of the time municipality cultural events, tourism guidance, traffic and weather prognosis, financial news, and ads of the luxury brands that will be present in Cocor Luxury Store beginning November 2009. The other half is sold to local advertising companies. Cocor SA also controls the four star Cocor SPA Hotel www.hotelcocor.ro and Vision Club www.visionclub.ro in Neptun Black Sea resort.
About Daktronics
Daktronics has strong leadership positions in, and is the world's largest supplier of, large screen video displays, electronic scoreboards, computer-programmable displays, digital billboards, and control systems. The company excels in the control of large display systems, including those that require integration of multiple complex displays showing real-time information, graphics, animation and video. Daktronics designs, manufactures, markets and services display systems for customers around the world, in sport, business and transportation applications.
Contact
Julien Jasserme, Marketing Manager International Regions: Europe, Middle East, Africa & Latin America tel: +1-605-697-4021
E-mail:julien.jasserme@daktronics.com
Web Site:www.daktronics.com