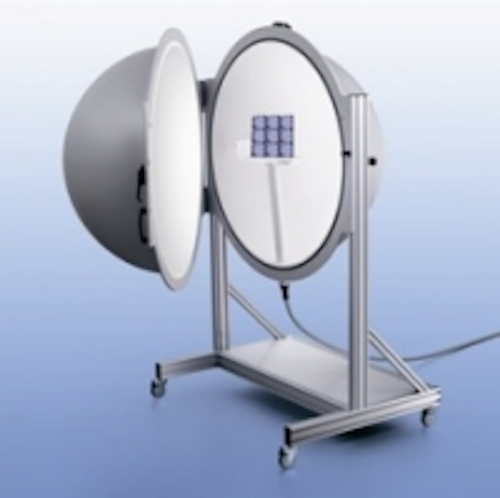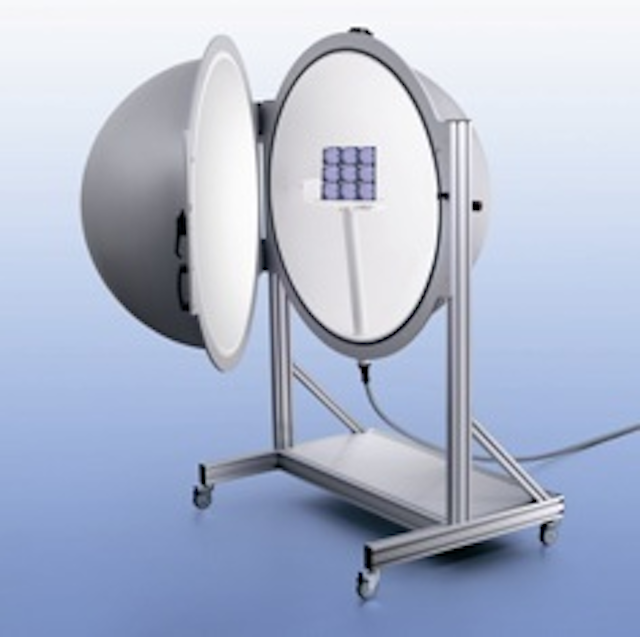 Date Announced: 16 Feb 2009
New integrating sphere for testing high-power LED modules and
SSL light sources
The ISP 1000 Integrating Sphere from Instrument Systems is the latest development by the leading global manufacturer of LED Test & Measurement systems.
The ISP 1000 has been specially designed with a diameter of one meter for precise measurement of the total radiant power and luminous flux of lamps. It is particularly suitable for larger and more powerful LED modules with applications in solid-state lighting.
Test samples can be placed inside the integrating sphere on a height-adjustable sample stage or in a lamp post with suspended or upright configuration.
These setups enable the total luminous flux to be determined in 4π. Alternatively, the light radiation can also be launched from outside through a side port, allowing the heat dissipated from large high-power LED modules to be kept out of the sphere. This is why launching light from the side is ideal for testing light engines with applications in solid-state lighting if they have a forward radiation pattern.
Advanced design and low measurement uncertainty are integral to the ISP 1000. Its innovative design reduces the effect of compromising influences caused by baffles and ports to a minimum and thereby permits more accurate measuring results than previous designs.
About Instrument Systems GmbH
Instrument Systems is one of the leading manufacturers for LED and display measurement systems based on spectroradiometers. The company delivers a comprehensive range of light measuring products for industrial and research applications. These include highperformance array and scanning spectrometers as well as imaging photometers and colorimeters. All instruments provide accurate and reliable results as per CIE recommendations. The company was founded in 1986 and is based in Munich, Germany. Instrument Systems provides support for the global customer base with backup from a comprehensive network of representatives.
Contact
Instrument Systems GmbH Petra Jürgens Neumarkter Str. 83, 81673 Munich, Germany Ph: +49 (0) 89-45 49 43-23
E-mail:juergens@instrumentsystems.com
Web Site:www.instrumentsystems.com