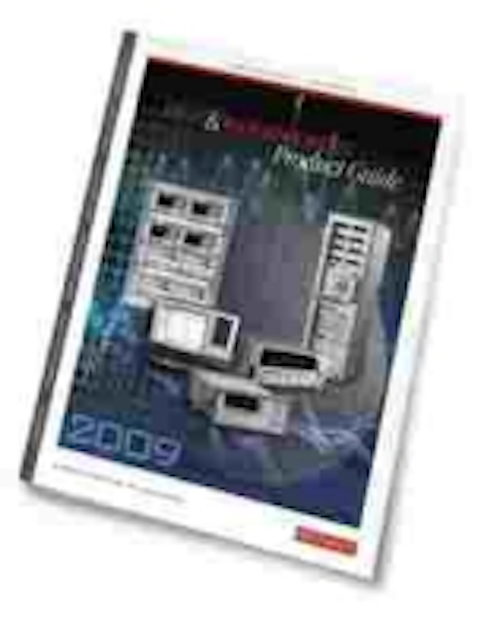 Date Announced: 06 Feb 2009
Keithley Instruments, Inc. (NYSE:KEI), a leader in solutions for emerging measurement needs, announces the release of its 2009 Test and Measurement Product Guide. The 144-page guide offers details and technical specifications on Keithley's general-purpose and sensitive sourcing and measurement products, DC switching, RF switching and measurement, data acquisition solutions, semiconductor test systems, and optoelectronics test. A useful selector guide simplifies choosing the right solutions for specific applications. For a free copy of Keithley's 2009 Test and Measurement Product Guide, visit
http://www.keithley.info/catalog09.
Keithley's 2009 Test and Measurement Product Guide is arranged by product type and application area with sections containing the newest innovations in test and measurement, including:
· Digital multimeters (DMMs) and systems
· Switching and control
· RF/microwave and wireless switching and testing and measurement
· Specialized power supplies
· Source and measure products
· Optoelectronic test
· Function/pulse/arbitrary function generators
· Semiconductor test
· Low-level measurement and sourcing
· Series KPXI system products
· Data acquisition products
The 2009 Test and Measurement Product Guide features a number of new products, including:
· The Model 3390 Arbitrary Waveform/Function Generator for creating highly stable and accurate waveforms of virtually any shape
· The Model 2308 Portable Device Battery/Charger Simulator, a complete solution for portable device sourcing and load current measurement
· The newest line of I-V source-measure instruments combining a power supply, current source, DMM, AWG, V or I pulse generator with measurement, electronic load, and trigger controller—all in one instrument
· The latest high-performance MIMO test systems designed to meet the requirements of 802.11n WiFi and 802.16e mobile-WiMAX Wave 2 multi-input, multi-output communications standards, with each system configurable into two, three, four, or eight channels with 40MHz signal bandwidth
· The latest software upgrade and a new hardware option for the Model 4200-SCS to support high power C-V, pulse, and I-V testing applications, all in the same tester
To request a free copy of Keithley's 2009 Test and Measurement Product Guide, visit http://www.keithley.info/catalog09.
For more information, contact the company at: www.keithley.com
About Keithley Instruments, Inc.
With more than 60 years of measurement expertise, Keithley Instruments has become a world leader in advanced electrical test instruments and systems from DC to RF (radio frequency). Our customers are scientists and engineers in the worldwide electronics industry involved with advanced materials research, semiconductor device development and fabrication, and the production of end products such as portable wireless devices. The value we provide them is a combination of products for their critical measurement needs and a rich understanding of their applications to improve the quality of their products and reduce their cost of test.
Contact
Keithley Instruments Phone: +49-89-84 93 07-40
E-mail:info@keithley.de
Web Site:www.keithley.info/catalog09