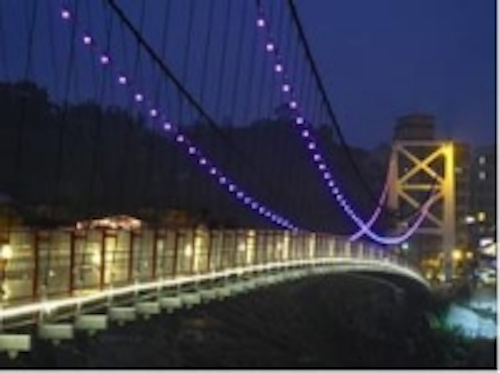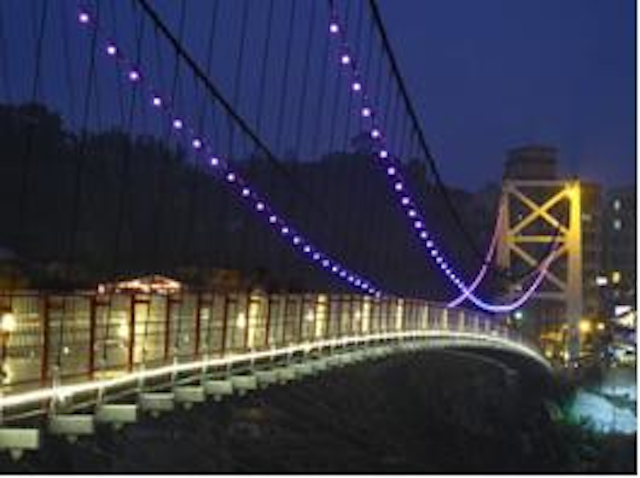 Date Announced: 10 Feb 2009
Tucheng, Taipei - Everlight Electronics Co. Ltd. has providesd LED components, lighting designs, and SL-Dolphin Street Lights to Bitan Scenic for reconstructing the Bitan Drawbridge and lighting up the west river bank of Bitan Scenic Area.
The Bitan drawbridge has now become a brand new "pearl & rainbow drawbridge," showcasing many of the latest lighting technologies from Everlight. The length of each pendant is 200 meters with a total of 184 RGB full color ball lights changing color every hour.
In addition, there are 310 strip lights on both sides of the bridge illumninating the bridge floor and adding to its aesthetic beauty. On the west river bank, Everlight's broad lighting portfolio is once again exhibited with 20 high quality SL-Dolphin LED street lights providing for brighter light over larger areas. SL-Dolphin street lamps incorporate high brightness LEDs and offer an improved power factor and power efficiency resulting in up to 40% energy savings compared with traditional street lights.
With Everlight's high efficiency, high quality, long life, and power saving LEDs and street lights, the Bitan Scenic Area is now being regarded as one of the most beautiful, yet economically friendly, scenes in Taiwan.
About Everlight Electronics Co. Ltd.
Everlight Electronics Co. Ltd is a fast-growing global manufacturer of LEDs, displays, infrared and optocoupler components serving various applications in the consumer, computing, automotive, telecommunication and industrial market segments. Everlight's annual growth rate of more than 20 percent over the past ten years is the combined result of its well-engineered products, highly efficient in-house manufacturing facilities and extensive global supply chain. Founded in 1983, Everlight today is a $300 million company headquartered in Taipei, Taiwan, with over 4,000 employees and operations in China, Asia, North America and Europe.
Contact
Everlight Electronics Pippi Lai
E-mail:pippilai@everlight.com
Web Site:www.everlight.com