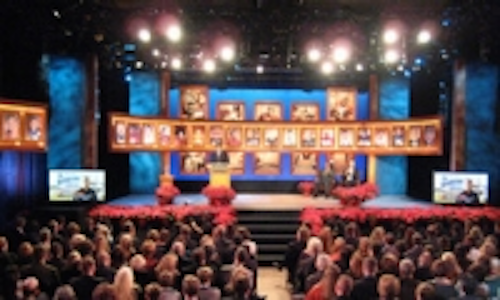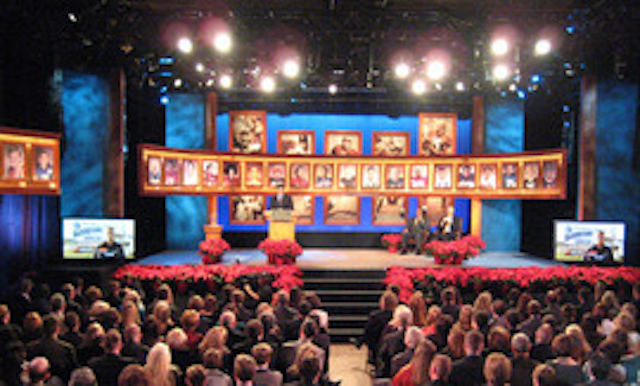 Date Announced: 23 Feb 2009
Lighting Designer, Bruce Ferri was pleased to once again light the annual Heisman Awards this as Sam Bradford of the University of Oklahoma was selected as the 74th winner of the Heisman Memorial Trophy as the Most Outstanding College Football Player in the United States for 2008. The Heisman Trophy Trust, which annually presents the Heisman Memorial Trophy Award, announced the selection live on the nationally televised ESPN broadcast from the Nokia Theatre in New York City's Times Square.
Ferri, Principal of Ferri Lighting Design & Associates (FLDA) has lit the Heisman Awards since 2001. "Lighting Director Ben Carlson and I have worked on the Heisman Awards for a number of years yet no two are the same. The awards have been mounted in many different venues over the years, requiring a different approach each time," says Ferri. "The Nokia is the most formal of all the venues and I think the most visually interesting." For a design approach, Ferri wanted to give the show a classy Hollywood awards feel and for the participants to be lit cleanly and to pop. "We wanted the backgrounds to be colorful yet subtle," continues Ferri. "This was the first time that the Heisman Awards were shot in HD, so we had to pay more attention to the backgrounds. We had to work harder to make them visually interesting."
With both time and budget major factors for the broadcast design, Ferri turned to Altman Rentals for equipment support, knowing they would meet his schedule and provide him with exactly the fixtures he wanted. New technology plays a large role in Ferri's lighting toolbox, as a designer he utilized LEDs early on and has been innovative in his design use of LED lighting.
For the Heisman broadcast a key part of Ferri's lighting package was the Altman Lighting Spectra Cyc LED fixtures. "In the past, due to time and budget constraints, we were only ever able to light the cyc with two colors—blue from the top and blue and amber from the bottom," says Ferri.
"The schedule is so tight that there is never enough time to experiment with new color combinations. Consequently we always played it safe and just made the cyc blue. The cyc ends up being an important background and the standard blue cyc was making the feel of the show stale. We wanted an easy way to change colors on the fly to show producers—LEDs were a no brainer. I wanted something that had red, green, blue and amber LEDs because I don't think you can make enough different ambers on TV with just RGB LEDs. I like the Spectra Cyc because the form factor was familiar—it's a cyc light. I didn't have to rethink spacing and I didn't have to worry about getting the correct spread lens to make it work; there is no time for that on this production."
Ferri has worked closely with Altman Rentals on a number of his projects and feels that "Altman Rentals always treats me well," he says. "They go out of their way to help me bring my projects in on budget and their gear is in good shape. Also, they are willing to get me what I need no matter how unreasonable those demands can be at times."
In addition to Ben Carlson, who was the Lighting Director for this project, FLDA also worked with Stephen Boulmetis as Lighting Assistant; Rob Cangemi as Programmer; and Ronald Skopac as Gaffer.
For more information on the Spectra Cyc as well as other LED lighting products and how Altman Rentals can help with your next production, please contact Leigh Mundy-Fretz at 914-476-7368 x 131, or via e-mail at lfretz@altmanrentals.com.
The Altman Lighting Spectra Cyc is a 100W cyclorama/wall wash luminaire utilizing 3W Luxeon Rebel LEDs in red, green, blue, and amber. Blending colors via a patent-pending LED lens that reduces pixilation from direct view, the unit features an onboard power supply and power can be daisy chained through 10 units. Designed for use on 4' to 6' centers, individual units can be linked side by side for greater saturation of light. The fixture is compatible with both DMX and RDM protocols and comes with a library of preprogrammed single colors and various color mixes.
Altman Rentals has been supplying the entertainment industry with rental lighting equipment for over 40 years. They have a full line of lighting fixtures for theatre, churches, events, TV/film, and concerts. They don't just stop at the Altman name; they proudly carry a wide selection of manufacturers with over 50 top name companies represented in their inventory. They carry a wide selection of dimming, control, automated lighting, distribution, grip equipment, followspots, and expendables. They also offer a full range of LED fixtures. For more information on Altman Rentals, visit www.altmanrentals.com.
Contact
Altman Rentals, Inc. 57 Alexander Street Yonkers, NY 10701 Phone: 914-476-RENT (7368) Fax: 914-375-0381
E-mail:lfretz@altmanrentals.com
Web Site:www.altmanrentals.com