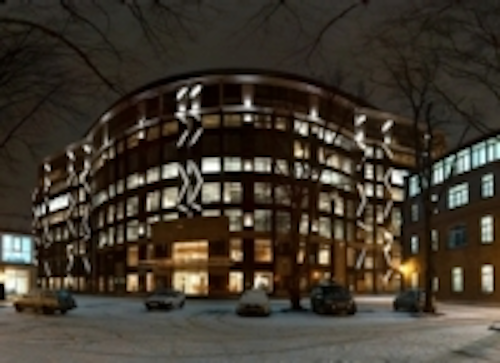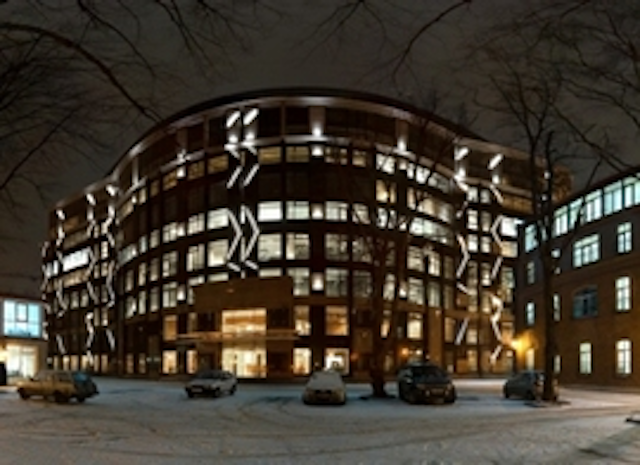 Date Announced: 12 Feb 2009
LED maker Seoul Semiconductor says that lighting fixtures using Acriche, the company's AC-driven solid-state light source, have been installed on the outside walls of the Senator business center in St. Petersburg.
Vitrulux Oy
, a Russian lighting company, completed the installation of 3000 Acriche in a number of decorative lightning bolt-shaped fixtures.
The Senator's spokesman explained the reason why Acriche was adopted for this project. First, Acriche was said to be excellent in control of light features and viewing angle comparing to conventional fluorescent lights. Also, while the lifespan of existing fluorescent lightings is less than 10,000 hrs, Acriche lighting fixtures can be operated for over 30,000 hrs. This feature could steeply cut the maintenance fee. Additionally, while the existing T5 type of fluorescent lights consumed 36W, Acriche lighting fixtures only consumed 20W, with a 45% energy savings.
Seoul Semiconductor's technical manager said that existing fluorescent lighting does not function properly under -10C, but there is no change in Acriche's lumens and lifespan under the same weather condition. Therefore, he recommended Acriche as a good light source for outdoor lighting.
Seoul Semiconductor's Acriche is an AC/DC converterless semiconductor light source driven at AC, differentiated from general DC-driven LEDs requiring converters. This feature enables Acriche to be operated for over 30,000 hrs and provide solutions to the problem in the lifespan of LED shortened by converters with 10,000 to 20,000 hrs of lifespan. Acriche maximizes the lifetime-related advantage of LED. Also, Acriche benefits customers by simple and easy design and installation.
Seoul Semiconductor's Acriche has been globally acknowledged for its excellent technology. Last December, Seoul Semiconductor's Acriche has been awarded in Newtech Korea 2008 and named one of the Korea Ten Best New Technologies. Also, it was named "Product of the Year" by Elektronik in 2006.
A Seoul Semiconductor official said "despite of the dull economy, demands for Acriche is steeply increased due to its brilliant technology worldwide including Russia" and "10% of R&D investment is to be continued in 2009 so innovative products like Acriche can be provided."
About Seoul Semiconductor
Seoul Semiconductor, a world leading LED manufacturer, was ranked 6th in the world in the global high-brightness LED market based on sales volume in 2007. Seoul Semiconductor has been named in Forbes and Business Week's lists as one of the most promising Asian companies. Its main offering, the Acriche LED, was also named "Product of the Year" by Elektronik in 2006, one of the most prestigious electronics publications in Europe.
In 2008, this award was given again to Seoul Semiconductor's Flash LED product. Acriche, developed in 2006, is operated directly through AC current without any converters needed for DC LED operation, extending the LED's life span and making installation costs easier and less expensive.
With these important benefits, Acriche LED technology is expected to pioneer the future of the lighting industry. With its cutting-edge technology, Acriche has been awarded in Newtech Korea 2008 and named as Korea Ten Best New Technologies of 2008. Seoul Semiconductor's primary business areas are LED packaging and custom module manufacturing. It provides a full range of LED products including AC-driven semiconductor light sources, Acriche brand products, High-Brightness-Power products, Side-View LEDs, Top LEDs, Chip LEDs, Lamp products, High-Flux LEDs, and custom-type modules.
Applications for the company's LED products include general lighting, signage, back lighting for mobile phones, TVs, notebook computers, automotive lighting, home appliances, signals, etc. Seoul Semiconductor reported KRW 284.1b in sales in 2008. It has 1,960 patents and 391 licenses as of December 2008. Seoul Semiconductor has 25 branches including 3 overseas corporate offices. Its products are also represented by more than 113 worldwide distributors.
Contact
Daniel Park Seoul Semiconductor
E-mail:daniel.park@acriche.com
Web Site:www.acriche.co.kr