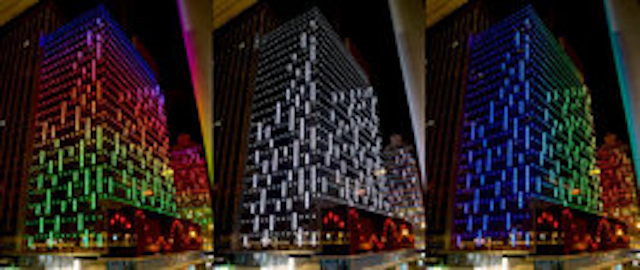 Date Announced: 08 Feb 2009
Laservision was engaged by Mutual Capital Limited to create, design and install a state of the art dynamic lighting design that would demand the attention of passersby, whilst maintaining the natural grandeur and iconic physical characteristics of the Nexxus Building in Hong Kong.
The end result is a breathtaking lighting design capable of supporting text, graphics and images. The lighting design uses over 1000 high-powered LED fixtures in conjunction with nearly a kilometre of LED graphics strip and has set a new benchmark for architectural lighting.
Upon acquisition, the rundown 1960's building undertook a dramatic transformation which included the complete refurbishment of the curtain wall (facade). The refurbished building now stands as one of the most prominent buildings in the Hong Kong business district.
The Nexxus Building contained a number of design challenges and technical obstacles that had to be overcome and be incorporated into an aesthetically pleasing and eye-catching lighting design.
These challenges included;
• The highly reflective nature of the building's façade
• Light trespass issue
• Energy efficient lighting design
• The ability to view the lighting design from oblique angles
The glass façade of the building does not allow for more conventional wash lighting and as such, a customised LED product was developed and installed to cater for the building's design. The architecturally designed 'fins' located on the façade of the building are a prominent feature throughout the day time, however, during the night they are lost amongst the sea of glass. Using the latest LED strip lighting technologies, Laservision's lighting design illuminates the iconic physical characteristics that are unmistakably the Nexxus building.
Due to the building's location, light trespass issues (or light pollution) played an important factor in the design. Light pollution may be simply defined as the misdirection of light - most often caused by poorly designed lighting fixtures which not only light the intended object, but the surrounding objects as well. The lighting design on the Nexxus building utilises a variety of custom fixtures to ensure the light source is only projected forwards - therefore each fixture acts as its own single point light source, minimising light pollution and light trespass.
The shift in global climate trends and an international focus on sustainable energy has seen architectural lighting designs adopting energy efficient technologies and fixtures as a means of retrofitting new or old structures for modern times. These latest energy efficient technologies have been utilised and synchronised to create this massive video wall in the heart of Hong Kong.
The customised lighting fixtures on the Nexxus Building were designed to be incorporated into the curtain wall (façade) whilst it was being erected during refurbishment - therefore reducing the time taken for installation, whilst reducing associated costs. Whether it is a refurbishment of an old building or the construction of a new skyscraper, Laservision's customised lighting fixtures may be incorporated into the building's design with no delays to the ongoing construction program.
Laservision is a world-renowned pioneer of creative, high-impact solutions for the attractions, architectural lighting, advertising and special events industries. Our creations are projected to targeted, large-scale audiences, where audiences become an integral part of the experience. Laservision's world-renowned installations include Hong Kong, Singapore, Korea and Sydney's Darling Harbour. These installations can all be viewed at www.laservision.com.au/projects
Contact
Laservision (P) 9658 - 1000
E-mail:shannonbr@laservision.com.au
Web Site:www.laservision.com.au