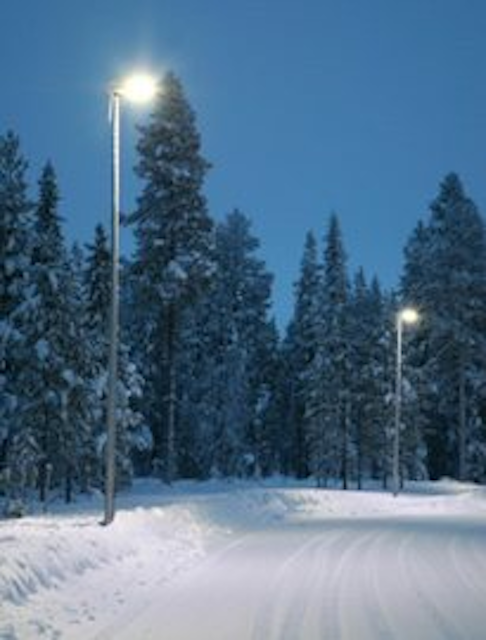 Date Announced: 03 Feb 2009
-- OSRAM Opto Semiconductors´ Golden DRAGON LEDs in EasyLed street lights
After extensive testing, the Levi ski resort in Kittilä (Finland) will become the first district in the country to install LED street lighting. The system will comprise 3840 Golden DRAGON LEDs and oval lenses, all supplied by OSRAM Opto Semiconductors. They will be installed in 64 'Starium Dragon 60' lamps from EasyLed Oy and will provide a pleasant light with exceptional efficiency.
The local authority in Kittilä is investing heavily in its regional infrastructure, placing great emphasis on innovation and sustainability. This street lighting system fits perfectly with the concept of energy savings. The system comprises 64 'Starium Dragon 60' luminaires, each equipped with 60 Golden DRAGON LEDs fitted with oval lenses. They provide pleasant efficient light in all weathers for roads, sidewalks and parking lots in residential areas with normal traffic volumes.
Even freezing winter temperatures of -35°C have no effect on the operation of the highly resilient LED lights. The futuristic LED street lamps consume just 41 W. This greatly reduces energy costs for the local authority and, together with their minimal maintenance requirements, leads to an amortization period of just 4.5 years.
With a color temperature of 5600 K, the LED lamps provide natural light that residents find very pleasant. "We were particularly persuaded by the excellent color rendering, the vibration resistance of the light sources and the freedom create any luminaire designs thanks to the small size of the LEDs", said Mika Nummenpalo, product development director at EasyLed.
"The stability of the luminous flux and the ideal distribution of light with no scatter – and therefore no light pollution – were key factors in the decision to install LEDs", added Ari Tiilikainen, a lighting designer at Lite-Design.
"Thanks to sophisticated thermal management we were able to give the luminaires a modern low-profile design as requested by the local authority. And of course we benefited from professional support from OSRAM distributor EBV."
"All the departments in our local authority are very keen that we invest only in future technologies", said Jari Kinnunen from the Technical Department in the Kittilä authority. "And the 'Starium Dragon 60' offers the best luminous efficacy and therefore the greatest potential savings. We are therefore making a valuable contribution to the 'green environment'."
Contact
OSRAM Opto Semiconductors
E-mail:info@osram-os.com
Web Site:www.osram-os.com