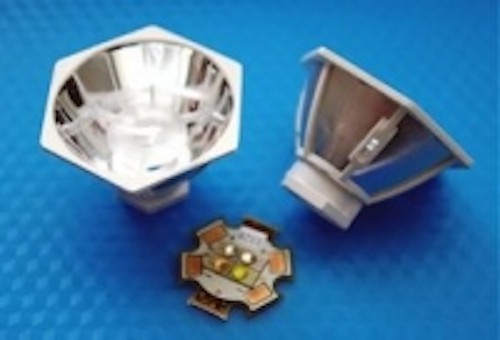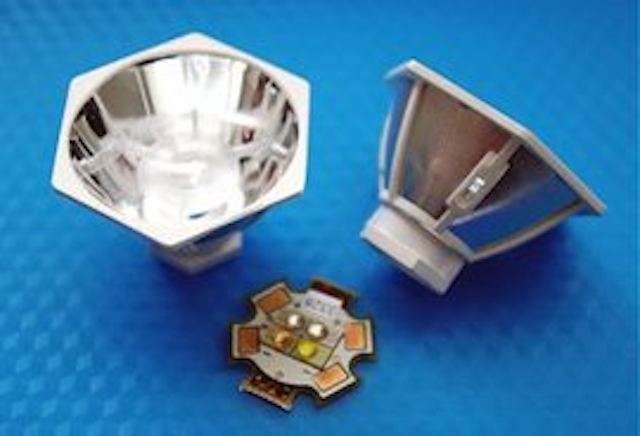 Date Announced: 17 Feb 2009
Future Lighting Solutions Offers First True Color Mixing LED Optic
Uniformly Mixes Light from Up to 4 LEDs for Color & Tunable White Luminaires
Visit us at:
Strategies in Light (February 18 - 20th)
Booth#: 310, Santa Clara Convention Center
MONTREAL, CANADA (February 17, 2009) - Future Lighting Solutions today announced the availability of Polymer Optic's 230 Color Mixer Reflector for LUXEON® Rebel Power LEDs, the first off-the-shelf optic for solid-state lighting applications requiring uniform mixing of multiple LED light sources. The new optic offers key color mixing, engineering and flexibility benefits for applications including tunable white spots and downlighters, color-changing luminaires for entertainment and architectural lighting, and medical lamps or forensic torches.
The POL 230 can uniformly mix light from up to four closely mounted LUXEON Rebel LEDs into a single +/-5 degree (FWHM) beam. The product's modular design allows maximum packing density and assembly flexibility, enabling easy construction of optic arrays to produce high performance luminaires.
The optic eliminates the need for designers of color-changing or tunable white lighting applications to use separate optics for each LED color or a multichip LED with a single optic. The first option produces poor mixing and adds costs for extra parts and assembly. The second option restricts the designer to multichip LEDs with limited light output and RGB-only color choices.
In contrast, the POL 230 takes full advantage of the high flux and lumen maintenance features of LUXEON Rebel LEDs while also enabling the use of any LED color combination. Designers might prefer RGBW (white) for entertainment luminaires that must produce an infinite number of pastel variations, RGBA (amber) for architectural lighting requiring soft tones, RGGB for applications requiring intense color generation, and other combinations for tunable white lighting.
Future Lighting Solutions collaborated with Polymer Optic on product development, including reviewing proposed designs, providing insight into the market need for color mixing options beyond RGB, and using its knowledge as the exclusive supplier of LUXEON LEDs to help optimize the optic for the LUXEON Rebel series.
"We have seen strong market demand for a color mixing optic in general and an alternative to multichip LEDs in particular, especially in the entertainment and architectural lighting sectors," said François Mirand, European Technical Manager of Future Lighting Solutions. "With input from our sales and engineering teams, Polymer Optic has delivered the first optic that meets this market need."
"Our first priority in developing a color mixing optic was to produce a solution for the LUXEON Rebel line because the Rebel's extremely small form factor makes it possible to optimize the color mixing performance," said Mike Hanney, Technical Director of Polymer Optic. "This is a strong addition to our product line and one that will simplify application development for a wide range of color mixing scenarios."
Samples of Polymer Optic's Color Mixer Reflector (part #230) are available immediately from Future Lighting Solutions at www.futurelightingsolutions.com.
About Future Lighting Solutions
Future Lighting Solutions is a leading provider of LED lighting components and solution support for lighting designers and OEMs interested in taking advantage of solid state lighting technology. Future Lighting Solutions provides LED lighting knowledge, resources, programs, partners, solutions and logistics support to promote the development of LED products and installations. The company is a division of Future Electronics, the third largest electronic components distributor in the world. Both companies operate in 169 locations in 41 countries in the Americas, Europe and Asia.
Contact
Heather Goldsmith Marketing Communications Manager, Future Lighting Solutions Tel: 514 694.7710, Ext: 5245
E-mail:heather.goldsmith@futureelectronics.com
Web Site:www.futurelightingsolutions.com