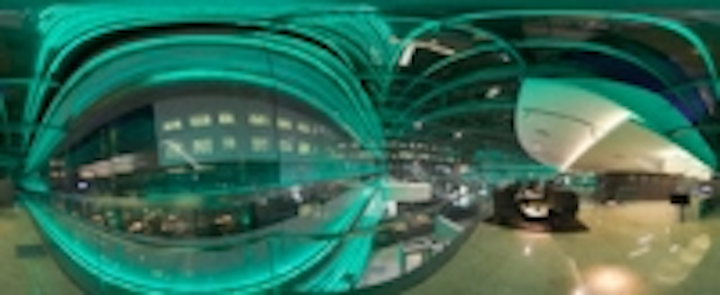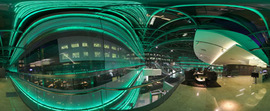 Date Announced: 27 Feb 2009
Specialist architectural lighting suppliers Architainment has supplied over 1300 Phillips SSL iColor Cove MX Powercore LED fixtures for an eye-catching installation in the refurbished atrium of Tower 42 in the City of London.
The main entrance and reception to London's tallest skyscraper has been rejuvenated by Paul Croft Studios in conjunction with Architects Design Partnership (ADP), and transformed into a dynamic, contemporary environment for one of the City's most iconic buildings. Integral to this is a new lighting scheme created by Light Bureau.
They wanted a bright, environmentally friendly lighting feature that would produce atmospheric and vibrant colour changing effects in the space after dark. The atrium lent itself to several lengthy horizontal linear runs of LED traversing the full width of the space.
Architainment was approached as specialist lighting consultants by the project interior designer Paul Croft regarding the supply of the LED lighting solution. They tendered to specify and supply the equipment, and also produced an innovative solution for installing the fixtures discreetly into the existing atrium structure which is comprised from thousands of different angled glass panels.
Architainment's Paul Hill project managed from their end working closely with Light Bureau's lead designer Duncan Hamilton and assistant designer Paul Van Cuijck.
They selected the iColor Cove MX Powercore product because of the high light output and – due to the Powercore technology that manages both power and data within the fixture – its ability to make up long runs without needing multiple power supplies. This made the installation infinitely more cost effective and straightforward.
Each 300 mm stick of iColor Cove MX Powercore can be individually controlled if required by the Phillips Light System Manager (LSM) Ethernet based controller, which was also supplied by Architainment. The standard settings are currently programmed for all the fixtures to work together producing a series of subtle colours throughout the space.
Each of the 16, 20 metre runs of iColor Cove feeds back to 26no Data Enablers, which are in turn linked back to the controller at the back-of-house – very expediently via 2 Ethernet cables.
Light Bureau's Duncan Hamilton comments, "We are very pleased with the effects and controllability of the iColor Cove MX Powercore".
To attach the iColor Cove MX Powercore fixtures in exactly the right locations along the glass panels - each grades inwards and no two angles are the same - Architainment, in conjunction with Light Bureau, designed and arranged fabrication of bespoke polished stainless steel trunking. This came complete with non invasive couplers for fixing in place and angling the LED strips to avoid unwanted glare. The trunking was supplied in 2.5 metre lengths and blends invisibly into the atrium structure in daylight. The iColor Cove MX Powercore sits in the middle, and the result is an elegant and seamless installation – completed on site by electrical contractor Mala Electrical.
Architainment's Paul Hill comments, "This was a fantastic opportunity to work on one of London's great landmarks, working with and being considerate to the existing architecture presented its challenges, but with careful planning and teamwork we're extremely happy with the end results. The lit effect transforms the space at night, whilst using the iColor Cove MX Powercore with custom housing allowed the system to be introduced without altering the daytime aesthetics of the atrium."
Contact
For more press info, please contact Louise Stickland on +44 (0)1865 202679 or +44 (0)7831 329888 or Email 'louise@loosplat.com'. To contact the Architainment direct, please call +44 (0)1494 471 340o or check www.architainment.co.uk
E-mail:louise@loosplat.com