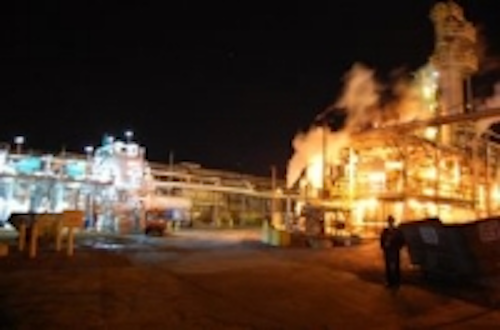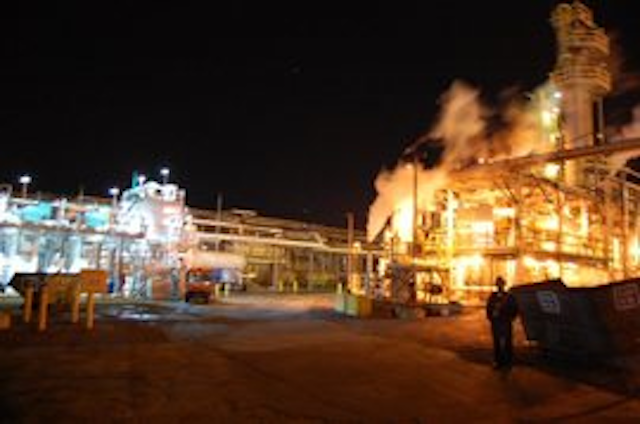 Date Announced: 03 Feb 2009
Farmingdale, N.J -– SafeSite® 250 Series is Dialight's latest addition to its innovative SafeSite range of LED fixtures and, using only 100W per fixture, has been created to outperform 250W HPS lighting sources in several ways.
[Image caption: This refinery installation shows full color spectrum SafeSite® LED lighting on the left and traditional HPS lighting on the right.]
Firstly by replacing traditional HPS fixtures that require 250W, the SafeSite 250 Series luminaire offers power savings of 60%.
Secondly, whereas HPS lamps emit light almost exclusively in the orange area of the color spectrum, SafeSite delivers pure "full spectrum" white light that is much easier to see under. This is especially important in low light level conditions when the eye's rod receptors are more used in visual acuity than the cone receptors and is critical for tasks like viewing color coded wiring, reading colored plaques and distinguishing steam from the smoke of a fire.
Designed to meet UL Class I Division 2 and Class II Division 2 requirements, SafeSite was originally created to meet the needs of hazardous locations and the new 250 Series offers further significant advantages over traditional lighting solutions and its own predecessors.
Using the latest 100 lumen/W Rebel LEDs from Lumileds the SafeSite 250 Series provides 50% more light than the 150 Series, lighting a larger area, so stanchion mounts can be placed at 12' or higher instead of 8' and fewer are needed. With its superior light control and higher fixture efficiency, it measurably outperforms traditional HPS light source technology.
John Peck, Manager of Dialight's Optical Design Group, calculates the bottom line benefits for SafeSite end users like Rio Tinto and Valero: "Making a one-to-one comparison between a 100W SafeSite 250 Series fixture and a 250W HPS fixture in use 24/7, we calculate that over a year a typical plant with 1,000 retro-fitted Series 250 fixtures can save US$164,000 on energy at today's prices."
"But it's actually better than that," he adds. "These T4 and T5 rated LED fixtures don't require a warm-up period and can be operated as 'instant-on', reaching full light intensity in a fraction of a second, so the plant could save a lot more by powering down the lights when not needed or using motion control to avoid running them 24/7.
"On top of that they'd have the added benefit of SafeSite's 5-year warranty and that means zero maintenance and more cost reduction."
Dialight's SafeSite 250 Series is available through Dialight's global network of distributors. It will also be on show for the first time at HazardEx in the UK from February 25-26, 2009.
[SafeSite cost comparison assumes $0.10 per kilowatt*hour operated 24 hours per day 365 days per year.]
About Dialight
Dialight plc (LSE: DIA.L) is leading the lighting revolution for industrial users across the world. Applying leading edge LED technology it produces retro-fittable lighting fixtures designed specifically for hazardous locations, obstruction lighting, traffic and rail signalling to vastly reduce maintenance, save energy, improve safety and ease disposal. Versions of these high specification luminaires are also produced for more general industrial and outdoor situations. The company is headquartered in the UK with operating locations in the UK, USA, Germany and Mexico.
Contact
David Jennings, Dialight Tel. +1 732 751 5880
E-mail:djennings@dialight.com
Web Site:www.dialight.com