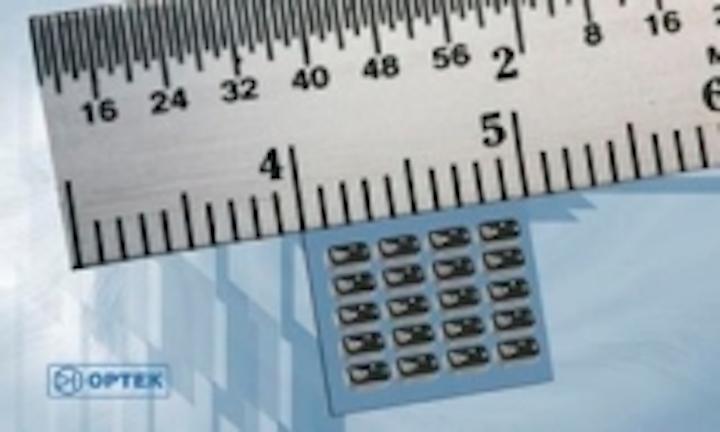 Date Announced: 11 Feb 2009
CARROLLTON, TX -- Providing design engineers with an economical device for non-contact sensing applications, TT electronics OPTEK Technology has developed a new reflective object sensor in a miniature surface mount package. Designated the OPB733TR device, the infrared sensor uses a lensed IR LED and phototransistor elements to collimate the light beam, giving the device an optimizing detection range from 0.4" (10mm) to 1.0" (25.4mm). In addition, the minimum phototransistor output current of 100mA eliminates the need for external amplification of the output signal, thus simplifying the drive circuitry.
"We developed the OPB733TR sensor in response to customer requests for a small foot print, surface mount IR reflective sensor with a longer detecting range," said Alan Bennett, vice president of sales for OPTEK Technology. "The addition of collimating lenses to our standard IR LEDs and phototransistors enhanced the sensor's resolution as well as its detection range."
The OPB733TR sensor consists of an IR LED with typical peak emission wavelength of 890nm, mounted alongside a NPN silicon phototransistor, which responds to light reflected by the object being sensed. The phototransistor output on-state collector current is 0.1mA (100mm) at 1/2" [12.7mm] distance from the target and a 20mA forward current and VCE of 5V. Rise and fall time for the phototransistor signal is typically 15mS.
The sensor features a molded dark epoxy package to minimize ambient visible light interferences, and measures just 0.300" [7.62mm] x 0.160" [4.06mm] with a PC board-mounted profile of just 0.114" [2.89mm]. The surface mount package is reflow solder compatible to 260°C. The sensors are available in 16mm tape on 7" diameter reels, 500 pieces per reel.
The sensors are ideal for non-contact sensing of reflective objects in applications including paper edge detection in office machines, mail sorting machines, and printing equipment; coin recognition, bill and card detection in vending machines and ATMs; automatic sensing applications for soap or towel dispensers; counting, sorting and proximity sensing in industrial applications, as well as door and end-of-travel sensing and other safety applications.
Typical pricing for the OPB733TR reflective object sensor is $1.32 each in quantities of 1k. Lead time, if stock is not available, is from 6 to 8 weeks.
For more information about OPTEK's OPB733TR sensor, contact TT electronics OPTEK Technology at 1645 Wallace Dr., Carrollton, TX, 75006; call 972-323-2200, or visit OPTEK on the web at http://www.optekinc.com/partNumberSearch.aspx?partNumber=OPB733T. In Europe, contact JP Delaporte at info@optek-europe.com. In Asia, contact T.H. Swee at thswee@optekasia.com or call +852-9190-4641.
OPTEK is a leading manufacturing and solutions provider for sensing and illumination covering the infrared, visible and ultraviolet spectrum; with standard as well as application specific products for a variety of markets, including, but not limited to office machines, industrial equipment, encoders, automotive electronics, military and high-reliability applications, medical diagnostic equipment and solid-state lighting. Headquartered in Carrollton, TX, the company is ISO/TS16949:2002 and BS EN ISO 9001:2000 certified, as well as ITAR registered. OPTEK Technology was acquired by TT electronics in December 2003.
TT electronics plc is a global electronics company manufacturing a broad range of advanced electronic components, assemblies and sensor modules for the automotive, industrial, telecommunication, computer and aerospace markets.
Contact
Beth Gaddy, BtB Marketing 919-872-8172
E-mail:beth.gaddy@btbmarketing.com
Web Site:www.optekinc.com/partNumberSearch.aspx?partNumber=OPB733T