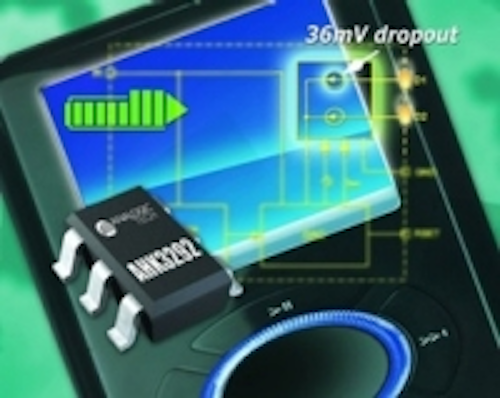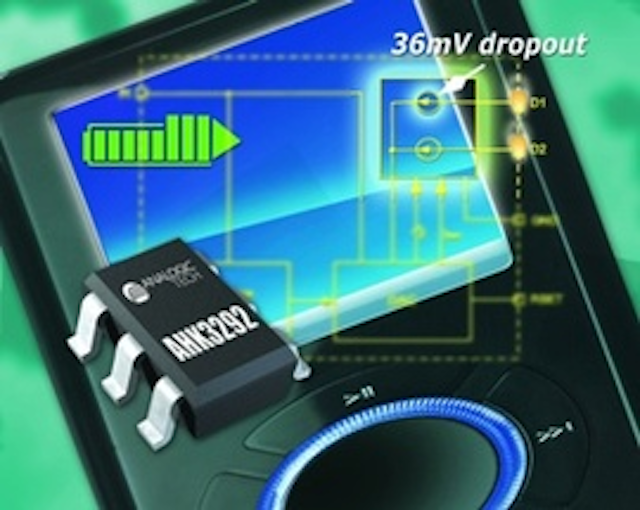 Date Announced: 10 Feb 2009
Santa Clara, CA –– Advanced Analogic Technologies Inc. (AnalogicTech™), a developer of power management integrated circuits, announced today the , a two-channel LED driver for LED indicators and LCD or keyboard backlighting in entry level mobile products. Featuring low resistance current sinks capable of supporting a low dropout voltage, the new LED driver reduces power dissipation and extends battery life. The device's dropout voltage of 36 mV typical is at least 20% lower than competitive products.
"As LED manufacturers improve their technology and reduce the voltage drop of their LEDs, in some applications a boost converter is no longer necessary," says Phil Dewsbury, product line director. "By driving LEDs directly from the battery using a low dropout current sink, the AHK3292 offers designers of entry-level phones and other mobile products a lighting solution that improves power efficiency and extends battery life while reducing cost."
Single wire control
Operating directly off a 2.7V to 5.5V input supply, the AHK3292 drives up to two LEDs. This 1X driver IC is ideal for driving LEDs with a low forward voltage drop. Low resistance, low dropout voltage current sinks allow the LEDs to operate close to the input supply voltage eliminating the need for an additional boost converter and extending battery life.
Maximum LED current is set by an external resistor (Rset) that enables designers to optimize linearity and provide smoother control. Fullscale LED current can be set to an upper limit of 30.2 mA.
The output current for each LED is enabled, disabled and controlled by AnalogicTech's Simple Serial Control (S2Cwire) interface. By replacing PWM control circuitry, this 32-step single-wire bus reduces the overhead on the system microcontroller, minimizes LED flicker through constant-current digital control, and reduces noise.
LED output current accuracy is +/- 10%. LED output current matching is +/-3%. The AHK3292 also features a low current shutdown mode.
Price and Availability
Qualified over a -40 to +85 ºC temperature range, the AHK3292 is available in a Pb-free 6-pin SOT23 package. It sells for $0.39 in 1K quantities.
About AnalogicTech
Advanced Analogic Technologies, Inc. (AnalogicTech) is a supplier of Total Power Management™ semiconductor solutions for mobile consumer electronic devices, such as wireless handsets, notebook and tablet computers, smartphones, digital cameras, wireless LAN, and personal media players. The company focuses its design and marketing efforts on the application-specific power management needs of consumer, communications, and computing applications in these rapidly evolving devices. AnalogicTech also develops and licenses device, process, package, and application-related technology. AnalogicTech is headquartered in Santa Clara, California and Macau, S.A.R., with offices in China (Beijing, Shanghai and Shenzhen), Hong Kong, Taiwan, Japan, South Korea, and United Kingdom, as well as a worldwide network of sales representatives and distributors. The company is listed on the NASDAQ exchange under the ticker symbol AATI.
Contact
Karolien Cools-Wittry AnalogicTech
E-mail:info@analogictech.com
Web Site:www.analogictech.com