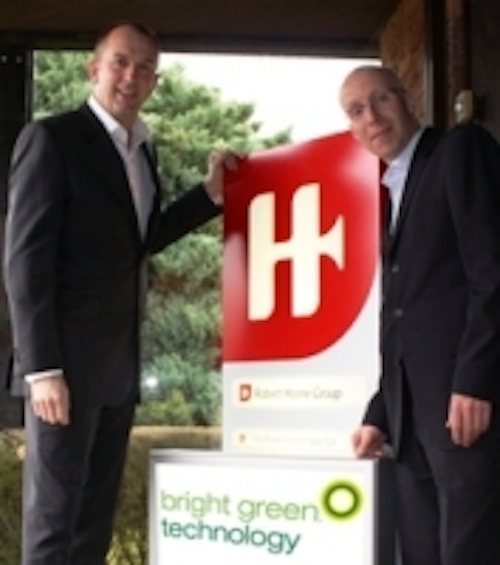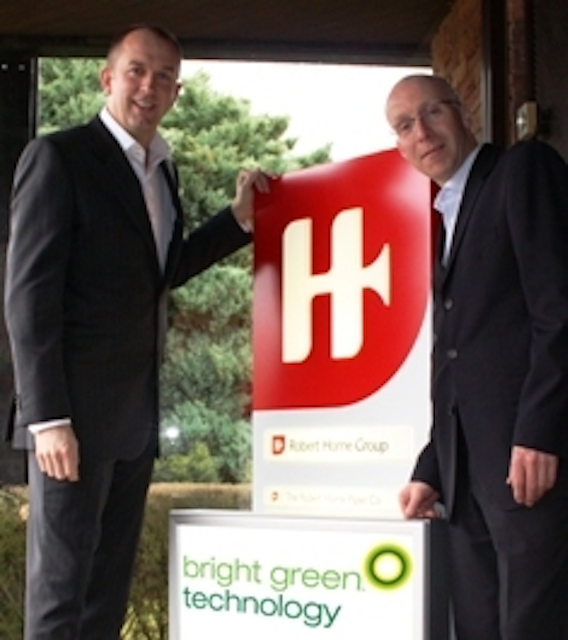 Date Announced: 23 Feb 2009
Bright Green Technology is delighted to announce a new partnership with the Robert Horne Group, the UK's leading supplier to the sign and display industry
Bright Green Technology develops and markets proprietary backlighting systems built on their own patent-protected technology. Their mission is to dramatically improve the environmental performance and ROI of all backlit advertising and signage by replacing fluorescent tube displays. The deal takes effect from March and represents a major step forward in gaining access to a much wider band of customers in the UK.
This new partnership will see the addition to Robert Horne's comprehensive LED portfolio of Bright Green MatrixTM, an LED backlight system designed to illuminate large format signs, light boxes and displays. Bright Green MatrixTM is a patented suspended array of LEDs used to increase or decrease the light output, in line with the performance and budget requirements of the project.
With global warming continuing to sit at the top of the public agenda, retailers and corporate organisations have begun to recognise the many benefits associated with LED in comparison to traditional lighting of cost savings, lower energy usage and improved performance. Bright Green MatrixTM offers a real alternative to fluorescent tubes by reducing energy consumption by up to 80%, eliminating maintenance costs and producing evenly lit graphics without the 'zebra' striping associated with tubes.
The economic case is compelling. A typical multiple retailer with 100 large illuminated display sites, each containing 40 fluorescent tubes could save more than £600,000 over the lifetime of the signs and reduce carbon output by 4000T.
The Product
Bright Green MatrixTM is supplied in standard lengths, each pre-installed with LEDs spaced at 125mm intervals. The LEDs are housed in robust aluminium sections which protect the lighting components, help dissipate heat and provide a rigid profile which can be easily fitted into existing or new light box housings. Each length is supplied with connection cables and the LEDs are coated for external use.
Applications
Bright Green MatrixTM is ideally suited to signs, displays and light boxes in corporate and retail environments. It is equally suited to retro-fitting into existing boxes or incorporating into new designs.
Installation
Bright Green MatrixTM allows full flexibility when designing and installing. By adjusting the spacing between the Matrix lengths and hence the density of the LED array, the light output and power requirement can be pre-determined.
Bright Green MatrixTM is supplied pre-drilled for simple fixing to the base of the light box or to an internal bracket. It can be fitted vertically or horizontally within a light box. There is no limit to the size.
Steve Lister, Business Development Director for Robert Horne Sign & Display commented "There has been a lot of initial interest in the new product from end users and sign makers and Robert Horne is delighted to offer this new Bright Green MatrixTM LED System from Bright Green Technology. In today's market place Sign Makers certainly need to be advising and informing their customers about the many benefits of modern LED lighting; by doing so they are ensuring they are adding value to their service offering.
Recommending 'greener' alternatives and saving clients costs are certainly two of the most important considerations and Robert Horne is proud to be able to offer a comprehensive LED product portfolio plus support and advice to their customers on this important topic. Bright Green Technology is an emerging force in this market and Robert Horne looks forward to introducing more of their products in the future"
Photo caption: Terry Cattle - Head of Product and Steve Lister - Business Development Director shake on the deal
Bright Green Technology Limited
Bright Green Technology specializes in solid-state backlighting systems that dramatically reduce the energy consumption and carbon footprint of backlit advertising and signage.
Our Sustainable Backlighting™ technology produces a beautiful, consistently-lit surface while consuming up to 88% less energy, five times the longevity and none of the hazardous waste issues associated with fluorescent tube systems.
The result: better backlighting with a tiny carbon footprint at lower cost.
Bright Green Technology Limited Trademarks include:
Bright Green Edge™; Bright Green Matrix™; Sustainable Backlighting™.
Contact
Terry Cattle Bright Green Technology Forge Lane Richmond, Surrey TW10 7BF United Kingdom Ph: +44(0)20 8332 6001
E-mail:mail@brightgreentechnology.com
Web Site:www.brightgreentechnology.com