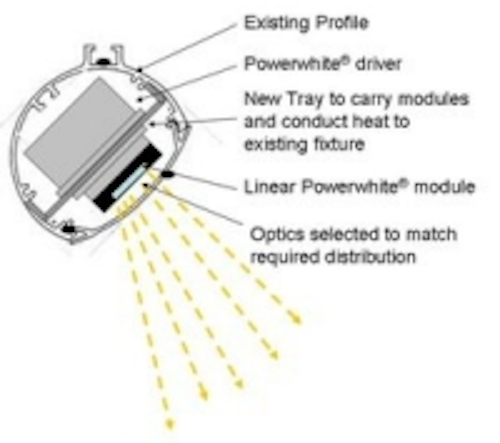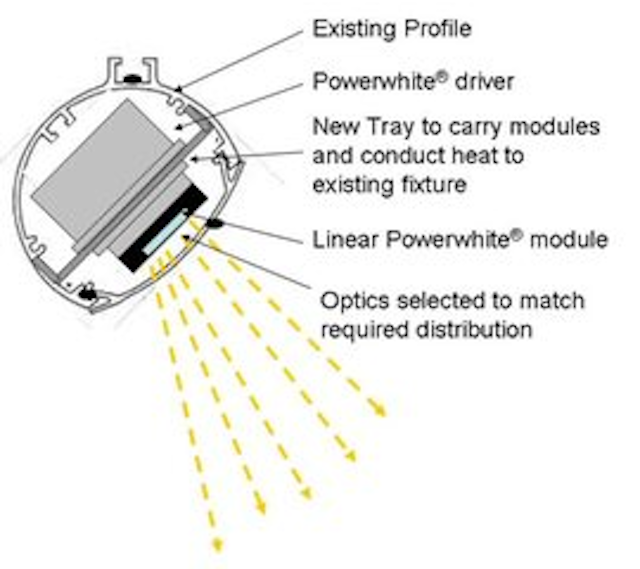 Date Announced: 05 Feb 2009
Dialight's Powerwhite® LV Linear Modules are ETL recognized to UL2108 standards for rapid integration by OEMs
FARMINGDALE, NJ -– Dialight has introduced a new ETL-recognized version of its ultra high brightness Powerwhite® LV Linear Modules that will enable the rapid development of many LED lighting applications including existing fixture formats and entirely new product designs. This is the first complete LED solution product of its type on the market.
The Powerwhite system comprises two elements – modules and drivers – as well as an option to have both elements integrated into a single product. The technology it delivers is ideal for the design of new LED lighting fixtures for linear, accent and flood lighting, signage, street and area lighting as well as general illumination. In many cases it can also be successfully integrated into existing fixture designs, converting them into next generation lighting solutions with the advantages of LED technology.
Measuring 11.7x1.498x0.585" (297.18x38.05x14.86mm) each Powerwhite module contains six of the latest LUXEON® Rebel™ LEDs complete with compact collimating optics. Color binned for consistent color, the LEDs are available with 80+ lumen for cool white, 70+ for neutral white and 50+ for warm white. The housing combines a die-cast heat-transfer base and plastic front cover to create a module with no interconnecting wires or visible solder joints. They are also available with an on-board driver allowing them to be driven by a 24V supply for even simpler installation configurations.
The Powerwhite driver is capable of driving up to 48 LEDs or 8 modules in a series chain at 350mA and 24 LEDs or 4 modules at 700mA. To aid installation it is capable of operating in ambient temperatures of up to 80ºC. This allows integration within the fixture alongside LED modules resulting in fixtures that can be installed using traditional techniques. The driver also features a thermal-feedback circuit which can monitor the operating temperatures of the driver and the LED modules to ensure the protection of the whole system.
With an output voltage level of up to 180V DC, very similar to voltage levels provided by traditional lighting ballasts, Powerwhite modules have been designed to handle higher voltage levels, enabling manufacturers to comply with the requirements of EN60598 and UL 1598.
Both elements of this product are available now through Future Electronics.
Contact
Sales Contact: Charu Chhibber Tel. +1 731 751 5851
E-mail:charuc@dialight.com
Web Site:www.dialight.com