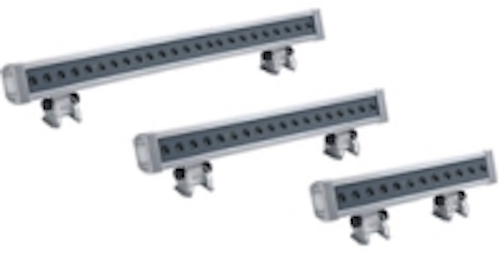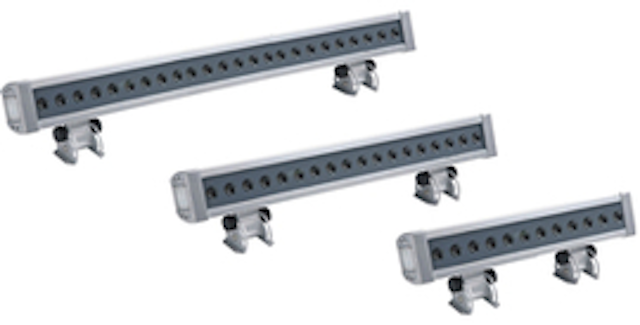 Date Announced: 18 Feb 2009
To meet the specific needs, now ATG Electronics® launches the linear and weatherproof LED Wall Washer——Smart™ XLT.
From facade structures to landscapes, Smart™ XLT generates dynamic washing effect.
Smart™ XLT features compact linear shape built with high power LEDs and comes with 1 meter power cable and 0.5 meters signal cable (XLR3 connector) to connect every two wall washers.
The mounting/rotating gears ease the installation and enable a wide rotary angle (up to 180°).
Smart™ XLT comes with two control methods: self-control and DMX control. Under self-control, it will work under the pre-programmed lighting effect; while under DMX control, Smart™ XLT will be compatible with any DMX512 console, like DynColor™ 500-SL RGB DMX Console, to meet lighting designers' specific lighting-effect requirements.
With an IP65 rating, Smart™ XLT is the right solution for outdoor applications to light up mansions, theaters, casinos, gardens, bridges, shopping centers, theme parks and entertainment plazas etc.
Features & Benefits:
-Two length available: L1240*W76*H163mm (with 36LEDs) and L580*W76*H163mm (with 18LEDs);
-Wide dynamic lighting beam;
-Meet your specific lighting-effect requirements with a total amount of 16,777,216 different colors;
-Ease of directing the light to the right spot with 180° rotary angle;
-With mounting gears and rotating for your easy installation and removal;
-RGB color-changing modes controllable by most DMX consoles to get fancy performance;
-Long life span of over 50,000 hours with high quality LEDs;
-IP65 rated, applicable for outdoor applications.
Contact
ATG Electronics Corp. International Sales Department Tel: +86-21-33932667 Fax: +86-21-33932677
E-mail:sales@atgelectronics.com
Web Site:www.atgelectronics.com/lighting/Architectural/LEDWallWashers/XLT-RGB-LED-Wall-Washers.html