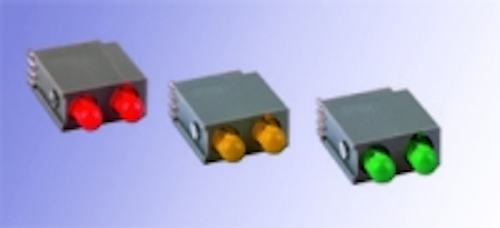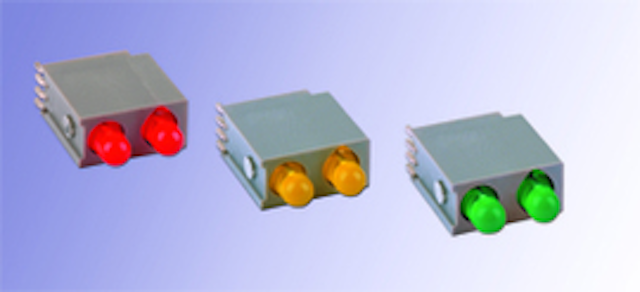 Date Announced: 10 Feb 2009
Elma Electronic, a leading designer and manufacturer of rotary components and electronic packaging products, offers LEDs in customizable configurations. These include versions with custom brightness options.
Elma's LED assemblies and arrays can be customized to include different levels of indicating brightness for each LED within the same unit to meet a specific indicating goal. For example, a dual LED assembly may have one continuously lit dimly to indicate normal conditions. When triggered, the second LED within that assembly would not only illuminate a different color, but also a different brightness to indicate the severity and urgency of this problem.
The injection molding system used by Elma allows quick and cost-effective modification of their LED and lightpipe products. Therefore, a wide range of sizes, colors, brightness, and options are available, even in small quantities. Standard color options include blue, red, and green. Customized colors are also available such as orange, amber and white. Most LED designs are available in surface-mount or through-hole styles.
The lead-time is 4 weeks ARO.
For more information on Elma's LEDs, switches, knobs, and custom design services, please contact Mark Thorsell at 510-656-3400 x 10428.
About Elma Electronic
Elma Electronic Inc. is a leading manufacturer and supplier of enclosures, backplanes, cabinets, cases, and "ready-to-run" packaging for CPCI, Rugged COTS, VME/64x, VXI, PC and custom bus structures. Elma's component product line offers a wide selection of top quality switches knobs and LED arrays. The company has been a worldwide supplier of dependable, high performance products for over 35 years. Elma operates three facilities in the continental United States plus has locations in Switzerland, Germany, France, the United Kingdom and Israel.
Elma Electronic Inc. is located at 44350 Grimmer Blvd., Fremont, CA 94538 USA. Telephone (510) 656-3400 - Fax (510) 656-3783.
Contact
Company Contact: Justin Moll, Elma Electronic Phone: 510.656.3400 Fax: 510.656.3783 e-mail: justin.moll@elma.com
E-mail:sales@elma.com
Web Site:www.elma.com