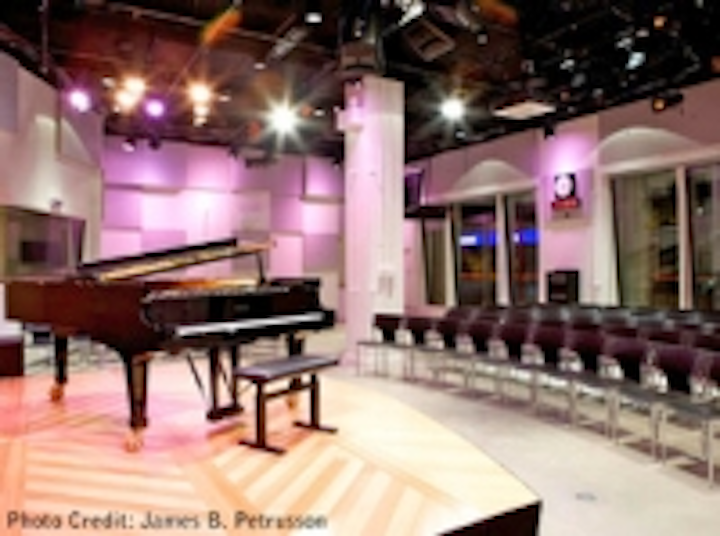 Date Announced: 29 May 2009
NEW YORK – As the nation's most-listened-to public radio station, WNYC wanted to create more than a broadcast studio when it relocated to a new Manhattan facility earlier this year. So the station devoted the ground floor of its building to a state-of-the-art multi-media room, where concerts, theater performances, webcasts and radio broadcasts could be held before live audiences – all visible through display windows to passersby on Charlton and Varick Streets.
The innovative 125-seat gathering place, called the Jerome L. Greene Performance Space, opened its doors in Spring 2009. One of the biggest design challenges in turning this ambitious concept into a reality was developing a lighting system that would be flexible enough to handle the many activities that would occur in the space, while working within the physical constraints imposed by an older urban building.
"This building had a very limited amount of power and cooling available. To add any additional electrical or air conditioning capacity would have involved tremendous expense," said Mark London, vice president of systems at The Lighting Design Group, Inc. (New York), which designed the lighting system as well as the repertory performance lighting for the Greene Space.
"So we were given the issue of coming up with a lighting design for this multi-purpose room that would be able to service everything from live stage events, to town hall meetings, to radio broadcasts, to webcasts – all with the equivalent of three wall outlets worth of power, or 60 amps single phase." Faced with this challenge, London and project designer Michael Steinberg "said right away, 'This is going to be an LED installation.'"
The LEDs chosen for the job were Elation Professional's Opti Tri Par intelligent RGB color-mixing LED par cans. Designed like a theatrical-style par can and powered by 18 3-watt LEDs, the Opti Tri Par is big on brightness but low on heat production and energy consumption, with each unit drawing only 70 watts of electricity. What's more, the Opti Tri Par features Elation's exclusive Tri-Color Design; each of its LED lamps is composed of three different-color LED sources -- a red, green and blue. This allows color mixing to be done within each individual lamp, an innovation that produces smoother, more even colors and eliminates the annoying multi-color shadows that are often created by RGB fixtures with single-color LED lamps.
A total of 30 Opti Tri Pars were installed in the Greene Performance Space – serving two different functions, explained London. "We used Opti Tri Pars around the perimeter of the room to provide ambient color washes on the walls – to give the room some life and color when people see it from the outside when it's not in use. We also installed a system of Opti Tri Pars over the stage as backlight and sidelight color washes for the performers."
With their low power draw, the Opti Tri Pars don't strain the building's meager electrical capacity, and their cool operation reduces the need for heavy air conditioning. Another really impressive feature, said London, is the Opti Tri Pars' unique tri-color LED technology, which has proven especially advantageous for videotaping and webcasting. "We don't have to worry about getting 3-color shadows like you do with many LED fixtures. This could have been a big problem because of the room's acoustic panels, which are arranged in an asymmetrical pattern on the wall and could have produced some serious shadows."
London says he was also impressed by the high output of the Opti Tri Pars. "We were a little concerned about them being bright enough, but they actually have surpassed our expectations." Although he considered similar fixtures from other manufacturers, London said that the Opti Tri Par came out on top, another reason being its extremely economical price -- all the more critical in servicing non-profit clients. "For the output and color-mixing capabilities, we thought (the Opti Tri Par) was a very cost-effective choice."
Outfitted with energy-efficient Elation LEDs – along with a stage made of renewable bamboo, recycled paper for its printed materials, and frequent programs on environmental issues – WNYC's Greene Space is indeed living up to its name.
Contact
Elation Professional Ph 866-245-6726 or The Lighting Design Group Ph: 212-685-4940 www.ldg.com
E-mail:christine@fucinipro.com
Web Site:www.elationlighting.com