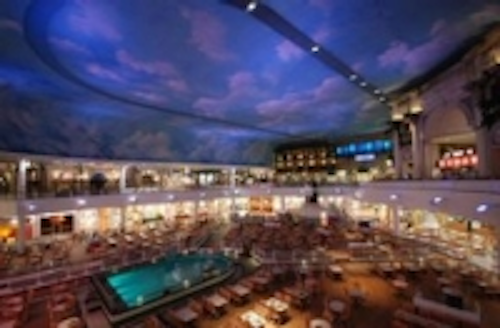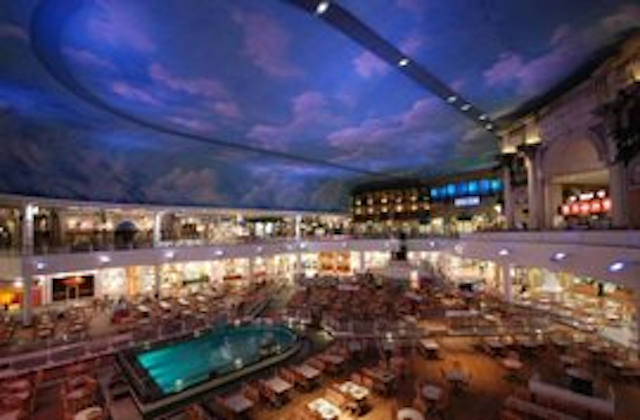 Date Announced: 19 May 2009
LED luminaires from OSRAM's innovative new range have been used to create a unique shopping experience at The Trafford Centre in Manchester, UK.
The ceiling is illuminated by HIGH POWER FLOOD luminaires and changes colour to mimic the changing conditions outside. Powered by highly efficient Golden DRAGON® LED technology, the HIGH POWER FLOOD luminaires provide a dynamic and smooth lighting effect that creates the impression of the sky while using very low levels of energy.
[Photo © Andy Robinson @ The Trafford Centre]
The Trafford Centre in Manchester is one of Europe's largest indoor shopping malls and attracted nearly 35 million visitors in 2008. The Centre is a focal point for shopping and OSRAM's HIGH POWER FLOOD luminaires are used to illuminate 'The Orient' part of the mall, home to a 1,600 seat food court as well as bars and restaurants.
OSRAM HIGH POWER FLOOD LED fittings allow the ceiling within the centre to change colour in order to reflect the changing conditions outside. From a bright blue sky to a reddish sunset sky and all conditions in between the LED technology can create these. The colour-changing aspect of the installation provides a unique ambience for those visiting the centre.
"The existing 700W fittings were obsolete, as well as being expensive to maintain and run. They utilised oil wheels for colour changing using DMX control. The RGB LED option from OSRAM provided a simple solution with substantial energy savings of approx 90% along with considerable maintenance savings," explains Andy Robinson, Building Services Manager at The Trafford Centre.
"When the 29 x 55W luminaires run in the blue mode, the power consumption is only 1.5 kW, this compares to the old system that consumed 18.2 kW."
Jason Hicklin, OEM/Display Optic Channel Marketing Manager for OSRAM continues, "Launched earlier this year, all our LED luminaires provide versatile solutions for lighting design and benefit from the superior nature of LED light sources including long lifetime, low power consumption and high light output enhancing their use in exterior applications. The project at The Trafford Centre demonstrates that innovative lighting design can be both creative as well as sustainable through the use of LED technology."
ABOUT OSRAM
OSRAM is part of the Industry sector of Siemens and one of the two leading lighting manufacturers in the world. Sales for the OSRAM group worldwide in the year ending September 30, 2008 totaled 4.6 billion euros, 88 percent of which came from outside Germany. OSRAM is a high-tech company in the lighting industry. Over 60 percent of sales come from energy-efficient products. This global player employs more than 43,500 people worldwide, supplies customers in some 150 countries and has 46 production facilities in 17 countries.
Contact
Tel. 01744 812 221
E-mail:csc@osram.co.uk
Web Site:www.osram.co.uk