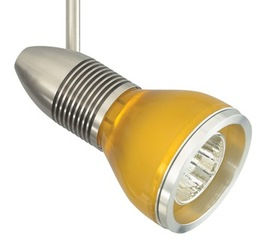 Date Announced: 18 May 2009
LED lighting without compromise
Tech Lighting has announced two unique, proprietary LED solutions that integrate the company's LED modules into over 40 signature pendants and one new head design – Helios LED Head. Both solutions are available for use with the company's industry leading architectural grade low-voltage lighting systems, including MonoRail, Wall MonoRail, Kable Lite and FreeJack. The entire Tech Lighting LED collection was on display at the company's redesigned exhibition space at LIGHTFAIR International.
Both systems utilize a proprietary LED lamp module – one for pendants and one for heads. The LED module reduces energy consumption 83 percent compared to a 35-watt halogen bi-pin or MR16.
The 5.8 watt Helios LED Head can be used in applications where typically a directional head containing a halogen MR16 lamp would be used. It is easily field replaceable similar to a medium-base socket, though it uses a dedicated base. The heat sink remains with the fixture minimizing any waste at the end of life. The Helios LED Head rotates 360 degrees and pivots 260 degrees to direct the beam. Accessories in myriad styles and colors allow you to create the ideal custom fixture. Available in antique bronze and satin nickel finish options.
The LED product line combines all of the attributes that have made Tech Lighting systems a favorite among lighting specifiers across North America with the added benefits of Lighting Science Group's patented LED technology. LED MonoRail features Tech Lighting's industry leading low-voltage rail which can be hand bent to fit into any environment along with a significantly smaller, lower wattage transformer. The FreeJack system features the same easy-to use monopoint canopies combined with a small low-voltage transformer that fits easily into a j-box.
"We spent the past four years researching the progress of LEDs, exploring potential opportunities to integrate this new technology into our product mix," said Steve Harriott, president of Encompass Lighting Group. "Ultimately we decided to partner with Lighting Science Group because we felt they could lead us to an LED lighting system that meets our stringent requirements and the results and the response so far have been incredible- it's truly LED lighting without compromise."
Equipped with LED technology, Tech Lighting LED systems will use significantly less energy than traditional lamp sources. For example, a 35-watt halogen lamp will be replaced by a mere 5.8-watt LED module with equivalent light output. The new LED fixtures will surpass both compact fluorescent and incandescent lamping in energy efficiency, life span and environmental impact. The LED modules consume up to 83 percent less energy than traditional incandescent sources and as much as 50 percent less energy than compact fluorescent bulbs.
This efficiency translates into a significant reduction in energy costs for the end user. The LED based lighting solutions also lower the carbon footprint relative to traditional light sources as they do not contain hazardous materials like Mercury and are RoHS compliant, and have a higher recyclable content. The LED fixtures will operate for as long as 30,000 hours—or up to 8 years—in normal usage and will pay for themselves within two years.
"Tech Lighting's popularity among lighting designers and specifiers is a direct result of our commitment to the development of products which combine innovative design with the highest degree of functionality," said Harriott. "The LED MonoRail and FreeJack Systems incorporate these hallmarks of Tech Lighting products and represent our commitment to offering our customers products that provide an unprecedented level of both performance and sensibility that goes beyond anything available in the industry today."
About Tech Lighting and Encompass Lighting Group
Tech Lighting is a brand of Encompass Lighting Group, providing products that embody expert craftsmanship, precision engineering and attention to the smallest detail. Since 1988, the brands of Encompass Lighting Group (Tech Lighting, 2thousand degrees, T~trak, ELEMENT, Wilmette Lighting Company, tiella, and LBL Lighting) have been the premier choice of architects, lighting designers, interior designers and homeowners who seek the best in architectural lighting systems. Headquartered outside of Chicago, Encompass Lighting Group is known for combining precision design and high quality materials to create beautiful, functional lighting. Its products can be found in lighting retailers and through sales representatives across North America.
About Generation Brands
Generation Brands is one of America's leading companies serving the lighting, electrical wholesale, home improvement, home décor, and building industries. The company has an outstanding portfolio of fashionable and functional lighting fixtures, ceiling fans, and decorative products that provide value and growth for our customers and end-users. Our success is derived from our ability to serve our customers and end-users with superior service, leading edge design, and outstanding quality. We continue to increase marketing investments and develop operating and product synergies that enhance our value to the many markets we serve.
About Lighting Science
Lighting Science Group Corporation (www.lsgc.com) designs and sells highly energy efficient and environmentally friendly lighting solutions. The Company's patented and patent-pending designs in power management, thermal management, manufacturing processes and other areas seek to reduce energy consumption while delivering environmental benefits and cost savings to the end-user. The company designs and manufactures ready to use LED lamps and luminaries as well as provides customized lighting solutions for architectural and artistic projects worldwide. Lighting Science has offices in New York City, Sacramento, Satellite Beach, FL, Dallas, Tokyo and the United Kingdom.
Contact
Tech Lighting
E-mail:kheffern@lambert-edwards.com
Web Site:www.techlighting.com