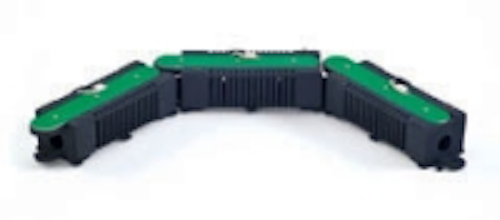 Date Announced: 14 May 2009
New Product Introduction: Series 6000 LED Cove Lighting — the commercial lighting industry's most advanced indirect cove- and soffit-mounted LED lighting system.
Series 6000 is a line-voltage system featuring integral LED driver and power supplies. No external or remote transformers and drivers are required for a swift, reliable No Factory in the Field™ installation.
Series 6000 employs a curvable, articulated chassis, is patent pending, and complies with IESNA LM-79 and LM-80 standards for solid-state lighting.
Product Design: Tempo Industries product development and engineering team.
Product Manufacturer: Tempo Industries, Inc., founded 1986.
Product Applications: Series 6000 LED Cove Lighting is a modular, cove- and soffit-mounted non-glare, high-brightness LED lighting system. It projects exceptional shadow-free brightness into an interior space, with equally exceptional operating economy, long operating life, and curvable articulated construction that requires little or no maintenance. Fixtures are shipped from the factory in fully assembled, pre-wired eight-foot sections. Series 6000 is equally suited for new construction and retrofit applications. Since the system is line voltage featuring integral LED driver and power supplies, it is a direct replacement for existing fluorescent cove lighting.
Series 6000 LED Cove Lighting is ideal for a full range of commercial applications in offices and lobbies; restaurants, hotels, clubs; healthcare installations; retail; airports and transportation terminals. The Series 6000 also suits applications in cinemas, theatres, and numerous other public entertainment and performance venues.
Product Description: Core features of the ground-breaking Series 6000 LED Cove Lighting is the No Factory in the Field™ philosophy behind it, coupled with state-of-the-art LED technology, in a curvable articulated system.
Tempo Industries Series 6000 is the most economical LED cove lighting system available when specification, engineering, installation and maintenance are considered. One line-voltage connection will feed in excess of 120 feet of Series 6000 Cove Lighting. Integral LED driver and power supplies mean that specifiers are not required to calculate how many external transformers are necessary for a system. Architects do not need to make space for transformers, and electrical engineers do not need to design multiple runs and connections from transformers when installing Series 6000.
Series 6000 is shipped in factory assembled eight-foot lengths, needing only wire-nut connections between sections. Series 6000 has been designed with modular components that may be replaced by normal maintenance staff – no factory technicians required.
Factory-joined units are suited for straight runs, can intersect at right angles around any interior space, or curve into circles or ellipses, in a dramatic lighting design.
Series 6000 offers a low profile measuring approximately 1.5 inches high and 2 inches wide. Units fit easily into a wide range of cove and soffit applications, indoors and out. Series 6000 is CSA damp location listed. It achieves pleasing indirect lighting effects with minimal installation time; lowers overall energy consumption compared to non-LED light sources; and provides consistent, lasting high-brightness illumination with little maintenance.
Series 6000 is at the technology and performance pinnacle of the newest high-brightness, high-performance LED sector of the specified commercial lighting industry. It is based upon Tempo Industries' 23-years of expertise in providing progressive linear lighting solutions to the cinema, theatre and entertainment industry, where the company is the acknowledged market leader and LED innovator. That experience has honed company skills in providing creative problem-solving solutions, and exceptional customer service in commercial applications as well, to demanding lighting specifiers, architects, contract interior designers and corporate clients throughout commercial lighting markets.
Series 6000 LED Cove Lighting meets and exceeds the most current federal government D.O.E. (Department of Energy) standards, and Energy Star® program criteria.
Series 6000 is offered in two module lengths — 6 and 12 inches. Modules are factory joined and completely wired allowing bend angles from 0° to 90° and radii as small as 12 inches. Series 6000 LEDs operate across a range of standard color temperatures from 3200K to 4200K and produce a deliverable 400+ lumens per foot. Series 6000 120-volt units are standard with warm white or cool white LED options. Consult factory for dimming, 240v – 277v options, and additional color temperatures.
Importantly, Series 6000 is delivered fully assembled, joined in eight-foot sections, avoiding assembly delays and unforeseen "factory in the field" costs. The Series 6000 design incorporates thermal management features that optimize LED performance and life. Tempo Series 6000 features a three-year warranty.
Construction and Finishes: Series 6000 LED Cove Lighting has a black anodized die-cast aluminum housing and chassis,
with integral line voltage power supplies/drivers.
The design of Series 6000 incorporates contractor-friendly features such as die-cast mounting-screw tabs to facilitate swift, accurate installation. Wire-nut connections are only necessary for the initial power feed point (once per 120 feet) and to join the pre-assembled eight-foot sections. Series 6000 is a "Green" product containing no mercury or toxic waste material.
Contact
Tempo Industries, Inc. 1961 McGaw Avenue Irvine, California 92614 Telephone: (949) 442-1601 Fax: (949) 442-1609.
E-mail:sales@tempoindustries.com
Web Site:www.tempoindustries.com