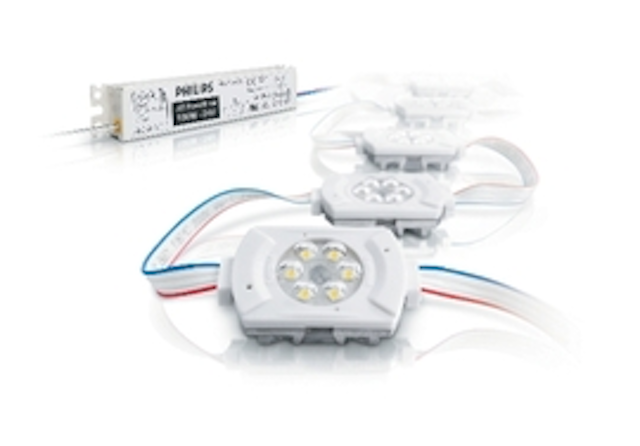 Date Announced: 26 May 2009
ROSEMONT, IL – Philips Lighting Electronics is proud to announce the introduction of new Philips Affinium LED String systems to support a wide variety of signage and other lighting applications.
Available in blue, green, red, amber, warm white, and cool white options and consuming minimal power, Affinium LED String systems sport a broad beam angle of either 110° or 130° to deliver robust light output, allowing channel letters to boldly promote any brand identity. Offered in low, medium, and high power versions, LED Strings are designed for ease of use and maintenance and provide uniform light distribution and maximum visibility.
Part of Philips' popular Affinium family, which also includes LED Posterbox Modules and SSL solutions for refrigerated displays, durable and long-lasting LED Strings meet all applicable safety and quality standards and additionally carry an IP66 environmental protection rating. A highly sustainable solution and signature Philips Green product based on its design and performance, the system is also fully compliant with RoHS, a European directive which ensures the product's restricted use of certain hazardous substances. LED Strings operate on either 17 Watt, 40 Watt, or 100 Watt Philips Xitanium® LED power drivers.
A leading provider of innovative and energy-efficient lighting solutions, Philips is achieving revolutionary strides in solid-state lighting design and application globally and delivering a wide array of very real and viable LED-based alternatives for professional lighting users today. Through its demonstrated expertise in all areas of the LED chain, from chip design to heat management to optics and more, Philips' cutting-edge solutions meet end user needs while fully promoting environmental responsibility and sustainability. Philips' new LED String systems represent yet another revolutionary lighting solution that will assist the marketplace in optimizing lighting quality while helping to drive a more energy-efficient future for generations to come.
High-performing, energy-efficient, reliable, and easy to install and maintain, Philips' new LED Strings set new standards for high-quality signage and present new opportunities for corporate branding in a broad range of professional applications.
About Philips Lighting Electronics North America
A leader in the ballast industry for over 60 years, Philips Lighting Electronics N.A. offers a full line of Philips Advance branded ballasts and drivers for fluorescent, HID, and LED light sources to the market's broad range of lighting fixture manufacturers and electrical distributors. For more information on Philips Lighting Electronics' complete product line and range of Smart Solutionsä, visit www.philips.com/advance or call (800) 322-2086. Philips Lighting Electronics N.A. is a division of Philips Electronics North America.
About Royal Philips Electronics
Royal Philips Electronics of the Netherlands (NYSE: PHG, AEX: PHI) is a diversified Health and Well-being company, focused on improving people's lives through timely innovations. As a world leader in healthcare, lifestyle and lighting, Philips integrates technologies and design into people-centric solutions, based on fundamental customer insights and the brand promise of "sense and simplicity". Headquartered in the Netherlands, Philips employs approximately 116,000 employees in more than 60 countries worldwide. With sales of $38 billion in 2008, the company is a market leader in cardiac care, acute care and home healthcare, energy efficient lighting solutions and new lighting applications, as well as lifestyle products for personal well-being and pleasure with strong leadership positions in flat TV, male shaving and grooming, portable entertainment and oral healthcare.
Contact
Susan Bloom Director, Corporate Communications Philips Lighting & Philips Lighting Electronics
E-mail:susan.bloom@philips.com
Web Site:www.philips.com