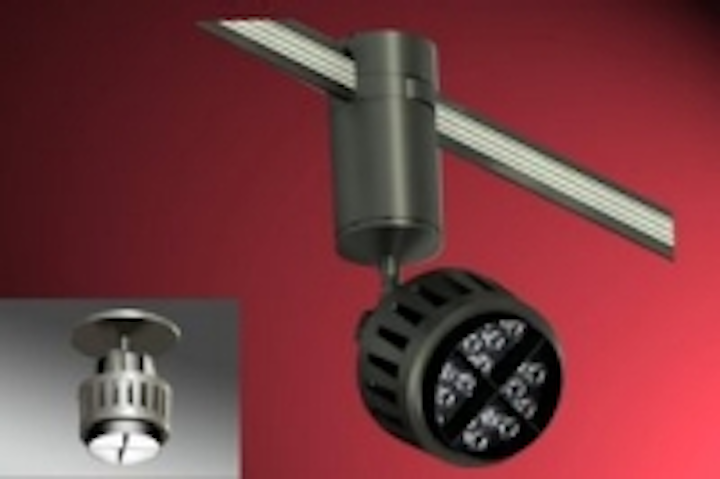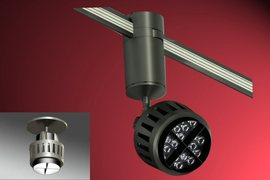 Date Announced: 16 May 2009
-- Award-winning energy-efficient LED luminaire features three interchangeable optics and unparalleled light output
PEACHTREE CITY, Ga., -– Cooper Lighting, a division of Cooper Industries, Ltd. (NYSE: CBE), has introduced the io radii 38, an LED trackhead luminaire offered in two light output options equivalent to 90W PAR38 and 35W PAR30 ceramic metal halide lamps.
Available as a Trackhead, Adjustable Monopoint or Surface-Mounted Downlight, the radii 38 is offered in three color temperatures (2700 K, 3000 K & 5000 K) and features field interchangeable optics (10°, 25° and 50° beam spreads) and shielding media (cross blade baffle & snoot) providing unmatched beam control and flexibility without changing the lamp.
Consuming 20W (standard output) or 50W (high output) and designed to last 50,000 hours, radii offers up to 70% energy savings when compared to 90W PAR halogen lamps.
The fixture was named the Best of Category winner in the 2009 Lightfair International Innovation Awards (LIA) in the Track, Low-Voltage, Cable & Rail Systems category this month. The LIA honors the lighting industry's most innovation products and technologies.
Providing excellent color rendering (85 CRI), the io radii 38 is 38/8" in diameter (4-3/4") and features up to 83° tilt when installed as an Adjustable Monopoint. Field interchangeable optical lenses and shielding media are held captive in a screw base bezel. The cast aluminum components are available in White, Black, and Silver.
The radii trackhead installs on Cooper Lighting's award-winning Halo Architectural Flexible Track System with a unique track adapter clamshell design featuring a spring-load collar, so that no parts have to be removed from the trackhead in order to be installed onto the track.
For additional information on the io radii, email TalkToUs@CooperIndustries.com or visit www.cooperlighting.com.
About Cooper Lighting
Cooper Lighting, a subsidiary of Cooper Industries (NYSE: CBE), is the leading provider of innovative, high quality lighting fixtures and related products to worldwide commercial, industrial, retail, residential and utility markets. For more information, visit www.cooperlighting.com.
About Cooper Industries
Cooper Industries, Ltd. (NYSE: CBE) is a global manufacturer with 2008 revenues of $6.5 billion, approximately 88 percent of which are from electrical products. Founded in 1833, Cooper's sustained level of success is attributable to a constant focus on innovation, evolving business practices while maintaining the highest ethical standards, and meeting customer needs. The Company has eight operating divisions with leading market share positions and world-class products and brands. Cooper, which has manufacturing facilities in 23 countries as of 2008, is incorporated in Bermuda with administrative headquarters in Houston, TX. For more information, visit the web site at www.cooperindustries.com.
Contact
Karin Martin, Karin Martin Communications (630) 513-8625 Kmartin41@aol.com
E-mail:TalkToUs@CooperIndustries.com
Web Site:www.cooperlighting.com