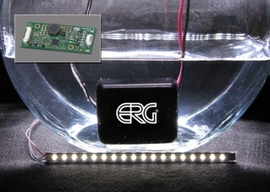 Date Announced: 01 May 2009
Endicott, NY, April 2009 – Illumination power and control specialist Endicott Research Group (ERG), known for its expertise in powering CCFL and LED backlights for LCDs, is developing new LED driver solutions for the solid state lighting market. Leveraging technology developed for its CCFL inverters and LED backlight drivers, ERG will be introducing a family of Smart Force™ LED drivers that combine full-function power supplies with energy-efficient controllers for commercial, industrial, architectural and other SSL applications.
ERG's Smart Force™ SSL drivers will offer 1W-200W unit power for driving single or multiple LED strings. Standard features include:
• Universal input (85V-277V at 50Hz or 60Hz)
• Power factor correction of 0.90 or better to maximize circuit efficiency and minimize power consumption
• Constant current with extremely low ripple to eliminate thermal issues and visible artifacts
• High efficiency (90%) to help luminaires meet ENERGY STAR ratings
• MTBF of more than 50,000 hours
• 3-Year warranty
Additional features to be available include triac dimming, color temperature regulation, ambient light control and vacuum encapsulation for added durability (a technique unique to ERG). IP67, UL1310 Class 2 and other key regulatory approvals are pending. The drivers will be available as standard, off-the shelf product or in custom designs. ERG will maintain a full in-house engineering staff at its U.S. headquarters to meet virtually any special application requirement.
About Endicott Research Group
ERG has been a specialist in power conversion solutions since 1979. The company designs and manufactures its own magnetic components. ERG originally introduced its Smart Force™ line of LED Drivers to provide full-function power supplies for LED-backlit LCDs, and has now broadened its LED driver capability to offer efficient and economical LED drivers for offline and DC powered solid state lighting applications ranging from 1W to 200W.
PHOTO: ERG's Smart Force™ SSL drivers with vacuum encapsulation are so well insulated from the elements that they can light an LED string while literally under water.
Contact
Endicott Research Group (ERG), Inc. 2601 Wayne St. Endicott, NY 13760 USA Tel: 607-754-9187; (toll-free: 800-215-5866) Fax: 607-754-9255
E-mail:SSL@ergpower.com
Web Site:www.ergpower.com