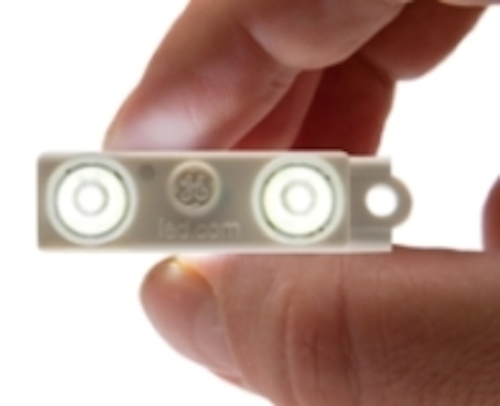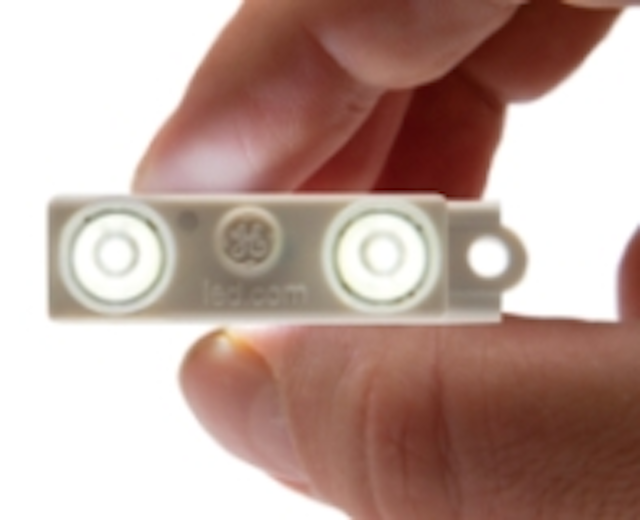 Date Announced: 27 May 2009
CLEVELAND, Ohio — The new Tetra® miniMAX LED System from GE Lumination, GE Consumer & Industrial's LED business, is the brightest solution for shallow-depth channel letter applications available today. Tetra miniMAX is over three times brighter and illuminates a surface area that is four times larger than previous generation Tetra® Mini, making it the perfect solution for sign OEMs and business customers needing to see better results—visually and financially.
How it's better
The compact size of the Tetra miniMAX enables it to fit in applications as shallow as 1.5 inches (38mm) while also setting a new standard in efficiency and performance for shallow channel letter lighting. When compared with the previous generation Tetra Mini, it:
•Delivers over 3 times brighter light at 24 lumens/module (6500 Kelvin) and 20 lumens/module (3200 Kelvin) respectively;
•Offers more than 4 times greater surface coverage or 42,084 sq mm (at 3 in. depth);
• Offers a 41 percent wider-viewing angle at 155-degrees to enhance uniformity of light throughout the application; and
•Uses fewer LEDs per sign to achieve optimal performance, while reducing the cost of materials for sign manufacturers.
"Our latest LED technology positively impacts the sign owner, OEM and distributor by providing compact, long-lasting LEDs for applications that require a lot of light in a limited amount of space," says Eric Stevenson, global product manager-signage, GE Lumination. "Now, even the shallowest channel letters can pack a huge visual punch."
The Tetra miniMAX's unique design features OptiLens™, a patent-pending optical lens that captures otherwise wasted light and redirects it toward the illuminated surface in a broad, 155-degree pattern. By harnessing the light, the OptiLens technology helps the Tetra miniMAX LED system efficiently deliver bright, uniform light throughout the sign. Even in the warmest or coldest operating environments (plus 60 to minus 40-degrees Celsius), the Tetra miniMAX system keeps uniform light shining across the entire sign face, providing the reliability expected from a high-performance signage solution.
The low-voltage 12VDC LED system saves time and labor costs by reducing complex wiring. The system uses off-the-shelf components such as wire and wire connectors for greater convenience. And, the continuous wire through LED module uses IDC connectors versus soldering for maximum strain relief.
Tetra miniMAX was developed and tested using GE Six Sigma quality standards to ensure maximum reliability. An over-molded design keeps damaging moisture out to protect the LED components from failure, further ensuring GE reliability and long life. In addition, the unique acrylic OptiLens provides protection against moisture, humidity, corrosion and lumen degradation. Tetra miniMAX was also designed with environmental responsibility in mind. The system contains no lead, mercury or glass, so handling and disposal are easier. It complies with RoHS and is UL recognized.
About Lumination, LLC
Lumination, LLC, a subsidiary of General Electric Company, drives innovation, energy efficiency and cost savings for customers that use LED products, systems and solutions. Fitted with robust, low–voltage, long–life LED light engines, Lumination solutions deliver world–class, GE–grade performance.
GE Consumer & Industrial spans the globe as an industry leader in major appliances, lighting and integrated industrial equipment, systems and services. Providing solutions for commercial, industrial and residential use in more than 100 countries, GE Consumer & Industrial uses innovative technologies and ecomaginationSM, a GE initiative to aggressively bring to market new technologies that help customers and consumers meet pressing environmental challenges, to deliver comfort, convenience and electrical protection and control. General Electric (NYSE: GE), imagination at work, sells products under the Monogram®, Profile™, GE®, Hotpoint®, SmartWater™, Reveal® and Energy Smart® consumer brands, and Entellisys®, Tetra®, Vio™ and Immersion® commercial brands.
Contact
GE Consumer & Industrial David Schuellerman
E-mail:david.schuellerman@ge.com
Web Site:www.ge.com