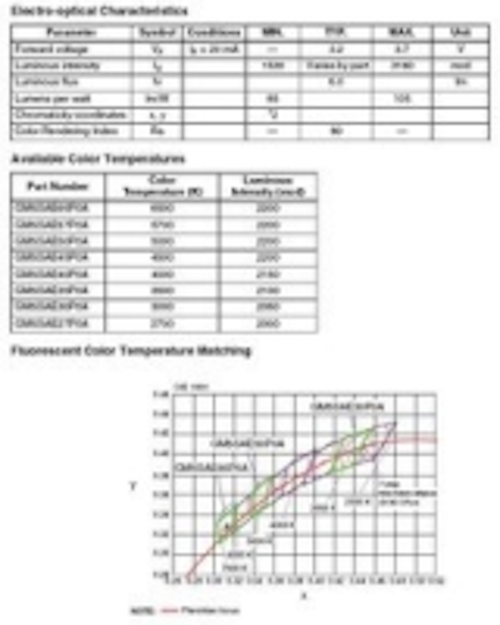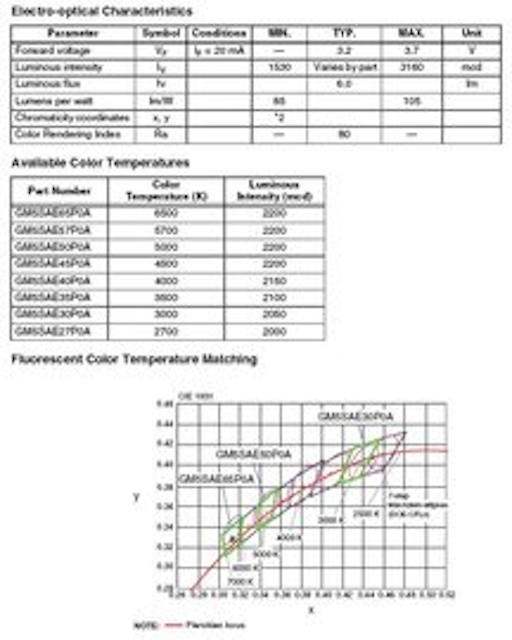 Date Announced: 01 May 2009
-- E-series parts bring the efficiency and performance of LEDs to mainstream lighting
Today SMA announces a new series of LED emitters for solid-state lighting applications. The new GM5SAExxP0A series, nicknamed the 'E-Series,' meets all efficiency, color temperature, and Color
Rendering Index (CRI) requirements for LED Lighting Specified by the Energy Star Program. The ESeries product family features high color rendering and is an excellent fit for primary and supplemental lighting in areas where fluorescent lighting is the dominant lighting source. The E-series is offered in color temperatures and CRI that can be invisibly integrated into situations where fluorescent lighting is commonly used, due to its superior color temperatures and color rendering.
The E-series is packaged in a small PLCC2 package and features a built-in zener diode for device protection, helping to minimize parts count and board space. Typical applications include office and commerical lighting, street lighting, architectural (including facade) lighting, retail display lighting, backlighting, and specialty lighting applications.
"The new E-Series LEDs just made life much easier for LED lighting designers. We have color temperatures and CRI that play well in typical fluorescent lamp applications; and these new parts outperform
conventional or fluorescent lighting. Now you're free to design new LED luminaires which match existing Fluorescent color temperatures – and exploit all the virtues of LEDs: high efficiency, high color rendering, and higher light quality; and with longer product lifetimes," said Abdul Aslami, Optoelectronics Product Manager at Sharp Microelectronics of the Americas.
Features
• Single Chip: IF = 20 mA
• High Efficiency: 85 to 105 Lumens / Watt
• Built-in Zener Diode protection
• High Color Rendering: Ra ≥75
• Small and low profile package: 3.2 × 2.8 × 1.9 mm
• Available in broad range of Color Temperatures
• Lifetime rating: 40,000 hr (TC = 60°C)
• Pb-Free and RoHS compliant*
Color Rendering
Color rendering represents the effect of a change in light source (from natural light to artificial light) upon the color of a reference object. When the object's colors have no difference in appearance from that of natural light, the test source has high color rendering properties.
The Color Rendering Index (CRI) is a numerical representation of this change. This index is expressed as Ra, an average value of evaluations taken on eight medium reference colors which range from red through violet. If the color of the test object does not change with a change in light source, then the artificial source has a high CRI; with a score of 100 being perfect (no detectable change).
U.S. Pricing and Availability
Sharp's E-Series LEDs are priced from $0.40 to $0.50 each depending on quantity. Samples and production quantities are available now through SHARP direct sales channel and distribution partners. More information is available at www.SHARPsma.com.
About Sharp Microelectronics of the Americas
Sharp Microelectronics of the Americas (SMA) drives innovative LCD, optoelectronics, memory, imager, and RF components to market. The world's leading manufacturers of consumer and business technologies look to SMA for the products, expertise, and worldwide support they need to make their visions a reality. SMA, in Camas, Washington, is the microelectronics sales and marketing division of Sharp Electronics Corporation, a wholly owned subsidiary of Sharp Corporation. For more information, visit us at www.SHARPsma.com.
* The Restriction of Hazardous Substances in Electrical and Electronic Equipment (RoHS) Directive (2002/95/EC). This directive
took effect July 1, 2006.
Contact
Abdul Aslami Product Marketing Manager, Optoelectronics Sharp Microelectronics of the Americas office 1 360.834.8908 mobile l 360.772.9577 fax l 360.834.8903
E-mail:aslamia@sharpsec.com
Web Site:www.SHARPsma.com