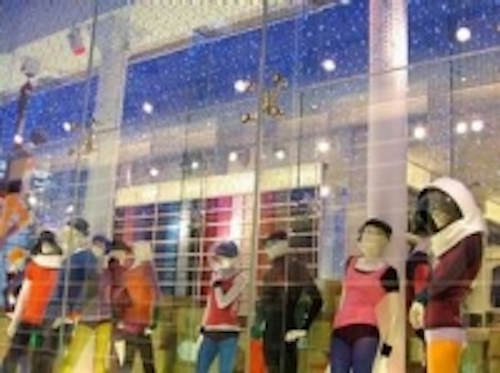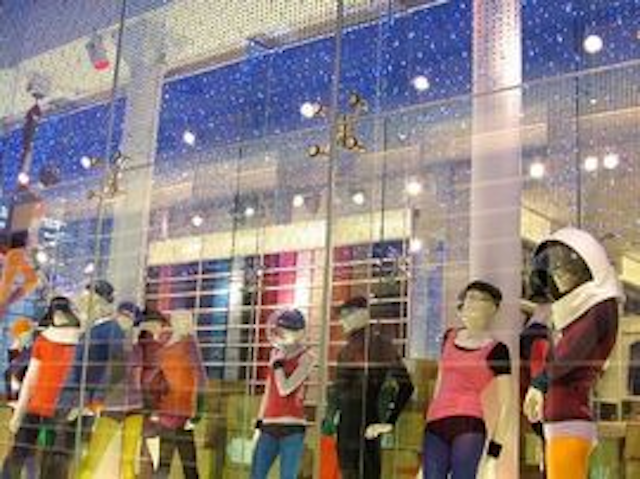 Date Announced: 18 May 2009
UNIQLO Soho Store
546 Broadway
New York, NY 10012
The Project
Dropped into Manhattan's stylish SoHo neighborhood in 2006, UNIQLO's flagship U.S. store is a virtual walk-in closet for urban trendsetters and cost-conscious fashionistas. Affectionately dubbed "The Japanese Gap," UNIQLO is Japan's leading retail clothing chain, with over 750 stores in Asia, Europe and North America. Inside the loft-style SoHo store is a polychromatic panorama of perfectly-stacked sweaters, ocean blue denims, and shiny down vests straight from Tokyo's hippest fashion districts.
To greet shoppers, UNIQLO's entrance features a stellar centerpiece: a giant glass box sheathed under a canopy of dazzling blue LED lights. Inside the display, cosmos-ready mannequins clad in colorful fleece and space-age visors pose on and dangle over an illuminated glass floor – an inspired diorama for customers ready to take a quantum leap into fashion!
LED*Waves' Involvement
LED*Waves provided the world's largest UNIQLO with custom LED Net lights that drape over the store's central display like ice-blue bars on a glass cage. Walk further into UNIQLO's hardwood floor interior and patrons can spy more chicly-dressed mannequins -- modish models poised like space cadets in front of gradient panels studded with pinpoints of blue LEDs. This innovative application of custom Net lights mixes futurism with fashion in a synergy of LED previously unseen!
Products Used
Custom LED net lights (Blue)
Contact
Dan Khuu LED*Waves, Inc. Marketing Department
E-mail:dan@ledwaves.com
Web Site:www.ledwaves.com/pages.php?pageid=73