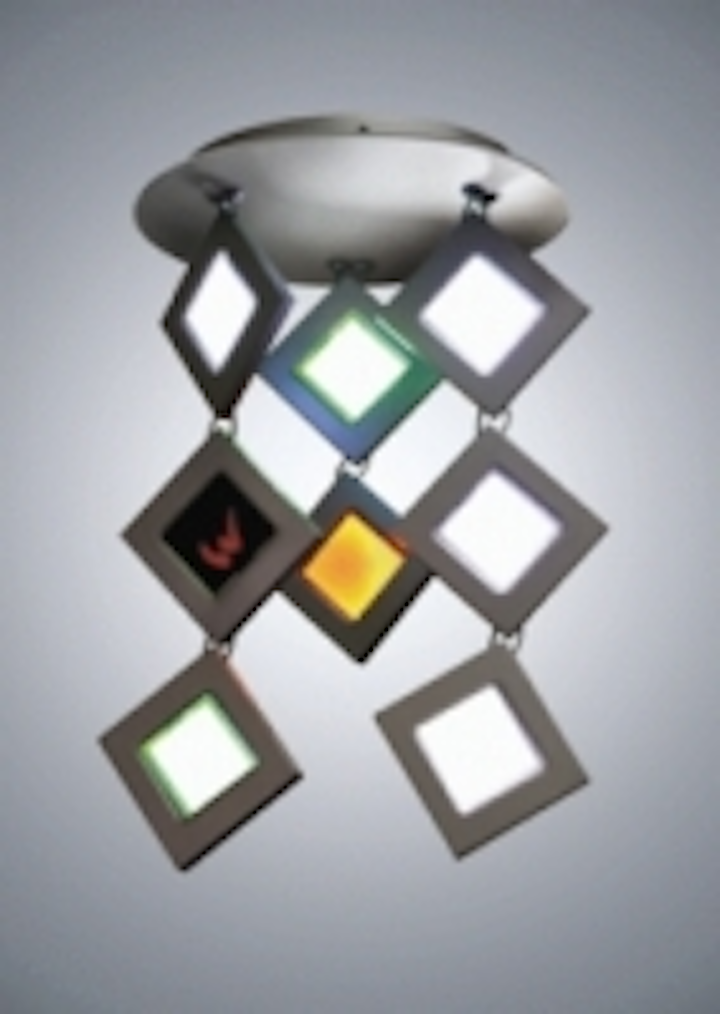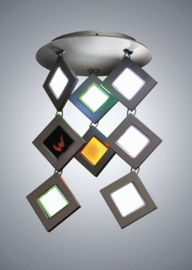 Date Announced: 26 May 2009
Offers Vision Into the Future of Architectural Lighting
NEW YORK CITY - Providing an insightful look at energy efficient, sustainable products that represent the future of architectural lighting, WAC Lighting is truly raising its brand standard to "Responsible Lighting" with the introduction of innovative OLED fixture prototypes at the 2009 Lightfair International. WAC Lighting, a leading manufacturer and designer of track, recessed, undercabinet, monorail and decorative lighting, develops nearly all of its responsible products in the family owned, ISO 9001-certified manufacturing campus with in-house UL approved testing labs.
WAC Lighting unveiled an OLED mini chandelier and an OLED wall sconce. The OLED Wall Sconce features six color changeable three-inch OLEDs. The mini chandelier uses eight colorful, transparent, one-inch OLEDs, including a panel that depicted the WAC Lighting logo. The power consumption is only 0.18-watt for each OLED, and together with the case, the thickness is just two millimeters.
According to Shelley Wang, President of WAC Lighting, "Our OLED prototypes reflect WAC's commitment to 'Responsible Lighting' and sustainable, energy efficient lighting. These OLED prototypes attracted a great deal of attention at Lightfair and we realize that a large number of designers and specifiers are very excited to see us take OLEDs to the next level.
"Many designers and specifiers wanted to know how long it would take for WAC to integrate OLED technology into viable lighting products," continued Ms. Wang. "They loved the transparency of the panels, the unique quality, the dimmability, the sustainability, and operation without a heat sink. Specifiers touched the panels and were impressed to learn that the fixtures were operating at room temperature. OLED is a flat light source and heat dissipation is more efficient, in contrast to heat accumulation of LED (point-source). The panels are energy efficient, thus they turn energy to light instead of heat."
An OLED features a thin film display technology that began to appear in cell phones and other small-screen applications in early 2000. OLED screens consist of a series of organic layers between two electrical contacts (electrodes). OLEDs are monolithic, with each layer deposited on the other, creating a single unit. Commonly constructed on glass, OLEDs can also be fabricated on plastic and other flexible films.
OLEDs offer bright, colorful images with a wide viewing angle, low power, and high contrast ratio. They can also be made transparent, enabling them to function in heads-up displays and even as window shades that react to sunlight. OLEDs do not need backlights, and screens can be made ultra thin. OLED's color, speed, thinness, transparency and flexibility (see roll-up illustration below) make it a very versatile display technology.
Wang added, "Using OLED for lighting application is still in the infancy stage. Our research scientists are exploring the technology and anticipating rapid progress in commercial applications, in the years to come."
Contact
WAC Lighting 615 South Street Garden City, NY 11530 Ph: 1.800.526.2588
E-mail:info@waclighting.com
Web Site:www.waclighting.com