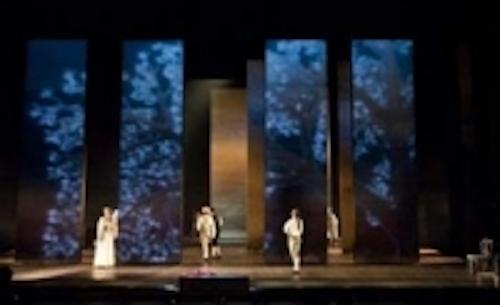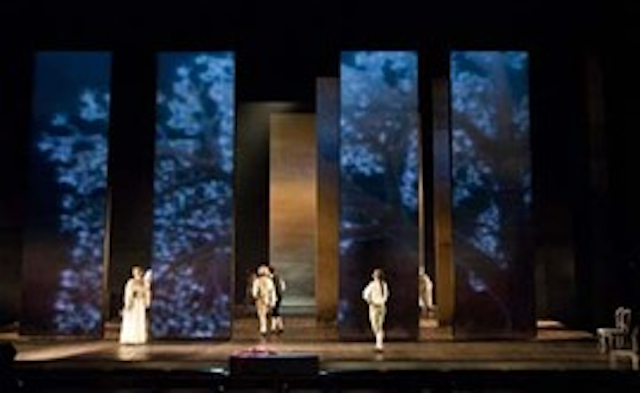 Date Announced: 18 May 2009
LD Per Sundin uses LED panels on mobile set pieces for new opera "The Visit of the Royal Physician"
Specified by lighting designer Per Sundin, some 64m2 of Martin Professional LC Series™ LED panels are being used as dynamic, movable set columns for "The Visit of the Royal Physician" (Livlægens Besøg) at the Copenhagen Opera House, one of the most modern opera houses in the world.
Employed as an important element of the opera's overall scenography, the LED panels are divided into four vertical segments which can glide separately or be combined as part of a large scenic wall.
"We combined an 18th Century look with a very modern tool," Sundin stated about the modular LED panels. "We got both the historical theatre look and the latest modern look together and it works very well."
Swede P.O. Enquist's compelling book about one of the most dramatic episodes in Danish history – a love triangle involving King Christian VII - was adapted to the stage as a grand-scale opera. Created by Bo Holten, "The Visit of the Royal Physician" premiered on March 28th.
Mobile set pieces
The set design includes a total of 16 vertical set pieces, each two meters wide by eight meters tall and all positioned on tracks so they can be moved across the stage. Apart from the four set pieces with the LC panels, the other twelve columns are painted.
When Sundin came on board the project, projection onto the columns was a consideration, but he quickly realized that projecting light would be problematic as the columns are continually moving. In fact, there are 65-70 different column configurations used throughout the opera.
Originally, the set designer and director staged the piece in a classical 18th Century theatre in Sweden in which set pieces emerged out of the stage floor, allowing set looks to continually change. "Everything is built up on that," Sundin states. "The screens are always moving and they change every scene."
Panel projectors
Sundin uses the LC panels as LED panel projectors to project onto a black back-projection screen, in front of which is a painted scrim. "The two materials diffuse the pixels for a slightly frosted look," the Swedish LD says, "but not so much that you cannot read text. It works very well."
One request from the director was for all 16 columns to look the same when the LED isn't on. "When you light the screen from the front you can't see that there is anything behind it, and when the front eight columns are closed together you cannot see which pieces have the LED and which do not," Sundin says. Of the eight columns closest to the audience, four are equipped with LC panels and four without.
Design trend
Sundin cites a growing trend in stage productions of building LED into set designs. "I think you will see LED incorporated into sets more and more, and because the LC panels are light they can be implemented into set pieces fairly easily," he says. "It's a totally different way to use this tool. Also, with an opera house that is repertoire like this, they have to build and rebuild a lot so it's important to have equipment that is easy to set up."
The Martin LC Series LED panels are modular and lightweight and are often praised for their ease of set up. They use standard Prolyte CCS6 conical truss connectors, so linking the panels together is simple, and with no external power supplies or drivers, each unit comes with everything it needs built in.
"The set columns are big and it would have been too heavy with full res HD LED. The idea was to use something very light but we were a bit afraid of low resolution, but the result has been excellent. The LC is so light it could be handled and easily moved. Everyone at the opera house including the technicians are very happy with them," Sundin concludes.
The LC panels for "The Visit of the Royal Physician" were supplied locally by Proshop Europe and run custom designed graphics made by Beacon. Media servers are located behind the paneled columns on trolleys that move with the columns.
"The Visit of the Royal Physician" has received positive reviews in both Sweden and Denmark and runs until May 17th.
Martin Professional
Founded in 1986 and headquartered in Aarhus, Denmark, Martin Professional is a world leader in the creation of dynamic lighting solutions for the entertainment, architectural, and commercial sectors. Martin lighting solutions are industry standard on top tours and events, grace prestigious theatres, energize nightclubs, and decorate major television studios around the globe. Other important areas of application are indoor and outdoor architecture and commercial settings where Martin products are increasingly being used to transform spaces through dynamic light. Martin also offers a range of advanced lighting controllers and media servers, as well as a complete line of smoke machines as a complement to intelligent lighting. The company operates the industry's most complete and capable distributor network with local partners in nearly 100 countries.
Contact
Your local Martin distributor or PR Coordinator Larry Beck Martin Professional Ph +1 719 686 0793
E-mail:larry.beck@martin.dk
Web Site:www.martin.com