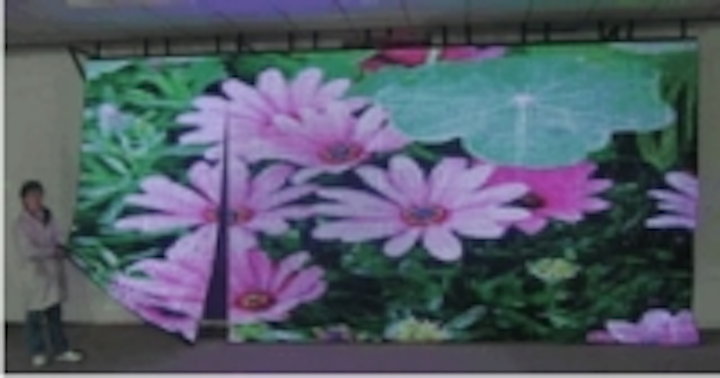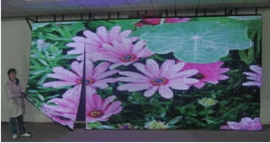 Date Announced: 15 May 2009
Have you ever seen the LED displayer that can be folded, curved and transformed? We have developed a new kind of product — Flexible LED displayer. It is our patented product. It may be the product that not found in the world now.
It is very good to be used for a backdrop in vocal concerts, the studio halls in television station, singing and dancing halls and expositions.
I recommend it to you now and I hope you will love it.
Flexible LED Curtain - our new patent product - is a lightweight and portable drapery, which is designed for TV station, concerts, special events background, bar, disco hall and advertisement. It is easily used for rapid deployment and transportation and is dedicated controlled by LED Studio control systems, which support live video format. Flexible LED display system has already aroused wild interest all over the world and gotten every lighting expert's recognize.
1. The display made of high quality of SMD LED shows the smooth and clear image.
2. With the refresh frequency of more than 600Hz, the image is stable without any flicker, which is suitable for professional situation.
3. Light weight and small volume, 20 square meters of flexible LED display can be packed in one flight case, which saves large amount of transport charge.
4. Shortcut installation and maintain, to finish installation and debugging of 200 square meters takes just 4 hours, which again saves labor cost.
5. The display curtain is made from special Nano material that has the attribute of waterproof, against fire, durable, against dirty and without extension, which can be applied in outdoor and indoor.
6. It is flexible,which is suitable for all kinds of irregular shape to display character and image, such as circle, column, ellipse and triangle.
7. Applying situation: outdoor and indoor character and image display, media advertising display, entertainment evening, stage background,exhibition and rental.
Contact
Contact info: Fisher Beijing Huasun Optoelectronic Science Co., Ltd No 1093,luyuan south St,Yongshun Town,Tongzhou District,Beijing,P.R.China Tel:+86-10-81557171,+86-10-89512339 Fax:+86-10-89511635
E-mail:yuchao622@hotmail.com
Web Site:www.huasun-tech.com/english