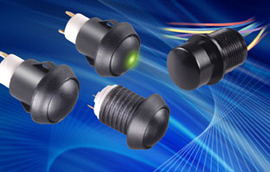 Date Announced: 12 May 2009
-- Off-Road, Industrial and Medical Applications
LAS VEGAS, NV -— C&K Components, a leading international supplier of tact switches, toggle, rocker and pushbutton switches, and smart card interconnect devices, has developed two new series of pushbutton switches. Designated the AP Series and HP Series, both sealed switches feature extended life cycles to 1 million and 10 million actuations, respectively.
"Not only do these switches feature life cycles in the millions, but they are also sealed to IP67 specifications, providing an extremely rugged solution for harsh environments where shock, vibration and environmental contaminants are a concern," said David Webber, director of product management for C&K Components. "Plus, both switches are designed for simplified assembly, allowing us to further meet our customers' requirements for versatile, easy-to-use solutions."
The AP and HP Series pushbutton switches are ideal for use in the harsh environments of off-road, industrial and medical applications.
The HP Series switches employ a hall effect design with a non-contact hall effect contact system, and a high-energy magnet provides a linear magnetic field for the hall device. The HP Series also has the ability to have redundant, linear hall devices. Input voltage is 5VDC, with a programmable output voltage range from 0.5V to 4.5V and one or two available outputs. Actuator travel is 0.150" and operating temperature ranges from -40ºC to +85ºC.
The AP Series switches have the ability to incorporate illumination and are available with a snap-in or threaded bushing. The switches also allow users to order the base switch with or without the cap, providing the ability to order one base switch and multiple color caps and snap on caps during the installation process to suit each specific application. The SPST-NO, momentary action AP Series switches feature a total travel of 2.3mm. Actuation force is 2N and 4N, with a logic level current through 2A. Operating temperature ranges from -40ºC to +85ºC.
Lead time for the AP Series devices and HP Series pushbutton switches is from 4 to 6 weeks.
Contact
Beth Gaddy, BtB Marketing
E-mail:beth.gaddy@btbmarketing.com
Web Site:www.ck-components.com