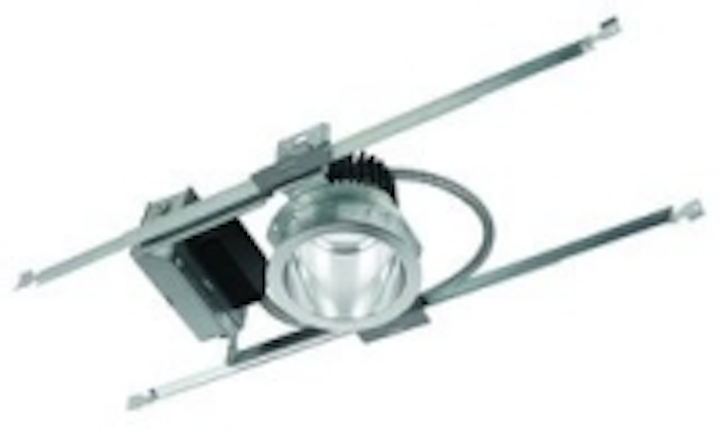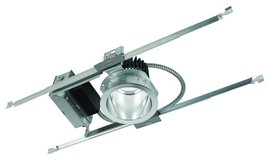 Date Announced: 21 May 2009
-- Calculite LED downlight delivers industry-best efficiencies for commercial interiors, merges Philips' wide-ranging competencies in solid-state lighting
Fall River, MA - Just three months after its commercial launch, the Calculite LED downlight by Philips Lightolier was named "Most Innovative Product of the Year" at Lightfair International - North America's largest lighting conference and tradeshow.
Designed as a complete system with precise attention to both performance and aesthetics, Calculite offers economic payback in as little as three years - while at the same time delivering the high quality of light that's often touted but underachieved by LED-based luminaires.
More than simply placing LEDs into a familiar form factor, Calculite was engineered with a top-down system approach to truly extract the strengths of LED sources, such as long lifetime, energy efficiency and lack of heat emission - all of which minimize operational expenses for facility owners.
On top of its high-quality light output, the Calculite LED system is highly efficient; generating 50 lumens of light per watt of energy consumed. This is 80% more efficient than common specification-grade incandescent downlights and 40% more efficient than compact fluorescent.
With an estimated 150 million downlights installed nationwide in commercial spaces -- where lighting can account for 50% of electricity use - the Calculite LED system rises to the challenge of increasingly stringent energy codes coupled with tightened facility budgets.
The new product is the first LED-based addition to the popular Calculite series of conventional downlights, which leverage Philips Lightolier's century-long leadership and unique understanding of specification-grade interior lighting. It also benefits from Philips' broadly-expanded competencies in solid-state lighting, including a light engine co-developed by Philips Color Kinetics.
Among its most novel advantages is the system's proprietary method of generating white light from blue LEDs. A remote mounted phosphor allows the back-reflected light that is normally lost to be redirected out of the luminaire through a highly-reflective mixing chamber. This increases overall system efficiency by 20%, while also ensuring consistency of color quality from one luminaire to the next.
Other key features include:
· A proprietary power management system that allows direct use of line voltage for ease of installation
· Compatibility with standard electronic low-voltage dimmers
· Choice of "warm" or "cool" white light to suit various interior environments (3000 and 4000 Kelvin respectively)
· 1000 lumens of light output
· High-quality light with a color rendering index (CRI) value of 80
· A projected lifetime of 50,000 hours at 70% lumen maintenance, backed by an industry-best five-year warranty
· Choice of 4" aperture round and square models that integrate seamlessly with the existing Calculite product line
At Lightfair, Philips earned additional honors that reflect the breadth of its lighting solutions, which now reach from components, electronics and lamps to complete solid-state lighting systems with advanced controls. These included:
· Technical Innovation Award for LUXEON Rebel ES by Philips Lumileds
· Best of Category Award (Exterior Luminaires: Roadway, sports, floodlights, outdoor architectural, site lighting) for VizorLED Parking Garage Luminaire by Wide-Lite, a Philips group brand
For an overview of Philips' presence at the show, please visit http://www.newscenter.philips.com.
Additional information about the Calculite LED downlight is available at http://www.lightolier.com/prospots/down_led.jsp.
Contact
Felicia Spagnoli Professional Luminaires NA Philips Lighting 781-418-9292
E-mail:felicia.spagnoli@philips.com
Web Site:www.philips.com