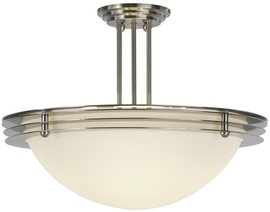 Date Announced: 28 Apr 2009
-- On Display at Future's Booth 1775 at Lightfair International, May 5-7
MONTREAL, QUEBEC -– Future Lighting Solutions announced today that it assisted Montreal-based Foresight Lighting in developing 'one board fits all' LED versions of dozens of 13W, 18W and 26W CFL architectural fixtures of widely divergent shapes and sizes, significantly reducing Foresight's costs by eliminating the need to design, build and stock different light engines for each luminaire.
More than 50 Foresight custom architectural lighting products ranging from a 16" round ceiling fixture to an 11-1/4" x 7" wall bracket and a 72" pendant are now available in LED editions utilizing a basic light engine outfitted with 6, 8 or 12 LUXEON® Rebel LEDs. The LED versions consume 45% less energy, last five times longer and deliver more light than their CFL counterparts.
Engineers at Future Lighting Solutions' Lighting Resource Center in Montreal provided proof-of-concept services including LED, driver and metal core PCB selection, board layout, thermal management, and output and power consumption measurements. The Future team also recommended components, referred Foresight to a contract manufacturer, and is providing white color binning services to ensure color consistency from LED to LED in the customer's choice of neutral, warm or cool white.
A selection of Foresight's new LED-enabled fixtures will be on display at Future's Booth 1775 at Lightfair International, running May 5-7 in New York.
The booth will also exhibit other luminaires for which Future has supplied LEDs and support services, including downlights, wall mount spotlights and LED light bulbs from Bluestone Lighting, a wholly owned subsidiary of Heatron; wall washers from A.C. Lighting, parent company of Spectrum Manufacturing; and path lighting from Vista Professional Outdoor Lighting.
A detailed case study on the Foresight LED application development project is available at www.futurelightingsolutions.com.
About Future Lighting Solutions
Future Lighting Solutions is a leading provider of LED lighting components and solution support for lighting designers and OEMs interested in taking advantage of solid state lighting technology. Future Lighting Solutions provides LED lighting knowledge, resources, programs, partners, solutions and logistics support to promote the development of LED products and installations. The company is a division of Future Electronics, the third largest electronic components distributor in the world. Both companies operate in 169 locations in 41 countries in the Americas, Europe and Asia. For more information, visit www.futurelightingsolutions.com.
Future Lighting Solutions; Making LED lighting solutions simple™.
Contact
Heather Goldsmith Telephone: +1 514-694-7710 Fax: +1 514-429-0144
E-mail:heather.goldsmith@futureelectronics.com
Web Site:www.FutureLightingSolutions.com