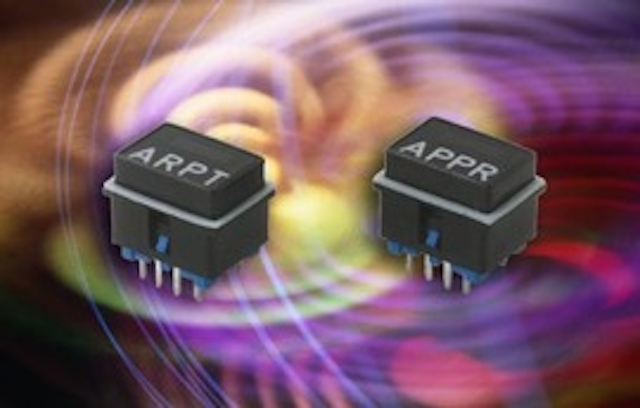 Date Announced: 23 Apr 2009
DOLE, FRANCE (April 23, 2009) -- C&K Components, a leading international supplier of tact switches, toggle, rocker and pushbutton switches, and smart card interconnect devices, has developed a series of illuminated pushbutton switches. Designed specifically for avionics applications, the PBA Series miniature pushbutton switches feature superior tactile feel and are ideal for cold lighting and illuminated displays.
"These pushbutton switches feature a robust design including gold plated contacts, IP64 sealing, and extended life cycles to 1,000,000 rotations, making them ideally suited for high reliability applications where repair is extremely difficult or impossible," said Gilles Parguey, product manager for C&K Components. "Coupled with their tactile feedback and availability with a variety of LED colors, the switches are being designed into the illuminated displays on board aircrafts."
The PBA Series pushbutton switches are available in illuminated and non-illuminated versions, and the illuminated switches are offered with a white, green, yellow green, amber or red LED.
The PBA Series switches feature a plastic housing and cap that meet UL-94 VO approvals. Actuation force is 5.5N ± 0.5N, with a maximum force of 80N. Travel to contact is 1.2mm ± 0.1mm, with overtravel of >0.3mm and total travel of 1.5mm ± 0.1mm.
The gold contact material offers a maximum switching power of 1W, contact resistance of <=50? and dielectric strength of 500V rms. Voltage ranges from 20mV to 150V DC, with a carrying current range of 50µA to 250mA, and a switching current of 50µA to 50mA. Operating temperature ranges from -30ºC to +85ºC and bounce time is <3ms. The pushbutton switches are packaged one by one or by set.
C&K Components will be exhibiting at the Paris Air Show, July 19-21, 2009 in Hall 6, Booth B13 at the Le Bourget Exhibition Center in Paris, France.
About C&K Components
C&K Components is a division of CoActive Technologies, a privately held company manufacturing electromechanical switches, interface controls, keypads, dome arrays and modules.
Contact
Leads Contact: Allison Turner C&K Components, 15 Riverdale Ave, Newton MA 02458 Tel: 617.969.3700
E-mail:allison.turner@coactive-tech.com
Web Site:www.ck-components.com