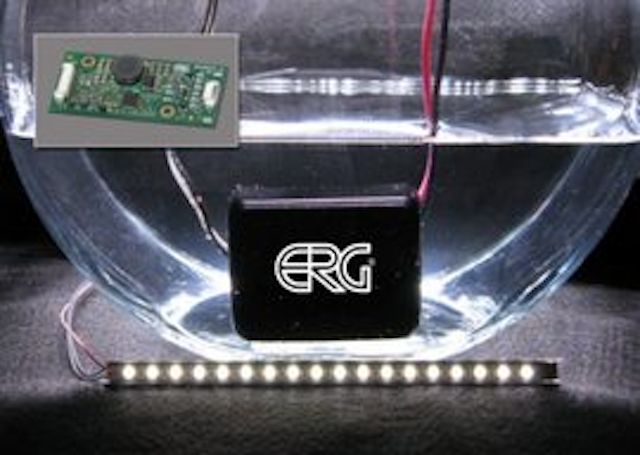 Date Announced: 09 Apr 2009
ERG OFFERS ENCAPSULATED LED DRIVERS FOR SSL LUMINAIRES REQUIRING IMPERVIOUSNESS TO MOISTURE AND HARSH ENVIRONMENTAL CONDITIONS
Endicott, NY -– Illumination power and control specialist Endicott Research Group, known for its expertise in powering CCFL and LED backlights for LCDs, is developing new LED driver products for the solid state lighting market.
Borrowing on technology developed for CCFL inverters designed for extreme applications, ERG's LED drivers for commercial, industrial, architectural and other SSL applications can be provided with vacuum-encapsulation. This offers the ideal solution for solid state lighting that requires imperviousness to moisture ingress and other potentially damaging environmental conditions such as shock and vibration.
ERG's Smart Force™ LED drivers offer ~30 watts unit power and can drive single or multiple LED strings. Standard features include universal input (85V-265V, at 50Hz or 60Hz), power factor correction of >0.9, constant current with extremely low ripple, high efficiency (85%) and an MTBF of more than 50,000 hours.
Additional features available include triac dimming, color temperature regulation, and ambient light control for luminaires used in a wide variety of applications. They will be available as standard, off-the shelf product or in custom designs, depending on the application requirements.
Applications include outdoor lighting, landscape architecture, safety and security lighting (such as parking lot and perimeter lighting) and a variety of commercial and industrial applications.
About Endicott Research Group:
ERG has been a specialist in power conversion and control solutions since 1979. The company designs and manufactures its own magnetic components. ERG originally introduced its Smart Force™ line of LED Drivers to provides full-function power supplies for LED-backlit LCDs, and has now broadened its LED driver capability to offer efficient and economical encapsulated or open frame LED drivers for offline and DC powered solid state lighting applications ranging from 1W to 200W.
Contact
For more information, visit Booth 789 at LIGHTFAIR International, or contact Endicott Research Group (ERG), Inc., 2601 Wayne St., Endicott, NY 13760, USA. Tel: 607-754-9187; (toll-free: 800-215-5866) Fax: 607-754-9255
E-mail:sales@ergpower.com
Web Site:www.ergpower.com