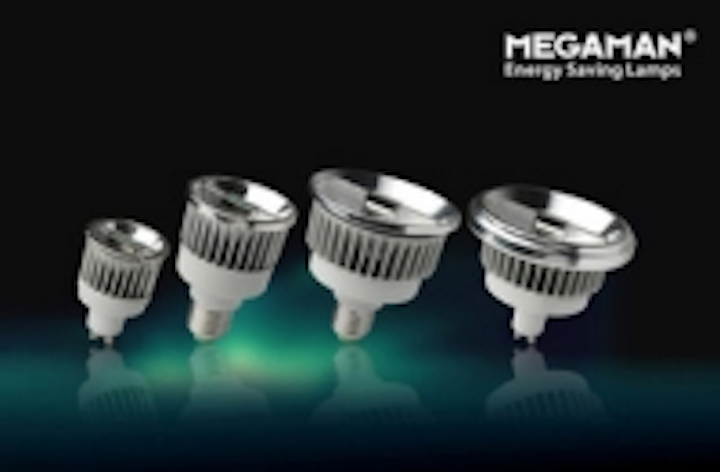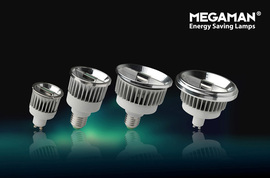 Date Announced: 26 Apr 2009
MEGAMAN® new range of mains voltage integral LED reflectors look set to become the new benchmark for the industry offering a significant leap forward in light output and thermal management. They have overcome the temperature issues of other LEDs by incorporating an innovative vertical array of LEDs mounted back to back to generate as much of a point source as possible, thus increasing efficiency and light output. These ground-breaking lamps offer a direct one-for-one replacement for halogen lamps in terms of colour temperature and intensity, with energy savings of up to 80%.
Using MEGAMAN® patented LED design and Thermal Conductive HighwayTM (TCH) technology, these LEDs offer a colour tolerance of just +/-100K shift in colour temperature – compared to an average of +/-400K for most other LEDs. They make use of a very light heat sink so will not tilt when installed in track spots. The thermal management of LEDs has always been the most important factor to consider during the design process. MEGAMAN® LED reflectors are different -offering outstanding heat dissipation – in fact the LED chip can be touched during operation without danger of burning.
"The MEGAMAN® LED Reflector range represents a major breakthrough in LED lighting, addressing the key issues that have, thus far, constrained the roll-out of these exciting light sources to a wide range of applications," enthused Ms Monika Mang, Marketing Director of Neonlite, the brand owner of MEGAMAN®. "MEGAMAN® key position in the supply chain has enabled us to source the very best components, backed by rigorous colour-testing at our in-house R&D facilities. This stringent quality control regime ensures we only select the best combinations of LEDs to go forward for mounting into the vertical array, eliminating the so called 'binning issues' our competitors have to deal with," she added.
TCH technology makes use of the highway design across the reflector to dissipate the heat efficiently, achieving optimum thermal control. The result is that the combined array of LEDs can be mounted vertically in a reflector to maximise light output and ensure consistent colour control, while delivering three times more light output than other LEDs for the same wattage.
MEGAMAN® LED reflectors are available as direct replacements for GU10, PAR 16, PAR 20, PAR 30 and AR111 halogen lamps ranging from 35W to 75W, offering significant savings in installed electrical load as well as energy consumption. In terms of caps they are available in GU10, E14 and E27 combinations with additional new formats to follow swiftly. And with a rated life of 20,000 hours there are also considerable savings in re-lamping costs. The average cost of ownership shows a payback in under 4000 hours operation, making a change to LED now very affordable and sensible for the environment.
Contact
Gladys Ho Neonlite Electronic & Lighting (HK) Ltd - MEGAMAN® Energy Saving Lamps Tel: (852) 2378 0073 Fax: (852) 2758 5957
E-mail:gladysho@neonlite.com.hk
Web Site:www.megaman.cc