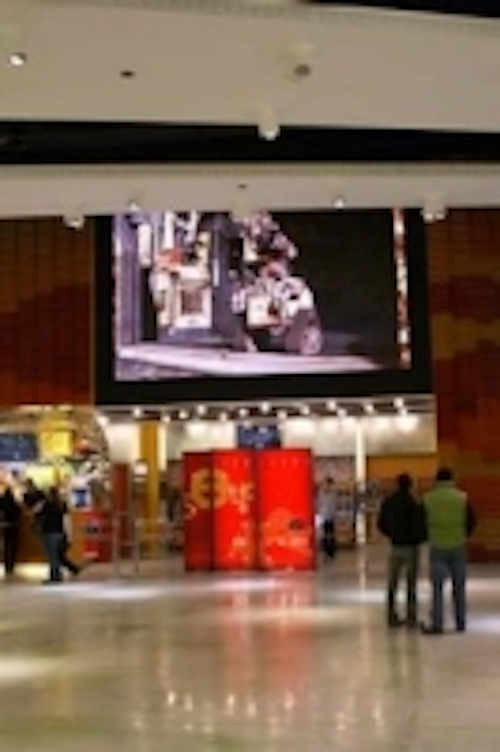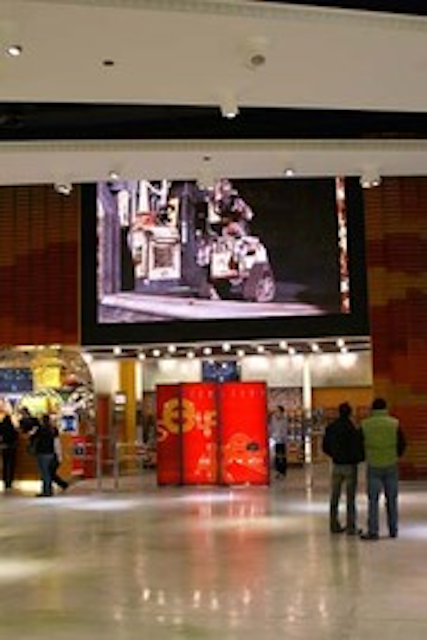 Date Announced: 29 Apr 2009
Italy – 29th April 09 - At the end of 2008, a large format Lighthouse P10 10mm LED screen was installed at Cinecity Arts & Cinemas in the northern Italian city of Parma to show film previews, trailers and advertisements in the main foyer and circulation area of the complex.
This is one of the most important screens in a multiplex cinema complex. If previews of forthcoming films are shown in a flattering light, they attract people to the cinema. The screen, therefore, plays a significant role in generating businesses, which is vital for the viability of the entire facility. In the months since its installation, it has proved a highly successful investment.
With 12 main screens and a total of 2,516 seats, Cinecity Parma is a key leisure facility for the region and features cutting-edge entertainment technology. Mindful of its importance, audiovisual specialists Mediacom Digital Evolution Srl (MDE) specified a total of 63 panels of Lighthouse P10 LED screen for the project.
"We want to demonstrate high technology and innovation, so we chose to have an LED screen in the foyer, which was also visible from outside," says Gianantonio Furlan, CEO of Cinecity Art & Cinemas. "The choice of LED panels was completely quality-oriented, with Lighthouse providing the expected high quality of product."
The 9 x 7 panel (5.76 (w) x 3.36m (h)) installation is located in a highly visible position - on a wall several metres above floor level - the 10mm pixel pitch of the panels being the ideal resolution for pin sharp reproduction of content viewed at the circulation area.
Lighthouse's panels are highly reliable, produce minimum noise, power consumption and maintenance, while the 2000 nits brightness rating, 1000:1 contrast ratio and superior colour reproduction guarantee that all images are displayed to perfection.
"Its quality and resolution make a great impact on cinema-goers," adds Roberto Tramarin of Mediacom Digital Evolution. "To maximise impact, the screen content is linked to the other plasma displays in the foyer, creating a superb visual effect. The contents run from a central video server through a Lighthouse LIP XGA processor. It's thanks to our long term partnership with Lighthouse that enables us to achieve total integration and a visually stunning result."
"We are very pleased that MDE chose Lighthouse P10 panels for this prestigious installation," says Alessio Giagnoni, Lighthouse sales manager for the CEME region. "Cinecity Parma attracts people from a wide area and the importance of a preview screen in generating repeat business cannot be underestimated. P10 panels deliver exceptional image quality at very low running costs, so the facility's owners literally have the best of both worlds."
~END~
Lighthouse Technologies Limited is a global leader in LED display technology that develops, manufactures, and markets LED video display solutions for multiple indoor & outdoor applications, media and entertainment events, and sports arenas across the globe. With numerous technological breakthroughs to its name, Lighthouse has established itself as a multi award-winning leader in the LED display industry that holds itself to the highest standards of quality.
Founded in 1998 as a member of the Gold Peak Group, Hong Kong-based Lighthouse has a strong global presence with regional offices in Europe, North and South America, the Asia Pacific and China. Employing the most advanced technology, the highest quality manufacturing facilities, and world-class, round-the-clock technical support, Lighthouse satisfies customers on every major continent, captivating the imagination of millions. For more information about Lighthouse, please visit
Contact
Sarah James, Gasoline Media Limited Email: sarahj@gasolinemedia.com
E-mail:info@lighthouse-tech.com
Web Site:www.lighthouse-tech.com