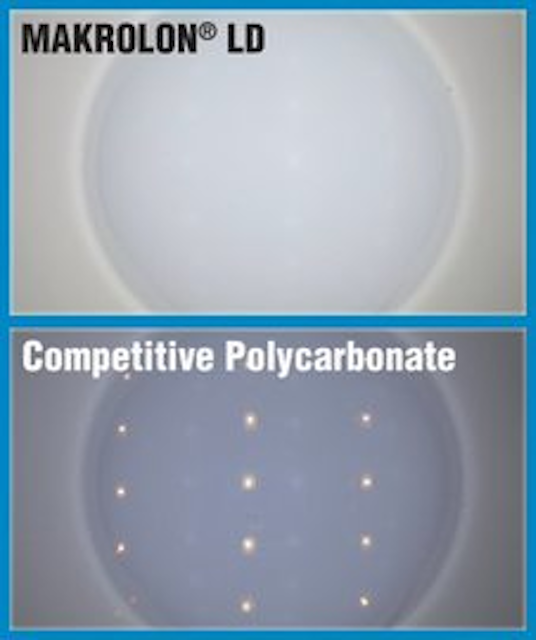 Date Announced: 01 Apr 2009
-- Dissipates "hot spots" and reduces shadowing in flat and thermoformed applications
Sheffield Plastics Inc., a Bayer MaterialScience Company and a global supplier of sign grade polycarbonate materials, introduces MAKROLON LD.
Developed in response to the increased use of LED light sources, MAKROLON LD sheet performs equally well diffusing light in both flat and thermoformed electronic signs.
MAKROLON LD performed "best in class" eliminating hot spots and greatly reducing shadowing when tested against other commercially available light diffusing polycarbonate and acrylic sign materials.
MAKROLON LD is significantly tougher (30 times better impact strength) based on instrumented impact testing, when compared with acrylic sign materials and is backed by a 10 year limited warranty against breakage.
MAKROLON LD will be available in two standard white colors, a full range of gauges, sheet sizes, and sign reels typical for the electronic sign market.
Bayer Corporation, headquartered in Pittsburgh, is a subsidiary of Bayer AG, an international health care, nutrition and high-tech materials group based in Leverkusen, Germany. In North America, Bayer had 2008 net sales of approximately 8 billion euros (about $12 billion) and employed 17,000 at year end. Bayer's three subgroups, Bayer HealthCare, Bayer CropScience and Bayer MaterialScience, improve people's lives through a broad range of essential products that help diagnose, prevent and treat diseases; protect crops and enhance yields; and advance automobile safety and durability. For more information, go to www.bayerus.com.
Contact
Sheffield Plastics, Inc. Cindy Kahlstrom 877-413-7957
E-mail:editor@smsmktg.com
Web Site:www.sheffieldplastics.com