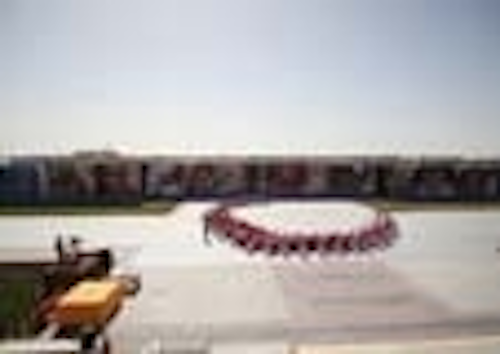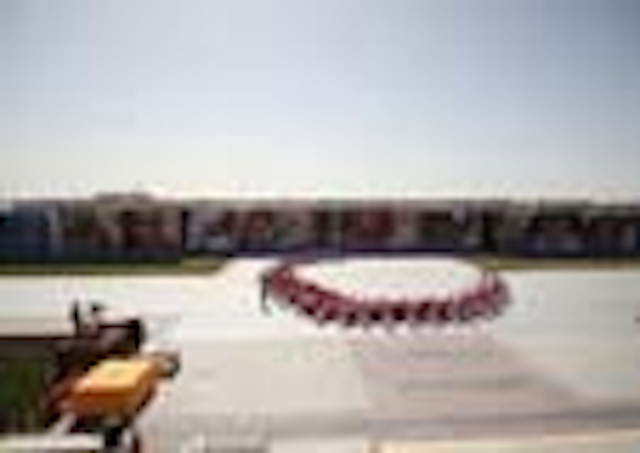 Date Announced: 08 Apr 2009
UAE, April 2009 – JM Rental Ltd., one of Asia's largest LED display rental companies, was chosen to supply the 9th edition of International Defence Exhibition& Conference (IDEX) with screen requirements for its opening ceremony on February 22nd 2009.
IDEX, which took place on the 22-26 February 2009 in Abu Dhabi, UAE at the Abu Dhabi National Exhibition Centre, is billed as one of the world's biggest exhibitions for the defence industry, featuring over 900 local and international exhibitors showcasing systems, equipment and services.
JM Rental already has an enviable reputation within Asia and now has major plans to expand its offering across the entire Middle East arena.
"The IDEX opening ceremony was the first time we have had the opportunity to support an event in the Middle East," says JM Rental Operations Director Kenneth Yip. "This is one of the biggest exhibitions in the region, if not the world, and demonstrates just what we can provide in terms of quality of service and product, which we know is what this demanding sector requires.
"We are very proud to have entered the Middle East market with a project of this scale and importance."
In fact, JM Rental supplied IDEX with one of the largest rental screens ever deployed.
Sited outside the main entrance of the exhibition hall, a total of 736 Lighthouse Technologies R16 16mm LED panels were divided into four individual screens, each measuring a massive 23 wide x 8 panels high (23.46m x 6.08m) and mounted on indivicual hydraulic tracking systems.
The screens displayed images that reflected the three main themes of the show: Inspiration, Technology and Humanity. During the ceremony, the tracking system allowed the screens to move apart to reveal exhibits positioned behind them. This enabled over 1,000 invited VIPs to experience superb visual enjoyment and fully appreciate the impressive nature of such a magnificent opening ceremony.
JM Rental is one of the few companies in the world capable of supplying LED screen on such a scale.
"We are able to facilitate projects such as this through careful project management, investment and in-depth knowledge of both the market and the available products," explains Mr. Yip. "Undoubtedly the excellent working relationship we have with our partners and customers, product reliability and the tremendous support we get from the screen manufacturer are instrumental in driving us along the road to success."
"At the beginning of last year, for example, we made a significant investment in Lighthouse Technologies LED screen, purchasing a large quantity of R4-S 4mm and R16 16mm panels, the latter being used at IDEX. This has enabled us to offer a one-stop, total visual solution that delivers true impact to our clients' events, whatever they are and wherever they may be and is fully demonstrated by the completion such a flawless and marvelous show held in the Middle East."
About JM Rental Ltd.
Established in 1997, JM Rental Ltd. is one of the largest LED display rental companies in Asia. Over the years, we have established a team of visual professionals that can manage projects of any scale, and a network of global rental partners to support thousands of events and programs around the world. We endlessly invest in the best resources to support our worldwide AV partners, including the acquisition of 1,000 pieces R16 and an additional 1,000 pieces of R4 panels in 2008, and almost 1,000
R7 panels, which are due for delivery in the summer of 2009.
'Perfecting vision' is our core mission. We distinguish ourselves with our inventory of renowned and reliable LED screens that deliver state-of-the-art visual excellence, together with a range of professional services which includes creating special motion graphics, animation, visual and lighting effects, managing and directing audio-visual synchronization technology, to create sparkles for any event.
More than just a technology partner, we provide one-stop total visual solution from consultation, hardware installation, system integration, on-site technical support to video production, to ensure the intended visual solution is delivered effectively and visually to the audience.
Contact
JM Rental Ltd., Hilda Cheung Tel: +852 27330969 Fax: +852 27234300
E-mail:Email: hildacheung@joinmerit.com
Web Site:www.joinmerit.com