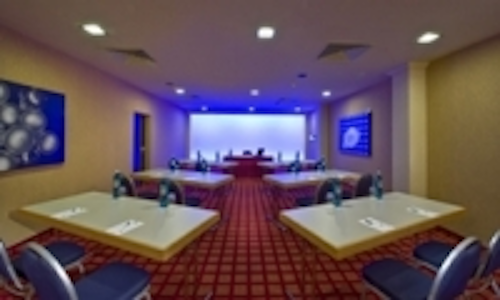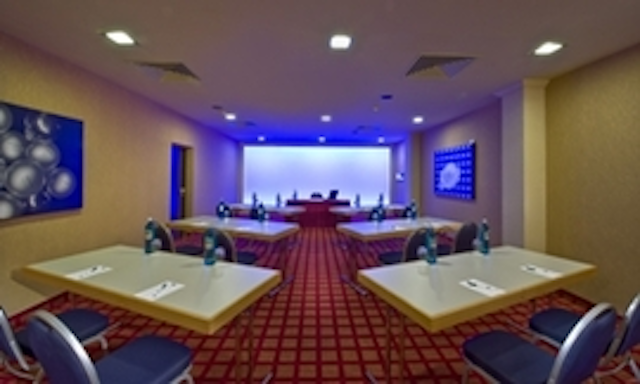 Date Announced: 25 Apr 2009
The Courtyard Marriott Hotel in Regensburg, Germany, now has yet another attraction. In the newly refurbished conference room known as the "Light" room, linear modules with Golden DRAGON LEDs from Osram are used to create any lighting of any mood, color and intensity.
The LED modules are concealed behind a large panel. Depending on the purpose to which the room is being used, they can provide bright light for concentrating, soft calming light or exciting color sequences. The wall can also be used as a projection surface. Osram Opto Semiconductors completed the project together with LI-EX (LED Light Design Expert).
The background lighting for the panel is provided by linear modules containing Golden DRAGON LEDs in red, green and blue. They produce colored light directly without the need for filters and therefore with no loss of efficiency. The result is powerful vibrant colors.
Countless lighting moods can be created in any color and any brightness. It is even possible to set up smooth color transitions through the entire spectrum. Thanks to their small size the LED modules can be integrated inconspicuously behind a panel. They are dimmable, extremely durable (with a life of around 50,000 hours) and virtually maintenance-free. These semiconductor light sources are therefore ideal as illumination and design elements, particularly for integration in lighting panels and other architectural structures.
Quality, emotion and innovation
Arne Klehn, General Manager of the Courtyard by Marriott Hotel in Regensburg, said: "As far as I am concerned, success is always a combination of quality, emotion and innovation. If you are promoting a particular concept you must be excited about it. Only then will your enthusiasm be contagious. Innovation means finding a new way of doing something. In other words, being different from the rest is the answer. In this major project involving our two strong regional partners we are certainly making a bold statement in the rather conservative world of conference facilities."
Artur Groesbrink, who acted as project manager for Osram Opto Semiconductors throughout the project, is very pleased with the outcome: "Our aim was to use semiconductor light as a creative and innovative tool for conference rooms in the hotel sector, and we succeeded brilliantly. The light panel is so magical that it is difficult to take your eyes off it."
The joint project involving Osram Opto Semiconductors and its certified partners in the "LED Light for you" network, including LI-EX (LED Light Design Expert), is an impressive indication of the huge potential of LED lighting.
Photo: Linear modules equipped with Golden Dragon LEDs in red, green and blue provide light in whatever color is required – from warm red tones for a feel-good atmosphere to bright white light for total concentration, from cool disco colors to smooth color transitions. Courtesy: Courtyard by Marriott
Contact
Osram Opto Semiconductors Betty Lee
E-mail:betty.lee@osram-os.com
Web Site:www.osram-os.com