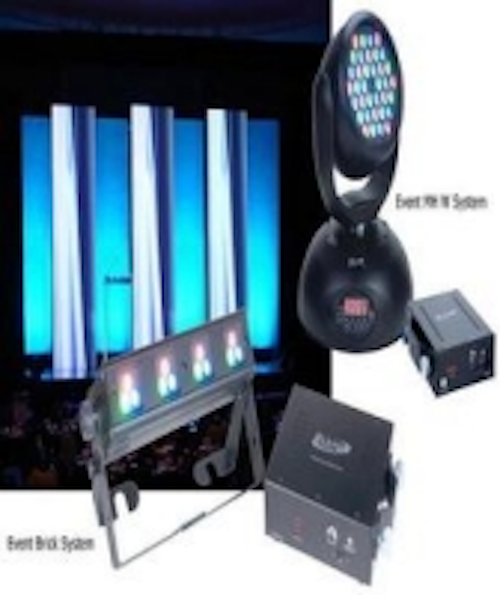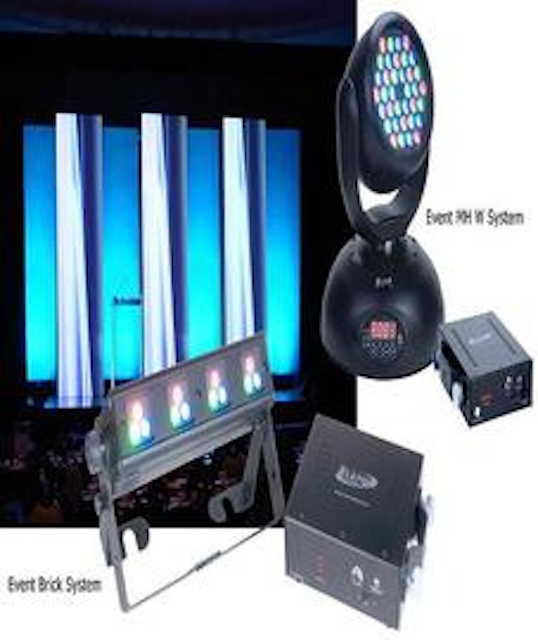 Date Announced: 02 Jul 2009
LOS ANGELES - Elation Professional has introduced a moving head that can move . . . anywhere. And a color-changing brick that doesn't require a wall . . .to be plugged into. The company added two amazing new "wireless" fixtures to its Event Series of battery-powered DMX-compatible RGB LED portable lights: the Event MH W System and Event Brick System, a moving head and brick color wash, respectively.
In addition to cordless battery-powered operation, the Event MH W System and Event Brick System each feature a built-in wireless DMX receiver. Representing a major breakthrough in lighting portability, they can bring a rainbow of colors to places where there are no electrical outlets and/or where DMX cables can't be run.
Equipped with their own rechargeable battery pack that can run up to 10 hours between charges, the Event MH W System and Event Brick System are an ideal solution for hard-to-light events such as trade shows, fashion runways, corporate functions, grand openings, outdoor concerts, tent parties and other challenging applications. Featuring flicker-free operation, these lightweight units are also perfect for video and film shoots, since they can be taken to any production set . . . on location or in the studio. Their compact size and go-anywhere versatility make them great for the touring and rental markets, too. With no need to run electrical cords or DMX cable, the Event MH W System and Event Brick System can be set up and taken down in a snap, saving both time and labor.
Wherever they go, these two fixtures will provide brilliant output and infinite color possibilities via their high-output, low-maintenance red, green and blue LEDs. The Event MH W System is powered by 36 1-watt LEDs (12 each red, green and blue), rated at 50,000 hours. A fully functional moving head, it has a beam angle of 25° and can pan 540° and tilt 265°, to provide sweeping coverage at any event and light up even the most far-flung nooks and crannies. Operating on either 10 or 12 DMX channels, it measures a compact 11.5"L x 11.25"W x 13.75"H and weighs just 19 lbs.
An ideal color wash for applications where power is scarce, the Event Brick System is equipped with 12 1-watt Luxeon LEDs (4 each red, green and blue), rated at 100,000 hours. To provide complete operational flexibility, it can run it on (user selectable) 3, 4, 6, 12 or 15 DMX channels. This pint-sized powerhouse measures just 16.3"L x 8.6"W x 3.6"H and weighs 35 lbs.
Both units feature smooth, stepless additive RGB mixing that can produce up to 16.7 million colors, pre-programmed color macros, and 0-100% dimming for seamless color fades. Both units also have 8 User Assignable Program Presets, which allow users to edit and save programs directly into the unit and run them via a menu on the control panel.
"As a full-featured battery-powered LED moving head and color-wash brick, the Event MH W System and Event Brick System are truly revolutionary fixtures," said Eric Loader, director of sales for Elation Professional. "They offers all the advanced features of a high-power LED RGB color-mixing intelligent moving head and brick wash respectively, yet they're totally portable and don't require any electrical connection. They don't require DMX cables either, because they've each got a built-in wireless DMX receiver.
"Just as their names indicate, the Event MH W System and Event Brick System are the perfect solution for lighting events of all kinds," Loader added. "They're totally self-contained, so they can be taken to any locale or venue without worrying about electrical outlets, cords and cables."
The fixtures' wireless DMX receiver can receive DMX signals wirelessly from up to 3,000 feet. Based on technology from world-renowned Wireless Solution Sweden AB, the receiver will work with Elation's EWDMXT wireless DMX transmitter (sold separately) or other wireless DMX transmitters made by Wireless Solution. It utilizes advanced Adaptive Frequency Hopping Technology, which changes frequencies 1000 times per second to stay on channels that are not in use, so operators can be assured that wireless signals are always received reliably and without interruption.
Although designed for portability, the Event MH W System and Event Brick System can also be operated as conventional "wired" fixtures, plugged into an electrical outlet, DMX console or both. They include AC multi-line voltage input, as well as built-in 3-pin XLR serial data connection.
Another convenient feature on the Event MH W System and Event Brick System is Remote DMX Addressing (RDMX). A user-friendly control board with 4-digit display is included on both units. In keeping with the fixtures' go-anywhere design, the digital display can be turned 180° to fit different installation positions.
The MSRP of the Event MH W System is $1,899.95. The MSRP of the Event Brick System is $1,199.95.
Contact
Elation Professional Ph: 866-245-6726 (toll-free)
E-mail:abby@fucinipro.com
Web Site:www.elationlighting.com