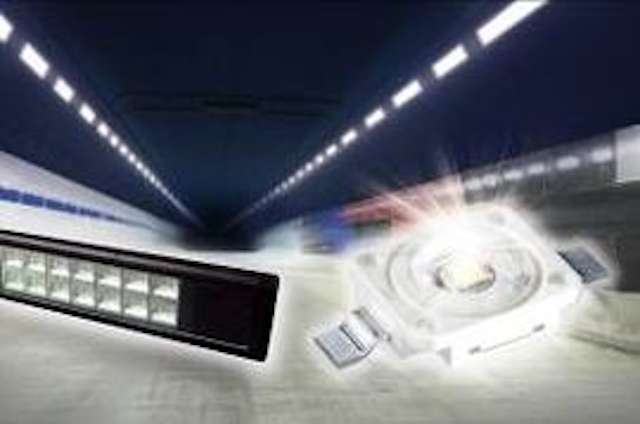 Date Announced: 03 Jul 2009
OSRAM high performance LEDs brighten up one of the world's currently largest tunnel projects in mainland China
OSRAM Opto Semiconductors' Golden DRAGON Plus LEDs are used by Guangzhou Zhonglong Communications Technology Co. Ltd. for the Yangzi River tunnel luminaire project in mainland China. With an internal diameter of 12.7m, the tunnel is 8.9km long in a twin-tunnel complex and each of the bores with 3-lane of traffic. 5,886 tunnel luminaries with over 410,000 pieces of OSRAM Golden DRAGON Plus LEDs will be installed in two bores. The Yangzi River tunnel will be the longest in the world to have brilliant LED light.
Guangzhou ZhongLong Communications Technology Co. Ltd., an established mainland China manufacturer of highway lighting solution, wins the contract of the Yangzi River tunnel lighting project by its well experience in tunnel luminaire development and our high performance LEDs.
"This project marks the new era of illumination that LED luminaries are used broadly for tunnel lighting in China. We chose OSRAM as our partner in this project because we can count on OSRAM's expertise in LED technology by providing us high quality and reliable LEDs. Furthermore, with 40% to 50% of total energy consumption in the tunnel comes from tunnel illumination, we anticipate that the average annual energy savings of these LED-based tunnel lamps is over 35%," said Mr. Bin Chen, President of Guangzhou Zhonglong.
With pressure on rising price and short supply of energy, Chinese government had begun committing in energy-concerned policies and subjects by instructing local governments to comply energy-saving status to all infrastructure development, in which LED as the road / tunnel lighting source becomes one of the focuses.
"We are proud to help move forward the energy-efficiency initiatives in China by providing LED technologies to our business partners," said Dr. Alfred Felder, President & CEO of OSRAM Opto Semiconductors Asia Ltd. "Our cooperation with Guangzhou ZhongLong is a vital landmark for high performance LED as tunnel lamp light source in China."
Golden DRAGON Plus LEDs offer full-color spectrum brightness and can last for up to 50,000 hours. The longer service intervals and the robust nature also attribute to LED-based tunnel luminaire by reducing maintenance costs. Furthermore, the availability of cool and warm white LED with excellent color rendering offer the flexibility to choose the color temperature range for the specific street lighting application.
About OSRAM Opto Semiconductors
OSRAM is part of the Industry sector of Siemens and one of the two leading lighting manufacturers in the world. Its subsidiary, OSRAM Opto Semiconductors GmbH in Regensburg (Germany), offers its customers solutions based on semiconductor technology for lighting, sensor and visualization applications. OSRAM Opto Semiconductors has production sites in Regensburg (Germany) and Penang (Malaysia). Its headquarters for North America is in Sunnyvale (USA), and for Asia in Hong Kong. OSRAM Opto Semiconductors also has sales offices throughout the world. In the 2008 fiscal year (to the end of September) OSRAM Opto Semiconductors employed more than 4600 people and achieved sales totaling 529 million euros.
About Guangzhou Zhonglong Communications Technology Co. Ltd.
Guangzhou Zhonglong Communications Technology Co. Ltd. founded in September 2004 and its headquaters in Guangdong Foshan, is a high-tech enterprise specialized in developing LED lighting products for highways. Committing in R&D over years, the company has acquired over ten patents and was granted the ISO9001:2000 International Quality System certification.
Contact
OSRAM Opto Semiconductors Asia Ltd. Betty Lee Tel: +852 3652 5642 Fax: +852 2802 0880
E-mail:betty.lee@osram-os.com
Web Site:www.osram-os.com