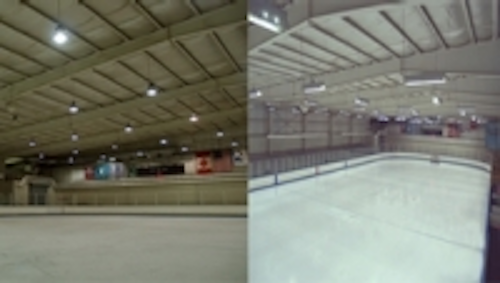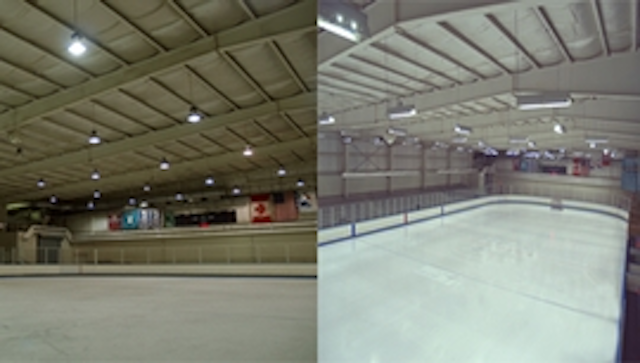 Date Announced: 07 Jul 2009
The Objective:
To provide energy efficient lighting that will decrease energy consumption and costs, while increasing light levels and providing even surface illumination for a whiter, brighter arena.
The Challenge:
The new LED lighting system, which was installed by Action Services Group, must be arranged to enhance the quality, brightness and white color of light. Another factor is to ensure that ICE LINE meets the energy consumption reduction requirements of the state Department of Environmental Protection Small Business Energy Grant they are eligible to receive. ICE LINE will receive 25%, or up to $25,000, if they meet the energy saving requirements of the program, which is a 25% reduction in energy consumption.
The Solution:
Currently ICE LINE uses 400 watt Metal Halide lighting fixtures, which uses 458 watts of energy. Most ice rinks are retrofitting their Metal Halides to T5 236-watt lighting, but Stouch Lighting's LED Lights will reduce that to 87 watts, providing a more efficient solution. Also, the type of lights utilized is very important because some lights render color more effectively than others, and operations often require a color rendering index (CRI) of close to 100 (CRI of daylight). The LEDs are more energy efficient, have a longer life expectancy and are brighter, whiter lights than the existing Metal Halide lamps. The other benefit of the lighting retrofit is the immense reduction or energy consumption, reduced heat output which reduces HVAC costs, and
maintenance costs.
The Results:
Stouch Lighting provided ICE LINE with LED lights to be installed in two of their four rinks. "The LED lights are noticeably whiter, brighter, and cleaner," Mike Graves, Ice Line Vice President said. "We are pleased with the improved lighting quality and energy savings that, we are planning in the near future for the other two rinks and the complex's massive parking lot to also be retrofitted with Stouch Lighting's LED lights." Before the retrofit, the ice skating complex spent $500,000 on its electric bill every year. For just two rinks, it was a $38,000 light bill annually. The LED installation in the two rinks is complete, lighting costs will drop to less $10,000 annually. A 74% reduction in energy costs.
About Stouch Lighting:
Stouch Lighting is an authorized distributor of Appalachian Lighting's American made LED lighting products that will reduce your energy costs up to 70%-80% and eliminate your maintenance costs, while increasing your lighting quality. Stouch Lighting has over 20 years of lighting experience and can provide cost of ownership models, Return on Investment (ROI) analysis, LED to HID energy comparison matrix and cost verification to reduce energy and operating costs.
About ICE LINE:
ICE LINE Quad Rinks is a state-of-the-art ice skating facility, providing ice skating & ice hockey entertainment to an average of 6,500 people a week. ICE LINE attracts local, national & international customers ranging in age & interest. All of their customers have a variety of needs.
Contact
Deborah Ogden Stouch Lighting 866.964.8559 x 14
E-mail:dogden@stouchlighting.com
Web Site:www.stouchlighting.com