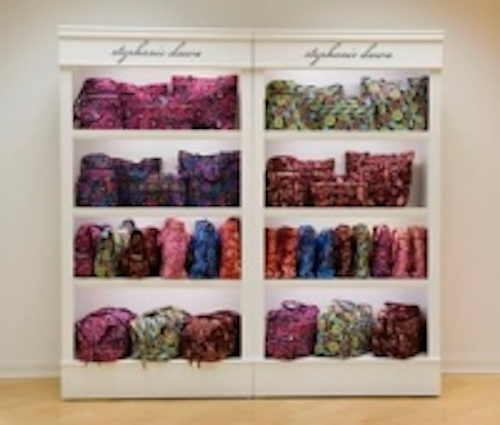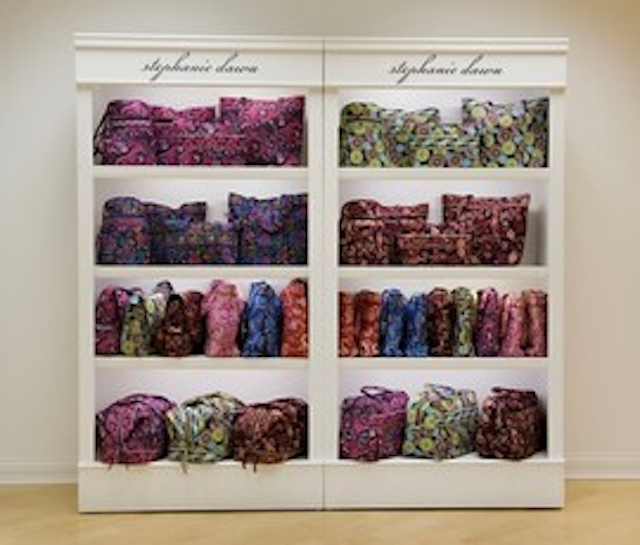 Date Announced: 10 Jul 2009
Company Helps the Major Women's handbag Manufacturer Go Green with LED Cabinet Solutions
Danvers, MA – OSRAM SYLVANIA recently teamed up with KAM Manufacturing to replace conventional incandescent lighting with efficient LED technology in KAM show cabinets. The change to LED not only saves energy, operational cost and maintenance needs, it also really highlights KAM merchandise and demonstrates the level of commitment to the environment and customers.
Goals
KAM Manufacturing has over 25 years of manufacturing high quality women's handbags. Head quartered in Van Wert, Ohio, KAM wanted to offer their customers a superior experience within their showroom demonstrations, while remaining conscious of their energy use and environmental impact.
OSRAM SYLVANIA was able to provide the right LED solution for the under cabinet application to meet the KAM project goals. LED systems are quickly becoming the light source of choice for various applications due to their ruggedness, reliability, long life, energy efficiency and low maintenance requirements. By using LED technology, KAM is able to greatly reduce their energy consumption and limit their maintenance needs all while preserving an attractive KAM product appearance.
The Application
KAM Manufacturing creates a showroom vignette to display their colorful handbag collections. In order to effectively demo their products in an elegant and stylish fashion, KAM recruited the expertise of National Door and Trim to build their cabinetry. Each cabinet is made of furniture grade wood and durable laminates; each standing four ft wide by seven ft tall. The cabinets are fully functioning with four adjustable shelves of display space. Cabinets are an ideal application for LEDs, because they can take advantage of the technology's low profile and directional nature.
"We found three great operational benefits to implementing LED technology into our cabinets," National Door and Trim President, Tom Turnwald, Jr., describes. "We developed a unique and flexible engineering solution that allowed for adjustable shelves to accommodate the KAM handbag sizes—in doing so, we utilized a low voltage wiring system to power the LEDs, which was not possible before with incandescent bulbs. Secondly, we were able to install the LED strips in the front lip of each cabinet shelf, creating a unified light distribution and hiding the actual light source. And lastly, we built custom white cabinets to better showcase the colorful KAM products and I found that using these SYLVANIA LEDs also helped enhance the KAM merchandise by preserving the color integrity of each product."
The other key component to this application was mobility. These cabinets travel across the country to attend fashion accessory and purse tradeshows. Therefore, KAM could rely on the durability and ruggedness of a LED solution to ensure portability.
"Understanding an application's needs is the first essential step in determining the right lighting solution," explains Rick Chengery, OSRAM SYLVANIA commercial engineer. "We established that LED technology would be a perfect match for the KAM display application—LEDs do not produce IR or forward heat, so the source highlights the purses without fading or deteriorating the fabrics. In addition, LEDs give KAM Manufacturing the ability to increase the application burn time from 8-12 hours to 24 hours daily while reducing the energy load of each cabinet significantly and helping to achieve a relative ROI on the project upgrade."
The LED Solution
KAM cabinets were originally being illuminated by an incandescent fixture that consisted of eight 18 Watt lamps driven by a 150W power supply. After a thorough energy audit, OSRAM SYLVANIA concluded that the SYLVANIA LINEARLIGHT DRAGON Slim with an OT75 power supply was the best solution. The SYLVANIA LINEARLIGHT DRAGON Slim offers fine binned LEDs in a low profile system, matching the needs of the under cabinet application. Each LINEARLIGHT LED strip offered the same light output performance with a warm 3000k color temperature for only 7W of power—decreasing the energy consumption from the existing source by over half. Additionally, the OT75 power supply only uses 75W of power, optimizing the LED performance and again cutting the power needed by 50 percent. In fact the entire LED solution uses only 56 watts total and still provides comparable illumination performance for the cabinet shelves that truly highlights the colorful KAM purses displayed.
The Green Effect
Total Project Costs: $127 per fixture
Annual Energy Savings: $2,310 (@$.10 per kWh/for 30 fixtures)
ROI: 61%
Simple Payback: 1.6 years
Total kWh Saved: 23,100 kWh
CO2 Reduced: 35,459 lbs reduced annually
Reference: US Factor all generation emissions; US EPA e-grid 2007
The End Result
The collaboration of OSRAM SYLVANIA LED products and National Door and Trim's cabinetry gave KAM Manufacturing an aesthetically appealing, energy-saving showroom solution. "We recognize the importance of having a retail solution to market our products," said Randy Adams, KAM Manufacturing Owner and V. P. "We also acknowledge the significance of being committed to the environment and the lives of our customers, so we believe it's our responsibility to ensure we're operating as efficiently as possible."
"Thanks to the SYLVANIA LED products and skills of National Door and Trim, we are building showroom demos that not only achieve our goals of energy efficiency and environmental sustainability, but advance our core business goals as well by showcasing our handbags in a new light," Adams remarked.
It seems all three companies' share the same environmental concerns and that alignment helped ensure that the project goals were accomplished. "We have developed a wide range of lighting solutions specifically designed to meet the needs of retail-like applications that enhance merchandise appearance, while cutting energy consumption and reducing maintenance costs," said Jim Alexander, OSRAM SYLVANIA account manager. "Our ultimate objective is to help KAM Manufacturing improve its energy-efficiency with a new, long-life LED solution."
About KAM Manufacturing:
Located in Van Wert, Ohio, KAM Manufacturing family owned business that has produced fashionable woman's handbags for over 25 years. In 2008, the company noticed the decline in the number of handbags that were being made in USA and decided to produce their very own line of handbags. Since that time, KAM has designed, manufactured and distributed several successful product lines. Stephanie Dawn quilted handbags are stylish, functional and fresh, integrating fashionable color trends and sophisticated patterns to provide a modern palette for women of all ages. The Brandy J Collection is a sophisticated printed canvas handbag line that is designed with cutting edge looks and functionality. Visit their websites at www.Stephaniedawn.net and www.Brandyjcollection.com.
OSRAM SYLVANIA
OSRAM SYLVANIA is a leader in lighting solutions and specialty products that feature innovative design and energy saving technology. The company sells products for homes, businesses and vehicles primarily under the SYLVANIA brand name, and also under the OSRAM brand. Headquartered in Danvers, Mass., OSRAM SYLVANIA is the North American operation of OSRAM GmbH, a wholly owned subsidiary of Siemens AG.
About National Door and Trim
National Door & Trim, Inc. is a manufacturer of custom millwork products including doors and moulding for the new home construction market. Capabilities include over 1000 profiles of moulding and unlimited colors of stains and paints including custom color matching. National has been dedicated to being environmentally friendly for the past 20 years. All finishing products are water based and proven to be durable for years to come. The family owned business is located in a state of the art facility in Van Wert Ohio and can be found on the World Wide Web at www.National-Door.com
Photo credit: Brandy J. Rammel
Contact
Osram Sylvania Colleen Applebaugh
E-mail:colleen.applebaugh@sylvania.com
Web Site:www.sylvania.com