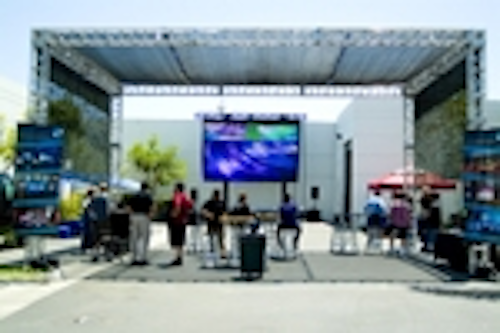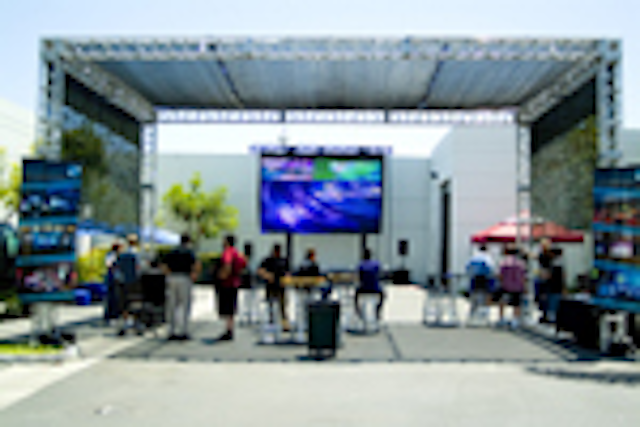 Date Announced: 30 Jul 2009
HUNTINGTON BEACH, CA – When you've got a better mousetrap . . . show it off! That's what Pacific Coast Entertainment (PCE) did recently when it invited clients and prospective customers to attend an open house to view the new EVLED 1024SMD 20mm LED Video Panels from Elation Professional.
A full-service lighting, audio and video production and rental company, PCE had purchased 48 of the Elation panels, which are modular in design and can be used to create vibrant video pixel screens, curtains and backdrops. Measuring 2'1" x 2'1" x 3", the transparent tiles are compact and lightweight, and with an IP65 rating, can be used indoors or outdoors.
PCE felt that these features -- along with the EVLED panels' surprisingly low price – made them truly unique, so the company decided to host the open house to demo the product – which it refers to simply as The Wall. "We wanted to get the word out about The Wall, because it creates new possibilities for our existing clients, as well as opens opportunities for us to sell new markets," said Ryan Steidinger, PCE's Director of Operations.
"Because of the price point of the Elation product, we can now offer a rental rate that is a lot lower than many of our competitors' video screens," added Steidinger. "This enables us to get The Wall into different markets where people have never before been able to afford a video screen. For example, many colleges and high schools would love to have an LED wall to show the kids during graduation and homecoming football games. Now we're able to bring them one – just like they'd see at the Staples Center -- at a cost-effective rental rate."
Over 200 people attended PCE's day-long open house, which was held at its Huntington Beach, CA facility and featured a barbeque lunch. Attendees got to view the versatile EVLED panels in different settings, so they could get an idea of the product's wide range of applications.
Forty of the tiles were used to create a giant outdoor screen. The panels have an integrated rigging/hanging system that allows users to easily assemble any size video screen, large or small. Up to 16 pieces can be linked on 1 AC circuit, and as many as 1,000 pieces can be run from one Ethernet video output using Elation's ELED VSC driver (sold separately). Those attending the open house got to see firsthand how the EVLED screen's easy setup and daylight viewability make it an ideal solution for outdoor concerts, festivals and events that take place before sundown.
EVLED tiles were also on display indoors. Here, said Steidinger, they were shown in more of a set-type application. "We did some individual hangs, running eye candy graphics on them.
"Showing the tiles in different applications was very helpful for clients," added Steidinger. "They'd see The Wall outside, then they'd look inside and say, 'Wow, there's so much more I can do with this." Because of this versatility and the low price point, Steidinger believes that the EVLED panels are not only a rental item, but also a product that many customers will want to purchase.
Although The Wall was the star of the day, other Elation products were also on display at PCE's open house, including dimmer packs; the Design series DMX moving heads; Elation Architectural LEDs; and the Impression and Impression XL LED moving heads. One product that "caught a lot of attention," said Steidinger, was the Antari DNG-200 Low Fog Generator, which produces a low-lying fog effect without requiring the use of dry ice.
"We had never done an open house before, and we were very, very pleased with the results all the way around," said Steidinger. "We were making deals with clients and getting a lot of rentals set up.
"We're also very happy with the way Elation helped us put this event together -- Eric Loader and Ray Villasenor from their company put in a tremendous amount of work. We try to make our customers happy, and it's really great when we have vendors that work with us."
Contact
For more information, contact Pacific Coast Entertainment at 714-841-6455 or visit www.pacificcoastentertainment.com For information about the EVLED1024SMD Video Panels and other Elation products, call Elation Professional toll-free at 866-245-6726 or visit www.elationlighting.com
E-mail:info@elationlighting.com
Web Site:www.pacificocastentertainment.com